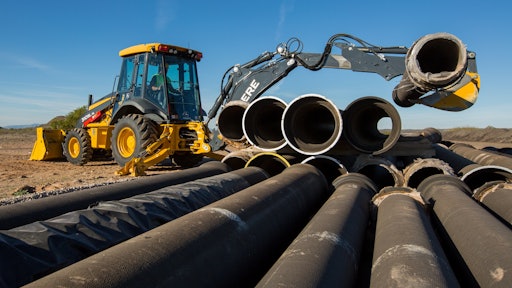 Hydraulic system improvements coupled with Tier 4 electronic engine technology have expanded backhoe capability while increasing fuel efficiency. Electronic engines enable power lift technology that temporarily boosts lifting, craning and bucket breakout capabilities. In addition, many systems now offer higher flows and greater efficiency.
"In the past decade, we have seen, on average, increases in breakout forces and lift capacities between 15% to 20%," says Rafael Nunez, backhoe product manager, JCB North America. "We see customers doing jobs like moving jersey barriers, septic tanks and junction boxes with our 14-ft. machines which would have required much larger machines in the past."
"A major theme in most equipment introductions of the last decade, aside from Tier 4, has been how to get more done in the same or smaller footprint," says Katie Pullen, brand marketing manager, Case Construction Equipment. "This can be seen in the evolution of breakout force and lifting capacities since that time.
"Consider the Case 590 Super M," she continues. "In one of the final specs issued on that machine, the maximum backhoe breakout force was 14,718 lbs. The 590 Super N now offers a maximum bucket breakout force of 15,853 lbs., an improvement of more than 1,000 lbs. The maximum lifting capacity on the backhoe side of the 590 Super M was 2,870 lbs. Today, with the 590 Super N, maximum lift at ground level with Power Lift engaged is 4,175 lbs."
The increases result from customer demand. "Higher backhoe breakout force — or digging force, as we list in some of our specs — is becoming increasingly important," says Pullen. "It allows operators to do more within the existing footprint of the backhoe-loader, and do so without having to change out attachments as frequently.
"If you are trying to break through really hard soils or layers of frost, it's not always going to be convenient to switch out to a frost bucket," she notes. "You want to be able to break through with the bucket you are already using. Also, pulling out stumps, popping concrete out — breakout force is very important to a variety of applications."
Electronics Enhance Capabilities
With Tier 4, manufacturers made the move to electronic engines, which allow closer integration with other systems on the backhoe. One result is a lift mode offered by many suppliers.
"Electronic engines are the foundation for some of the powerful features available in today's backhoes," says Pullen. "The electronic throttle makes PowerLift and the associated lower rpms possible. And without electronic engines, all of the features that help with fuel efficiency and less wear and tear on the engines — ECO modes, auto engine shutdown, auto idle — would be much more difficult to achieve."
"Without the electronics in the engine, lift mode would not be a capability we could offer," says Brian Hennings, John Deere Construction. Lift mode allows the operator to push a button on the Sealed Switch Module and have up to a 15% boost in craning capacity or breakout forces. "It sets the engine speed at 1,400 rpm and then allows an additional 400 psi to the system as required, up to 4,000 psi. That is all electronically regulated and controlled." Of course, this also requires improved rear structures and larger cylinders.
Lift mode has many applications. "It is for all cylinders on the back of the hoe," says Hennings. "It can increase the pressure as required, which includes bucket breakout force. This provides the customer broader flexibility. If they are carrying around pipe or plates, they have that additional capacity when they need it." It helps with placement when you are extending out with the hoe.
"PowerLift also allows the hydraulic system to be more efficient by increasing hydraulic power on demand vs. having it at that excessive power at all times," says Pullen.
Like the heavy lift mode on some Case excavators, PowerLift boosts hydraulic pressure to about 3,700 psi and cuts engine speed in half to give the backhoe extra muscle with increased control in heavy lifting and hard digging conditions. Throwing the PowerLift rocker switch on the dashboard provides a 6% increase in the 590 Super N's boom lift capacity, 8% on the 580 Super N and 16% on the Super N WT.
"PowerLift allows you to do some of the same lifting and craning work as you may have previously done with a 7-ton excavator or larger backhoe," says Pullen.
The latest technologies extend beyond lift mode and simultaneously offer increased capability and fuel efficiency. A couple of these include electronic pumps and selectable modes.
For instance, the F2 Series backhoe-loaders from Caterpillar feature upgraded hydraulics that provide more power more quickly. All of the Caterpillar F2 Series models feature a load-sensing, variable-displacement piston pump that provides full lifting and digging forces at all engine speeds and matches hydraulic flow to work demands for efficient operation. In fact, every backhoe that Cat has ever built had a piston pump providing the hydraulic power. That's 30 years of backhoes and 300,000 machines.
"A couple of years ago on our F Series machine, we went to electronic pump control," notes Kevin Hershberger, product specialist, Caterpillar. The combination of the electronic pump control and the load-sensing hydraulics has allowed Caterpillar to develop an ECO mode. "When you push ECO mode, you drop the engine speed but increase pump displacement so you maintain productivity. Between standard mode and ECO mode, we have seen about a 20% fuel savings with virtually no decrease in productivity."
The introduction of electronic engines has been a key technology enabler. "With the introduction of emissions regulations, our engines have been getting smarter and therefore there are more features we have been able to implement to take advantage of the more precise engines," says JCB's Nunez. Some of these features include Auto Throttle, Auto Idle, Auto SRS (Smooth Ride System) and Auto Drive.
Closed-center vs. Open-center Hydraulics
Manufacturers must carefully balance the cost/performance equation to match the particular application. In the case of backhoe-loaders, there are currently two types of hydraulic pumps utilized: gear pumps (open center) and piston pumps (closed center). There are pros and cons to each system. Ultimately, it comes down to a matter of customer preference.
First, note that a hydraulic pump does not create pressure; it creates flow. Pressure is the result of a resistance to flow. Gear pumps produce flow by carrying fluid in between the teeth of two meshing gears. Gear pumps have a fixed displacement and therefore produce maximum flow and efficiency near their maximum rated speed. They tend to be simple in design, cost less than a piston pump and are more tolerant to contamination. Operators often claim they get more feel and feedback from open-center hydraulic systems.
Piston pump systems are more complex. They use the principle of the reciprocating pump with several pistons to create fluid flow, and they can be either a fixed or variable displacement. Variable-displacement piston pumps can use flow compensators or load sense controls to reduce flow when there is less demand. This reduces the amount of flow that is wasted while dumping over a relief valve. Excess oil flowing over a relief valve generates heat and wastes horsepower.
Variable-displacement piston pumps are efficient at varying engine speeds. "Pressure-compensating, load-sensing (PCLS) hydraulics provide great controllability and multi-functioning at various rpms," says Hennings.
A key benefit of a variable-displacement piston pump is it will provide full hydraulic forces at any engine speed. Caterpillar uses this technology across its entire product range. "Full lift and dig forces throughout the entire engine speed range has been a standard feature on every Cat backhoe-loader ever built," notes Hershberger. This is important in lift situations with laborers on the ground or in the trench. "Cat backhoes allow this work to be done at low idle, improving safe communication between operator and ground crew."
Some will argue that the load-sensing piston pump is among the most important recent advancements. "If you think about the last 10 years, I think one of the biggest developments would be the axial piston pump," says Nunez. "If you look back five years ago, everything was fixed gear. So adding axial piston pumps has been a huge driver behind fuel efficiency and productivity gains. The wear and tear that you get on a fixed gear machine is different than what you get on an axial piston pump because it is load sensing. It gives you flow on demand. It gives you better component life because your pumps are not working all of the time depending upon your engine rpm."
Flexibility That Fits
Backhoes are widely used due to their versatility, yet the demands are different according to the type of work you perform. Designing a multi-purpose tool that best fits each customer's unique demands can be a challenge.
John Deere has addressed this challenge by assessing the backhoe-loaders in its line and addressing any product gaps.
"We found about 20% of our customers use their machine for craning in various applications," says Hennings.
Along with this knowledge, the company identified a gap between models in the 14-ft. dig depth. It was filled this spring with the new 310SL HL (Heavy Lift), which uses a closed-center, pressure-compensated (PCLS) system like that in the nearly 16-ft. 410L. With electronically controlled variable piston hydraulic pumps, the 310SL HL and the 410L deliver 25% more backhoe boom lift capacity than comparable K-Series models.
The L Series features open-center gear pumps on models up to the 310SL. "Everything above that is more performance related and we utilize PCLS hydraulics," says Hennings. "The 310L remains a single gear pump and the 310SL, which is the next step up in the portfolio, maintains a tandem open-center pump. That covers a good portion of customer needs for various activities and applications. John Deere has been using PCLS hydraulics since the G model back in the early 2000s."
John Deere has also re-designed the hydraulics for the 410L. "We took what we have learned since the G-Series with PCLS hydraulics and put it into a redesigned valve and redesigned structures and cylinders," says Hennings.
Turn Up the Flow
Some manufacturers have increased hydraulic pump flows in their latest generation backhoe-loaders to add capability.
According to Nunez, JCB improved cycle times with larger flow on demand pumps. "More flow provides you more speed," he says. The JCB backhoe-loader line is fitted with a higher flow, 44-gpm piston pump to improve fuel efficiency across the complete duty cycle. A flow on demand axial piston pump increases fuel economy. It also provides lighter lever effort for easier control.
"Our entire range of premium 3CX Supers received a hydraulic refresh over the last two years to provide the best productivity and fuel economy for our customers," says Nunez. "These systems include Variflow pumps, which deliver flow on demand, improving our performance at low engine rpms while also saving fuel throughout the duty cycle."
Case boosted hydraulic performance by increasing cylinder sizes in several positions, and by turning up pump pressure to around 3,400 psi and flow to 43 gpm across the line. The Super Ns all use variable piston pumps.
There is a direct relationship between pressure and breakout force. "Every time you want to increase breakout force, you need to have more pressure, or create the capability for more pressure," says Pullen. "Case did a few things when the N Series backhoes were introduced that helped create those opportunities. We redesigned the geometry of the boom. We went to a robotically welded boom and we increased the cylinder sizes and changed the pressures of the machine. All of these changes working together helped meet that added need — and the structure to support it — which allowed for increased breakout force.
"In many ways, the same features that have helped improve breakout force have helped improve lifting capacities — larger cylinders, the robotically welded boom and the addition of PowerLift," Pullen adds.
The continued evolution of hydraulics and electronics allowed for the development of operating modes and settings that let operators be more efficient, and use only as much power as needed. "That efficiency translates to the hydraulic system itself, and fuel efficiency, as well, as it's ultimately the engine that drives the whole system," says Pullen.
Companies in this article