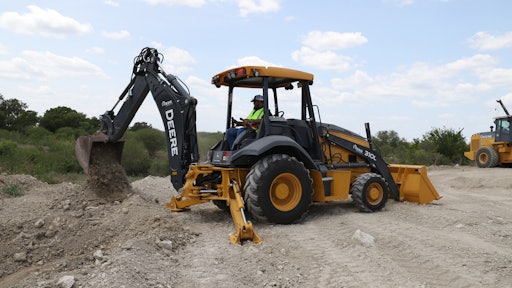 Around the jobsite and in the equipment yard, excavators have become one of the hottest construction machines, continually growing in popularity. But let's not forget about the backhoe-loader. While it has been facing stiff competition from the excavator as the most popular construction machine, the backhoe-loader was – and still is – one of the most versatile, highly-utilized machines on the jobsite.
Backhoe-loaders are experiencing a comeback, thanks to manufacturers' commitment to bring better features, value, and versatility to these already worthy machines. But even looking at used backhoes, it's not surprising to find out this veteran staple of the construction industry isn't going anywhere.
Backhoe-loaders Deliver Versatility
They dig and lift. They move and fill. They're easy to move around the jobsite and easy to move from one site to another. But what truly makes the backhoe the Swiss army knife of equipment? Versatility.
Backhoe-loaders go the extra mile on the jobsite thanks to their design and attachments. This also makes a used model a great investment, as there are numerous attachments that can be added to squeeze out every ounce of productivity from the machine.
Best of all, it doesn't take a stroke of luck to find the right used backhoe and attachments needed for the job. These seven attachments provide a great mix of traditional and unique tasks that can be done with a backhoe.
Front Loader and Rear Bucket
The most common backhoe-loader setup is a loader bucket on the front and a standard bucket on the back. The combination of these two attachments make it an  ideal machine for digging and moving material.
For the most traditional, yet important tasks, be sure to invest in a quality loader and bucket with a used backhoe purchase.
Hydraulic Hammer
Another popular backhoe attachment is a hammer. Also called a breaker, depending on what part of the country you are in, this attachment is ideal when there's a need to break concrete or asphalt or get through frozen ground.
Multi-function Buckets
Growing in popularity, particularly on the West Coast, multi-function or multipurpose buckets act as a "one tool fits all" solution for various jobsites. Not quite a grapple, the multi-function bucket's design allows it to grab, pick up, and unload, making it useful for tasks like cleaning up jobsite debris.
Snow Blade
Unlike excavators, backhoe-loaders can move quickly around and jobsite as well as from site to site. When paired with a snow blade attachment, this mobility allows the unit to double as a snow management machine in the winter months.
Bale Spear
Backhoe-loaders aren't just for construction jobsites. Using a bale spear attachment, a larger backhoe can easily move small hay bales around a property, opening up the backhoe's functionality to farmers, ranchers, and large property owners who would find the machine helpful in maintaining their land and completing various tasks.
Quick Couplers
Quick couplers allow fast and easy bucket changes on the jobsite. They are handy when the backhoe is serving its primary purpose but could be used for additional tasks. A quick swap and it goes from moving material to moving pallets or pipe around a site.
Advantages of Going Used
While the popularity of new backhoe-loaders might make them a bit tougher to secure quickly, used inventory and rental fleets are abundant with backhoes and attachments, giving interested buyers a great opportunity to find and purchase one of these productivity powerhouses right now. It's worth taking a look at the inventory available at RDO Equipment and other providers to see what's available.   Visit www.RDOequipment.com to browse used construction equipment for sale, learn more about fleet management, or find a store near you.
Dennis Howard has spent more than a decade with RDO Equipment Co.'s construction equipment division, working with teams in the company's Texas and the Desert Southwest regions. As a Vice President, he focuses on fleet management, with used construction equipment values and heavy equipment sales two of his key areas of expertise. He's a member of the Association of Equipment Management Professionals (AEMP) and a regular contributor to ForConstructionPros.com. Connect with him on Twitter @RDODennisH.