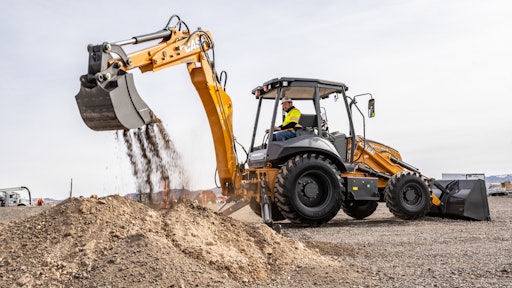 CASE Construction Equipment

CASE Construction Equipment says it's bringing back the moniker "Construction King" with the launch of 35 construction machines at CONEXPO. Among those product launches are five new backhoe loader models for the North American market, designed to deliver more comprehensive and diverse backhoe options to businesses across a broader spectrum of markets, including landscaping, rental, ag and utilities.
Two models are available immediately: the CASE Utility Plus and the CASE 580SV Construction King center pivot. Three additional models will hit CASE dealers later in 2023: The CASE 580SV Construction King side shift, and two CASE 695SV Construction King models — one with center pivot and one with side shift.
"The CASE backhoe was the original two-in-one machine, and 65 years later we're experiencing workforce challenges and more diverse jobsite needs — all with a focus on efficiency — that is driving a true revolution for the backhoe market," says George MacIntyre, product manager, CASE Construction Equipment. "Once the hero for the owner/operator, we're providing even more backhoe loader options now that make these machines extremely attractive for businesses who are having trouble finding skilled operators, and who could benefit from the lower owning and operating costs of having all that functionality in a single machine."
The two new models now available in the North American market — adding to the existing lineup of CASE N Series backhoes — are the CASE Utility Plus and the CASE 580SV Construction King center pivot.
The all-new CASE Utility Plus delivers full-sized backhoe performance in an efficient platform that's easy to own, easy to maintain, and easy on the bottom line. This new 74 horsepower machine delivers a big cab with excellent sightlines to all work areas, extreme ease of service with a maintenance-free emissions system (no DPF and no DEF), and easy controls (including a choice of pilot or mechanical). Mechanical controls are offered for the more experienced operators who like that traditional backhoe "feel", while pilot controls are available for rental businesses and contractors with less-experienced operators.
"You could call this an entry-level machine — but it performs and delivers options like a full-sized backhoe," says MacIntyre. "We've built it so that you can focus on simplicity, ideal for rental applications and businesses where this isn't a daily production tool, but also committed to options such as the Extendahoe and attachment performance via one-way auxiliary hydraulics on the dipper for businesses that want to use this machine for more. It's built to be versatile and allow equipment owners to build up from a simple base model."
The all-new CASE 580SV Construction King brings a tool carrier-style front end to the CASE backhoe line in North America, designed for businesses that use the loader end of their backhoe as a primary material handler – loading and unloading pallets, moving pipe and other bundled material around the yard. Adding a 4-in-1 bucket, a 6-in-1 bucket, or any of the countless attachments available for CASE backhoes turns this into a robust multi-purpose jobsite solution — and a hydraulic quick coupler makes it easy. The new center pivot model is immediately available to the North American market, and CASE will be rolling out a side-shift model later in 2023.
"At 97 horsepower, the CASE 580SV Construction King is a simple yet robust addition to any backhoe fleet and, like the Utility Plus, can be optioned up into a more premium backhoe experience with features such as the Extendahoe and Auto-Ride Control," says MacIntyre.
The new side-shift model, available later in 2023, will deliver even greater jobsite flexibility and performance in confined spaces. The CASE 580SV Construction King side shift will feature in-line vertical stabilizers for offset digging and working in applications where operators have to get right up against structures, or take up less space (such as in roadside utility work).
"The combination of in-line stabilizers and a backhoe digging boom that can shift from side to side allows operators to get right up against buildings and structures, and takes up even less space on roadside applications with stabilizers that operate within the footprint of the machine," explains MacIntryre.
"With the introduction of these new machines, matched with our existing lineup of N Series backhoes, we're delivering a truly diverse backhoe portfolio of machines for contractors and businesses of all sizes in North America."
More Variety and Versatility Coming to the North American Market in 2023
Later this year, CASE will be introducing two CASE 695SV Construction King models — a center-pivot model and a side-shift model. The 695SV Construction King is a larger, more powerful backhoe loader with four-wheel steer and equally sized tires. The four-wheel steer and large tires make it an ideal machine for loading operations while still offering the versatility to switch out loader and backhoe attachments. It also includes the parallel lift tool carrier style loader arms for more intense material handling operations.
"It's perfect for municipalities and larger construction sites that need to effectively perform both loader and backhoe operations," says MacIntyre. "As these new models hit the market, CASE will have one of the largest and most diverse backhoe offerings in the industry, all backed by a dealer network spanning North America that has more experience with backhoe loaders than anyone else."
Launch timing for the 695SV Construction King models will be shared later in 2023.
Request More Information
Fill out the form below to request more information about
CASE Unveils 5 New Backhoe Loaders at CONEXPO