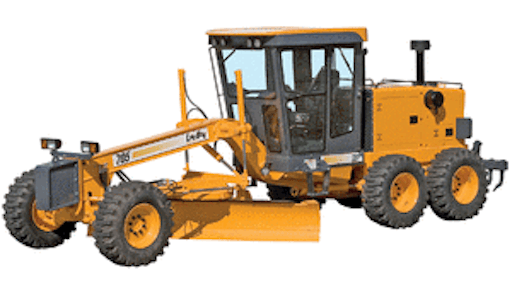 705 Motor Grader
The 17,000-lb. 705 features joystick control of grader functions integral to the operator's chair.
10-ft. sliding and tilting moldboard with 18-in. right or left side shift and a shoulder reach of 36 in.
117-hp Caterpillar Tier III diesel engine
Six-speed forward and three-speed reverse powershift hydrostatic transmission
Load-sensing variable-displacement pump
Climate-controlled, isolation-mounted cab with 10% more glass
Rear-mount 72-in. scarifier
VT LeeBoy, Inc.
800 Series
The 29,777-lb. 845 DHP (dual horsepower), 32,077-lb. 865 VHP (variable horsepower) and 37,950-lb. 885 feature turbocharged, six-cylinder Cummins engines that deliver up to 205 net hp.
Powershift direct-drive transmissions
Optional all-wheel drive on 865VHP and 885
Rugged front A-frame drawbar and high-strength circle ensure stability
Lockable, hydraulically actuated, five-position saddle allows blade tilt up to 90°
25° left or right articulation
CASE CONSTRUCTION EQUIPMENT
821 Pull-type Scraper
The 25,600-lb. 821 pull-type scraper has a 21-cu.-yd. maximum capacity, yet has less than a 12-ft. transport width.
Front lowering with two 5 1/2" x 22" cylinders with the gate controlled by a 6" x 22" cylinder
5" x 40" hydraulic cylinder operates the patented Swingwall eject system
Hydraulic accumulator cushions the ride
Standard features include a heavy cast 360 swivel Quickhitch, reversible cutting bits and push block on the rear
Icon Industries
ADT Series Compatible Machines
The 1233 ADT and 1243 ADT allow a six-wheel-drive ADT truck to switch between material hauler and scraper power unit in a matter of hours.
1233 ADT for a 400+ hp truck has a 33-yd. heaped capacity, while the 1243 ADT for 500+ hp trucks has a 43-cu.-yd. heaped capacity
14-ft. cutting width
Hitching systems distribute load weight to optimize pulling unit's power, while minimizing stress on the hitching tongue
High-tensile Hardox and Weldox steel construction
Only two easy-access grease points that can be serviced once daily in minutes
K-Tec Earthmovers
C110 C and C116 C Series Production Class
The 23,500-lb. C110 C and C116 C Series Production Class motor graders now feature a 120-hp Cummins QSB6.7 turbocharged, in-line six-cylinder Tier III engine.
Delivers increased power and better torque curve
Enables less use of the inching pedal when running slowly or in fine grading applications
Provides smooth control at low speeds and fine grading feel via the conventional direct-gear drive
Champion Motor Graders
DB Series Scrapers
The "Dump Bowl" towable dirt scrapers are available in 4-, 5- and 6-ft. cutting widths and will carry from .9 to 1.3 cu. yds. of material.
Trunnion-style hitch and gooseneck frame provide for up to 90° turns with 30° of oscillation
Material can be spread thin or stock piled with full control of the bowl dump angle and blade height
Segmented frost bit-style cutting edge increases penetration in hard soil, while maintaining a flat cut
Can be pulled behind a 35- to 50-hp tractor
Hoelscher, Inc.
G-Series Motor Graders
The G-Series includes six models featuring a choice of console-mounted, industry standard controls or armrest-mounted, industry standard fingertip controls.
185- to 275-net-hp PowerTech Plus 9.0-liter, Tier III engines
Heavy-duty transmissions with EBS (Event Based Shifting) transmission software
Front- or mid-mount scarifier or rear ripper/scarifier
Grade Pro models include push-button return-to-straight and cross slope control, and are grade-control ready
Standard JD Link Ultimate
JOHN DEERE
G900 Motor Graders
The G900 Series includes seven models with wide stance parallel geometry of the blade lift cylinders and a nearly horizontal side shift cylinder, minimizing the need for operator corrections as the blade is repositioned
.
7.2-liter or 9.4-liter Volvo Tier III-compliant engines
Standard HTE840 8-forward/4-reverse or optional HTE1160 11-speed transmissions
Autoshift optional on HTE840 transmission and standard on the HTE1160
Volvo 2, 4, 6 All Wheel Drive system option
Proportional Demand Flow intelligent load-sensing hydraulics
High-visibility Care Cabs with industry-standard pedestal controls
Volvo Construction Equipment
Ground Hog 2500 Scraper
The Ground Hog 2500 scraper attachment mounts to the universal quick attach of 70-hp and larger compact track loaders, or skid steers with steel tracks.
Suitable for finish grading, backfilling curbs and retaining walls, spreading topsoil, fine grading building pads and more
2.5-cu.-yd. heaped capacity
Front oscillating beam allows 38° of rotation for uniform cuts even on uneven ground
Oscillating front beam and large caster shoulder the larger portion of the weight, minimizing stress on loader arms
Ashland Industries Inc.
M-Series Graders
The M-Series includes seven models featuring a joystick-operated, electro-hydraulic control system.
Two three-axis, low-effort joysticks simplify control and reduce operator arm and hand movements by as much as 78%
125- to 500-hp Cat C-Series Tier III engines with ACERT Technology
Direct-drive countershaft transmission (excludes 24M) with Electronic Clutch Pressure Control
All-wheel-drive option delivers 42% more torque, plus features a front wheel-only hydrostatic mode
Caterpillar Inc.
Upgraded 65E Compact Grader
The NorAm 65E has recently been upgraded to feature Caterpillar C4.4 Tier 3 emission compliant engines in addition to the standard Cummins QSB4.5 engines. The updated 65E also features a digital electronic display and diagnostics system to monitor the machine operating systems. Other updates include hood mounted grab handles, and easy fill and secure hydraulic tank system, and a five point transport tie-down system.
The 65E compact motor grader comes equipped with Tier III-compliant engines, including the standard Cummins QSB4.5 or optional Caterpillar C4.4 engine.
Digital electronic display and diagnostic system to monitor the machine operating systems
Includes a full powershift transmission and torque converter, 53-in. gear-driven circle and optional 90° bank slope saddle position
Enlarged engine side panels for improved service access
Hood-mounted grab handles, additional decals, new headlights and radio option group
Easy fill and secure hydraulic tank system located inside the engine compartment
Five-point transport tie-down system
NorAm Construction Equipment
Companies in this article