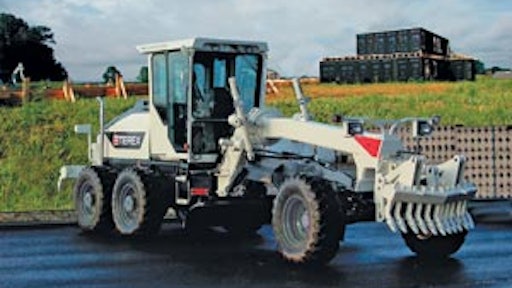 On many jobsites, the highest paid equipment operator is the one running the grader. The critical importance of maintaining proper grade specs, coupled with the complexity of the machine controls, necessitates only those individuals with a high level of experience be allowed to sit in the operator's seat.
Yet, the workforce is changing. The scarcity of experienced, competent operators is creating a void in skill level that is becoming increasingly difficult to fill. As such, motor grader manufacturers are enhancing designs to improve ease of operation, while simultaneously enhancing overall machine performance.
Following are recent advancements from three suppliers. Although some of the design changes are fairly subtle, others take dramatic steps toward eliminating the operating complexity of this equipment.
TEREX enters new territory
TEREX Corp. is the latest equipment supplier to enter the motor grader arena, introducing four new models — the TG110, TG150, TG190 and TG210.
According to Fred Casten, product manager, the units deliver the power, maneuverability and precision required for road maintenance work. "The new graders feature a compact design, blade geometry which allows 90° positioning on either side of the machine, a 30° articulating frame and a hydraulic front wheel steering system," he explains. "The result is excellent precision and versatility even in confined work areas."
The graders come in a choice of weight classes from 25,353 to 46,297 lbs., with tandem or all-wheel drive available. Power is supplied by Cummins Tier III four-cycle, direction-injection, turbocharged and water-cooled diesel engines rated from 132 to 220 hp. The drivetrain consists of a six-speed auto powershift transmission with torque converter, plus hydrostatic drive on the front axle when equipped with all-wheel drive.
The TG150 and TG190 debuted in January of this year. Both models feature an integrated ROPS/FOPS cab mounted on isolators to limit vibration and noise to the operator. An adjustable steering pedestal incorporates the EURO/TEREX control lever arrangement. Hydrostatic power steering further facilitates ease of operation.
Volvo adopts a clean sheet approach
Volvo Construction Equipment essentially started from scratch with the launch of its G900 motor graders. "We incorporated some of the better features of our previous models, but it really is a 'clean sheet' approach," states Brian Lowe, product and communications manager, Volvo motor graders. "We have touched every part of the machine — even the moldboard that touches the earth."
Built on two distinct but integrated platforms, the G900 motor graders consist of five tandem-drive and two all-wheel-drive units targeted to private contractors and local county operators seeking a "premium" machine. Base operating weights range from 34,291 to 46,282 lbs.
The four smaller models feature a 7.2-liter Volvo D7 Tier III engine, while the three larger units use the 9.4-liter Volvo D9 Tier III engine. Both engines utilize Volvo Advanced Combustion Technology (V-ACT).
Proportional Demand Flow intelligent, load-sensing hydraulics and a twin-gear, direct-drive circle turn system result in precision operation and instant response. They also ensure added strength to hold or turn the moldboard smoothly while moving under full load.
The HTE840 transmission offers selectable Manual, Autoshift (optional) and Travel modes. With Autoshift, the operator selects the target gear, and the transmission shifts automatically through turns and grades as needed. Its shuttle shift feature allows for shuttling between selected forward and reverse gears in a single, smooth motion without clutching or pausing.
Autoshift comes standard on the optional HTE1160 11-speed transmission, which supplies 11 forward and six reverse speeds. As Lowe explains, the 11-speed option adds more gears at the low end for fine grading, and at the high end for more incremental shifting up to a top speed of 30 mph. Fewer gaps between gears delivers more efficient travel speeds in the high range and more precision in the working range.
The two all-wheel-drive models offer six-wheel drive combined with four-wheel tandem drive and a front-wheel Creep Mode for precise fine grade operations. The operator has 16 selectable levels of aggression to match AWD performance to the task at hand.
Cat takes a major leap with controls
The most radical change in motor grader design can be found in Caterpillar's new M-Series lineup. More than 100 patent applications were filed with development of these machines, which include about 30% new content. The seven M-Series models will ultimately replace the 10 H-Series models, with initial release starting in the fourth quarter of this year and concluding in mid-2007.
The most significant changes can be found inside the cab. The M-Series replaces the traditional control setup — often consisting of as many as 15 levers and a steering wheel — with a joystick-operated, electro-hydraulic control system. Two three-axis, low-effort joysticks simplify control and reduce operator arm and hand movements by as much as 78%. The left joystick controls steering, articulation and fore and aft left blade lift and float. The right joystick controls fore and aft right blade lift and float, blade shift and circle turn. Both joysticks also incorporate buttons to control gear selection and other functions of the machine.
The new control system is designed to enable operators to sustain high levels of efficiency throughout the work day. The intuitive control pattern also makes training fast and simple for both new and experienced operators.
The changes in the control system have also opened up the interior of the cab, delivering significant improvements in lines of sight to the drawbar, circle and moldboard (DCM) and snow wing area. In addition, the cab doors are angled and the floor is tapered to provide unobstructed visibility to the front tires, heel and toe of the blade and DCM. The sloping, tapered engine enclosure further opens lines of sight to the ripper.
Cat C-Series Tier III engines with ACERT Technology power the new machines, delivering ratings from 125 to 500 hp. Variable horsepower (VHP) is now standard, with optional Variable Horsepower Plus.
All models except the 24M feature a direct-drive countershaft transmission. Electronic Clutch Pressure Control allows for smoother gear-to-gear and forward/reverse shifts, plus prolongs the life of drivetrain components.
An all-wheel-drive option delivers 42% more torque vs. the H-Series system. Dedicated left and right pumps allow independent control of hydraulic flow to each front wheel hydrostatic motor. To compensate for hydraulic power demand, the engine automatically delivers added horsepower to provide constant net power to the ground.
The all-wheel-drive system also features a front-wheel-only hydrostatic mode for precision low-speed performance. This mode provides infinite front wheel speed control from 0 to 5 mph.
Companies in this article