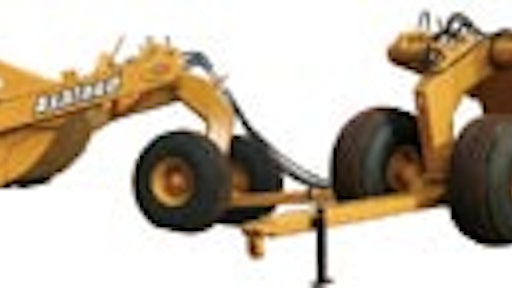 Ashland I-110XL and I-130XL Scrapers
The 11.3-cu.-yd. I-110XL and 13.3-cu.-yd. I-130XL pull-type, front dolly wheel, hydraulic ejection scrapers are designed for use with MFWD tractors or medium-sized dozers.
No specialized tractor drawbars required
Front dolly wheels provide land-following ability independent of power unit
56-in. front gate clearance
Forward blade set for visibility to the cutting edge
Double D Grade King Series
The Grade King Series leveling scrapers are available in widths from 10 to 16 ft.
Can be towed behind a rubber-tired or track-type tractor from 125 to 500 hp
Cuts roads approximately 2 in. deep when equipped with deep cutting bar with carbide steel teeth
Standard detachable tongue, rear hitch brackets, reversible hitch hammer "strap or clevis" and laser rack brackets
Roll-N-Go 48 roller can be attached without modification
John Deere 2112E Ejector Scraper
This fixed-blade ejector scraper can move up to 42 cu. yds. of material per cycle when combined with a John Deere 9020 Series scraper tractor.
21-cu.-yd. heaped capacity
Industrial-strength yoke-type cast hitch
Fixed blade, front-pivot design and single-cylinder, six-roller ejection system
Offset wheel design with large radial tires for maximum flotation
Caterpillar 657G Tractor-Scraper
The tandem-powered Cat 657G features a 600/564-hp Cat C18 engine for the tractor and a 451/410-hp Cat C15 engine for the scraper.
Engines incorporate ACERT Technology with Mechanically-actuated Electronically Controlled Unit Injection
Standard bowl or auger
44-cu.-yd. heaped bowl capacity with 104,058-lb. rated load
16.7-in. maximum cut depth
Can be push loaded, self loaded or loaded in push-pull configuration
Hoelscher Scrapers
Hoelscher's scraper line offers models with load capacities from .73 to 1.3 cu. yds.
Frost bit-style or 6-in. double-bevel cutting edges
1.25- to 4-in. maximum depths
Available for use with 35- to 50-hp tractors
Category 1 three-point hitch required
Weights from 820 to 1,360 lbs.
Overall widths from 64.25 to 78 in.
RB series available with 24-in. roller
Miskin AirScraper
The AirScraper air-assisted loading system allows more dirt to be loaded with the same tractor and scraper.
Sends a blast of compressed air up through the floor of the scraper, loosening dirt in the bowl to enable more dirt to enter
Onboard air tank filled by a hydraulically- or PTO-driven compressor
Air "blast" can be used when unloading to blast the bowl clean in sticky soils
Available on D-Series scrapers
Terex TS14G Scraper
The TS14G has a 20-cu.-yd. heaped capacity and a 14-cu.-yd. struck capacity.
48,000-lb. payload
310-gross-hp engine
Seven-speed electronically controlled transmissions with sequential "bump" shift for smooth, low-effort changes
Power-down apron for positive closing and precision ejection
Cushioned bowl suspension
ROPS/FOPS panoramic operator's compartment
Reynolds 20E12.5 Scraper
The 20-cu.-yd.-capacity 20E12.5 "ejector" pull-type scraper is suited for use with 375- to 500-hp tractors.
Provides a 12.5-ft. cut
SDS synchronized ejector system
Hydraulic manifold with integral valves control all scraper functions
Reversible heat-treated alloy blades and wear-resistant cast bits
Incorporates a tandem hitch and hydraulics, adjustable yoke hitch, height-adjustable axle mounts and laser bracket
Bell 4206D/T Construction Tractor
The rubber track-driven 4206D/T converts the output of its 422-hp DaimlerChrysler diesel engine into 65,000 lbf. of drawbar pull.
Can pull up to three fully loaded, 18-yd. pull scrapers in tandem over rough terrain
Four 6,000-lb. drive modules each incorporate a 36-in.-wide continuous rubber track• Control panel and hydraulics fully adjustable to suit the application
Interaxle locks and Controlled Traction Differentials
Orthman Grade Mate
The Grade Mate enables a single trained operator to effectively finish a fine grade up to 50,000 sq. ft. at 1/4-in. accuracy, all in one eight-hour work day.
Distance of cutting blade from tractor provides even, uninterrupted grading
Tractor-mounted console to monitor all functions
Can be set up in minutes
Full-width roller compacts sub-base materials and eliminates tire tracks and scraper bounce
AGCO Challenger MT800B Tractors
The five Challenger MT800B Special Application models are suitable for pulling scrapers, disks, rippers, water tanks, rollers and other construction implements.
Caterpillar

ACERT Technology engines range from 350 to 570 hp
Mobil-trac system combines the mobility and versatility of rubber tires with the traction, smooth ride and low ground pressure of tracks
24.6-mph transport speed
Tractor Management Center independently monitors and displays pressure exerted on each track belt
ICON 821 Pull-type Scraper
The 821 pull-type scraper has a 21-cu.-yd. capacity, yet has less than a 12-ft. transport width.
Swingwall for rapid eject
Quick-attach cast hitch
Hydraulic operation of gate and wall by a synchro-sequencing valve
Double-wall design of high-tensile steel where needed
Hydraulic accumulator for a cushioned haul
Tandem configuration capability
Companies in this article