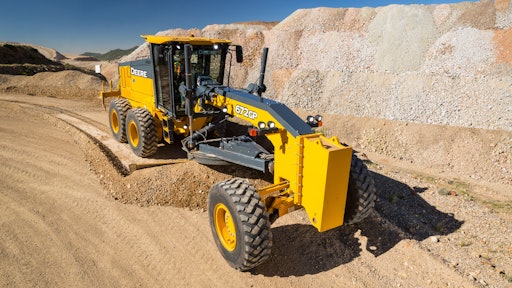 As older, experienced motor grader operators retire, you need to make sure there is someone qualified to fill the vacancy. "The most critical tool is seat time and experience," says Mike Ackerman, product marketing manager, motor graders, John Deere Construction & Forestry. Operators who have worked on the jobsite and understand grade, cut/fill, etc., are key.
There is no substitute for experience when it comes to these machines. However, manufacturers are trying to address the critical shortage of qualified operators by offering enhanced features to simplify grader operation, as well as various training aides such as simulators.
In the past, it was an "art'" to learn traditional motor grader controls. But now there are options. "I would suggest choosing a machine/control platform that is simple and intuitive," says Wade Porter, motor grader product application specialist, Caterpillar. "The conventional controls of the past weren't simple to learn and intimidated new operators. Caterpillar's M Series joystick controls are simple and intuitive, whether starting from scratch as a new operator or switching over as an experienced blade hand."
Electrohydraulics enable simplified controls. "Motor graders have evolved from traditional lever-operated controls to joystick-controlled machine platforms," says Ryan Kunisch, director of marketing, Trimble Civil Engineering and Construction. These electrohydraulic systems allow a computer interface between grade control systems and the machine platform.
"Tying the machine control system into the platform allows for an improved ergonomic experience for the operator, increased grading performance and improved accuracy," says Kunisch. "With Trimble machine control technology, we're able to increase the performance of the machine because we are directly tied into its computer. Many manufacturers are providing direct connections to these modern machine platforms for machine control."
Easier, More Comfortable Operation
New ergonomic controls and better visibility allow an operator to be more productive.
An example is John Deere's Grade Pro offering, which features armrest controls that keep the operator more static in a comfortable position. Coupled with return to straight, lever steer, auto diff lock, enhanced moldboard visibility and anti-stall, this keeps the operator comfortable in the cab to maintain high levels of performance during 10- to 12-hour days.
Caterpillar offers Standard and Advanced electrohydraulic joystick controls. The Standard joystick controls reduce arm and hand movement by almost 80% and increase multi-function capability. The Advanced Control Joystick option allows operators to control either Cat Grade Control/AccuGrade or to run auxiliary functions (such as a snow wing, front plow, ripper, etc.) without removing their hands from the joysticks.
But simplified controls are only one of the latest innovations that can reduce the learning curve and simplify what has traditionally been a complex task. "Overall, motor graders have evolved, making them easier to operate," says Ackerman. "Deere is listening to our customers and understands the pain points an operator used to deal with."
A prime example is shifting. "In older machines, operators would have to ride the inching pedal (or clutch) to make a smooth shift," Ackerman notes. "With Deere's Event Based Shifting (EBS), riding the inching pedal is a thing of the past, allowing the operator to make smooth as silk gear and direction changes."
Automatic differential lock is another great example. "Differential lock is a must in a motor grader," says Ackerman. "Deere's automatic differential lock allows the operator to turn this critical feature on and go to work. If the operator turns greater than 10°, the differential lock disengages and then re-engages when returning to straight." A toggle switch-activated auto-diff override allows aggressive steering with heavy loads in low-traction conditions.
Automated blade control is perhaps one of the most used tools. John Deere offers cross slope and an open architecture approach to grade control as standard equipment on Grade Pro models. Cross slope makes it possible for an operator to adjust to a grade and maintain that grade with one hand. The open architecture allows customers to easily add their preferred grade control system.
"Both of these can help an operator increase their proficiency by offering consistency — help them keep a correct slope and help manage material," says Ackerman.
Caterpillar also offers several performance-enhancing technologies, including articulation return-to-center, Auto Articulation, Stable Grade, Cat Grade Control cross slope with preset slope target software, Cat AccuGrade, Economy (ECO) Mode, electronic throttle control, variable horsepower strategy, selectable blade lift modes, automatic differential lock/unlock and WAVS (Work Area Vision System) Camera. Some features may be more useful for lesser experienced operators.
"It's the combination of our Advanced Control Joysticks, Stable Grade and Cat Grade Control/AccuGrade technologies that improves proficiency the most," says Porter. "The operator control interface and any technology that 'automates' the performance of the machine and/or moldboard will increase proficiency the most."
Stable Grade detects machine bounce through an accelerometer and will automatically reduce engine speed as needed to stabilize the grader. "Once the motor grader has stabilized, Stable Grade will modulate increased speed back to the desired set level," says Porter.
In today's environment, "bounce" is managed in a reactive way — the machine bounces, surface damage occurs and the operator reacts by reducing throttle, Porter points out. "While Stable Grade is technically reactive, it works so quickly that it provides a 'proactive' feel to the operator and prevents surface damage," he adds.
Cat Grade Control Cross Slope is an optional, fully integrated, factory-installed system designed to help the operator improve grading efficiency and more easily maintain accurate slopes. "The system automatically controls one side of the blade, reducing manual operator inputs by as much as 50%," says Porter. "Experienced operators can maintain peak efficiency levels throughout more of the work day, while less experienced operators can be more productive faster."
The system is scalable for the future with AccuGrade upgrade kits that provide additional 2D and/or 3D control.
Training for the Future
Start training your most promising in-house talent.
"We have talked to numerous customers and a good step in finding skilled motor grader operators is understanding the workforce they already have," says Jonathon Goodney, manager, learning technology, John Deere Construction & Forestry. "Understanding the skill sets among your current employees, then identifying individuals with aptitude for motor grader operation is key to long-term workforce planning. Simulators can help identify those capabilities, as well as train on the complexities of motor grader operation in a safe environment."
Cat Equipment Training Solutions can help improve productivity and safety through the delivery of heavy equipment operator training and application training services.
Training offered includes E-Learning Operator Training and Caterpillar University Online. This training has been created for entry-level operators looking for basic knowledge on heavy equipment safety, pre-operation maintenance and basic operating procedures. Caterpillar also offers instructor-led operator training courses that provide much more than the customary orientation training shared at the time of machine delivery.
John Deere provides different types of motor grader training offerings, as well. "On YouTube, you can find John Deere Safety tips for operating motor graders," says Goodney. "In DVD format, we have safety, maintenance and operation (SMO) videos available for purchase that get into the safety, daily service checks and operation tips, which help in identifying all of the controls in the cab and an explanation of how to use them."
Peer advice from successful operators is a real plus. "In addition to the SMO videos, we have Operator Tips from the Pros videos that are an excellent source for new operators to learn about how to move dirt," says Goodney. "Real pros give suggestions on how to place your blade and improve your grading experience."
Operator training can take many forms. "We offer both simulation and training solutions to provide education specific to our technology," says Kunisch. "Our motor grader simulator familiarizes the operator with key features and the operation of the Trimble machine control box software. Our global SITECH dealer network provides regular training classes for contractors who use our products, as well as open house sessions for new customers and hands-on demonstration and learning."
Simulators Improve Performance
Simulators allow operators to learn the controls and techniques without burning fuel and risking valuable equipment.
John Deere's motor grader simulator helps to enhance the hand/eye coordination for operating motor graders. "The simulator walks you through the basics with learning the controls and grading a parking lot. Then it branches into building a road, cutting a V-ditch, crowning a road, spreading the base stone and ends with a grading a cul-de-sac lesson," says Goodney. "In the cul-de-sac lesson, you have to use a combination of all functions to be able to do the exercise. It is really a great learning tool. Couple up the motor grader simulator with our optional motion platform and you are ready for an immersive experience."
Caterpillar also offers access to simulators for operator training. A variety of training exercises designed to address each of the skills associated with operating actual machines are represented in different work environments such as construction and mining.
Operators can get realistic seat time in a controlled environment. By uniting simulated work site applications and conditions with realistic controls, Cat Simulators provide hands-on learning in a safe and economical way to enhance traditional operator training programs. Experienced operators can also benefit from simulator training by refining skills to increase production levels.
Grade Control Can Help
A grade control system can help offset productivity losses from less experienced operators.
"The most useful tool to an operator is the accessibility of a control box in the cab of the machine which indicates where the operator needs to grade on the project," Kunisch asserts. "By referencing a 3D design model, an operator can accurately see where and how much material they need to place or remove to millimeter accuracy. Operators leveraging our machine control technology on motor graders and a 3D design model can see their productivity increase by 30% to 50%."
Grade control allows the operator to focus on running the machine. "Motor graders are difficult machines to operate, even for the most experienced operator," says Kunisch. "Trimble machine control solutions automate the lift and tilt of the blade of the motor grader, as well as automatic side shift of the blade."
This automation simplifies machine operation, regardless of skill level. "The complex adjustments are taken care of by the technology, allowing the operator to focus on blade rotation and blade pitch as required for the particular grading task and steering the machine," Kunisch notes. "With machine control technology automating more of the blade operation tasks, operator fatigue is minimized and operator turnover is reduced."
Precision and productivity are also increased. "An operator can be more precise and more productive at the same time," says Kunisch. "With the aid of automatic blade control and utilizing either positioning from a robotic total station or laser-augmented GPS and grading to a 3D design model, operators can maintain precise grading accuracy. Our technology allows the operator to achieve the relevant accuracy, depending upon the application, from rough grading to finish grading applications."
Today's motor graders are designed to deliver better performance with automated grade control systems. "With the introduction of electrohydraulics on motor graders, machines have been built to more seamlessly accept grade control systems," says Ackerman. "On our Grade Pro offerings, buttons that control the grade control system have been integrated into the fingertip armrest-mounted controls. There is no longer a need to add multiple controls (levers, switches, etc.) to support/activate these grade control systems."
"All Cat blade control systems, whether Cat Grade Control or AccuGrade, feature in-cab guidance. [This] helps operators work more confidently and achieve targeted grade or slope faster, in fewer passes, using less material, improving productivity and accuracy over conventional methods," says Porter.
For example, the AccuGrade Dual GPS system features a separate display that can be loaded with a site plan, allowing the operator to select reference points (e.g., centerline of the road) and which side of the blade will follow that reference point. The operator can then simply steer the motor grader, tracing the reference line on the screen, while elevation, grade and slope are controlled automatically.
"However, motor grader operators still need to know how and where to move the dirt," says Porter. "In addition, if the technology breaks down or fails, productivity can be reduced if the operator lacks the 'manual' skills required to do the job without technology."
Of course, operators should still understand how to grade with conventional stakes as backup. "The concern here is that the grade control system might go down," Ackerman comments. "In that scenario, it helps to have that less experienced operator to have had some experience with grade stakes, cut/fill, etc. Having that experience will allow the operator to be productive until the grade control system is back up and running."
Companies in this article