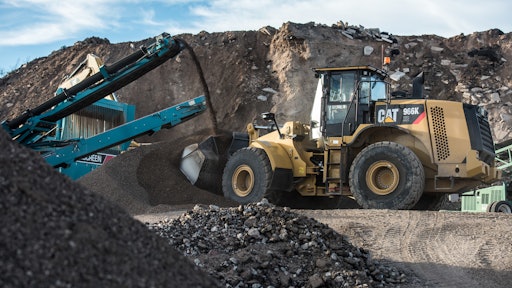 Shane Madsen, owner of Sierra Materials, says he never even asked how much Empire Caterpillar wanted for the 966K XE wheel loader that had been working at his gravel pit for several weeks as a demonstrator. Once he saw the fuel savings the machine's new continuously variable transmission delivers, he knew he would buy it.
"Our 966Hs are up around 4 to 4.5 gallons per hour," Madsen says. "If you've really got your foot in the throttle – pushing them hard loading trucks – you can get 'em up to 5 gallons an hour.
"The new K burns 2.5 to 2.7 gallons an hour; the worst we've seen is about 2.8 gallons an hour.
"When fuel prices were really high, you could make a pretty good chunk of your payment just in fuel savings."
Sierra Materials crushes concrete and asphalt and remarkets it as various grades of construction materials. The 966K XE has been working in the yard for a year alongside the company's two 966H loaders, and a 5-yard Kobelco. Each of the company's machines works about 200 hours per month, and with fuel savings compared to the older machines averaging better than 1.75 gallons per hour, Madsen figures the new machine saves more than $1,000 per month at today's fuel prices.
The XE version of Caterpillar's 966 loader employs a unique twin-path transmission that replaces the torque converter, the least-efficient aspect of a powershift gear box, with what Cat calls a hydrostatic variator.
Engine power flows through the continuously variable transmission on two paths: a mechanical path and the variator. The system maintains a steady flow of power to the output shaft much like a hydrostatic transmission, and generates much less heat than a powershift transmission's torque converter.
Without a torque converter, the engine is always engaged with the transmission so engine friction can be used as a retarder. This reserves hydraulic power that would normally be used for braking for implements.
The engine is tuned to deliver rated horsepower at 100 rpm less than the 966 with conventional transmission, and the combination of slower engine speed, reduced parasitic load and smoother power delivery combines to improve the XE model's fuel efficiency (material moved per gallon of fuel) up to 25%, according to Caterpillar. Sierra Materials is comparing the 966K XE to older 966H models, and getting more than 37% better fuel economy.
The retarding effect of the XE's continuously variable transmission plays a role in Madsen's decision-making as well.
"You don't ever really touch the brakes on it because the transmission will pull it down," Madsen says. "The way it operates, I don't think you're ever going to see it wear out the brakes.
"Plus with that transmission, when you change ranges you don't get that clunk where it shifts from first to second or second to third. It does it very smoothly so there's no gear lash in there. I'm thinking the transmission is going to last for a long time. I'm bettin' on that because, you know, there are cheaper loaders out there to buy. But I think it's going to really pay off in the long run."
Madsen's is the kind of operation that takes advantage of durability improvements. With a small equipment fleet working in a fixed yard with a regular cast of operators, the company works its machines indefinitely.
"We have one 980G that has over 30,000 hours on it that has not had any major failures," Madsen says. "We've not replaced pins or bushings or anything. We're really good with our maintenance; we change engine oil at 200 hours, use a real good grade of grease.
"At 18,000 hours on that particular tractor, we had an oil leak. While they had the oil pan off at Empire's shop I told them to go ahead and change the rod and main bearings. They called over to tell us the rod and main bearings looked like brand new. That's the kind of maintenance that we do on our toys. We take care of 'em and they take care of us.
"This XE tractor might get 40 or 50,000 hours," says Madsen, "And I wouldn't be surprised if we could take it to a second life at that time."