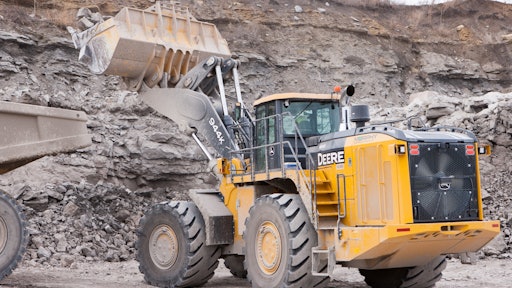 Cornejo & Sons liked what they saw in John Deere's 944K Hybrid Loader, and the Wichita, Kan., materials and paving contractor became one of the first owners of the all-new machine.
"I first saw the 944K back in 2011 at CONEXPO-CON/AGG in Las Vegas," explains Jeff Bremer, MBA, area equipment manager for Cornejo & Sons. "We were all intrigued with the technology, so even though it was a new size for Deere, we kept it in our minds." After a demo machine lived up to expectations in the summer of 2015, Bremer ordered an early production model. It has logged more than 2,000 hours in the company's fleet. "We've had minimal downtime, and most any maintenance has been scheduled."
Perhaps most telling for Bremer has been the hybrid loader's ability to overcome his crew's prior loyalty 
to a competing brand. The 536-hp Deere with 9-cu.-yd. spade-nose bucket replaced a 625-hp loader with 11-cu.-yd. bucket. The 120,000-lb. electric-drive Deere weighs 25% less than its predecessor.
"I know some of the operators were apprehensive about the smaller size and not having experience with the Deere product," says Bremer. "Now they're very confident with it and actually say that they like operating the machine."
The 944K loads shot rock at Cornejo & Sons' million-ton-per-year Durbin Quarry, in Moline, Kan., with production capacity of 800 tons per hour. Since adding the 944K, Cornejo & Sons has experienced a steady return on its machine investment. "The 944K meets our production requirements as well as our previous piece of equipment, and at a lower cost," says Ware. "The other machine burned about 24 gallons of fuel an hour, where the 944K burns around nine."
[VIDEO] Quarry Measures Savings with Deere 944K Hybrid Loader

The 944K's hybrid-electric drive uses brushless A/C generators and motors, water-cooled resistors, and solid-state-powered electronics to deliver reliable performance. The engine operating at a reduced engine-speed range is expected to extend wear life compared to conventionally driven machines.
Electric drive is also reducing tire wear. The 944K's standard traction control automatically limits torque to any wheel when slippage occurs. And a four-setting rimpull control enables operators to optimize traction in changing conditions when crowding against a load.
"Any time you slip a wheel, it's going to cost you — tires are expensive these days," says Mark Beitz, Cornejo & Son's primary 944K operator. "It doesn't seem to have much wheel slip at all, if any. I've had it in some situations where it was quite muddy, and I thought it did real well."
The 944K hasn't had any problems overcoming brand loyalty and making new friends. "I figured it wouldn't be able to dig in this environment as well," Beitz explains, regarding his initial hesitance about switching to Deere. "But the power on it has pretty much impressed me. You don't have to worry about getting a full bucket. It's quick and agile, too — it does great." 
The 944K's flow-sharing hydraulic system noticeably speeds cycle and boom-raise times.
"As far as the hydraulics, they're probably quicker than any that I've run," says Beitz. "The quicker you can get that bucket in the air, the faster you can go to the truck, and that'll increase your cycle times."
Beitz appreciates the 944K's attention to operator comfort, too. "The cab's roomy. It's quiet. It's comfortable. To be honest, it's probably got more conveniences than the other machine I ran. It's got a heated seat and heated mirrors. You know, it's basically got more than my pickup's got!"
Bremer knows that, for many, embracing new equipment and technology is easier said than done. But the guarantee of 24/7 backing from the John Deere factory and dealer support networks quickly puts to rest whatever fears he had.
"As a company, we like to be on the forefront of technology whenever it fits our applications — there's just intrinsic value in new technologies," he explains. "One of the biggest reasons we decided to go with the 944K is because of our relationship with Deere from a corporate standpoint, as well as with our local dealer, Murphy Tractor. That confidence allowed us to step into the new size and the new technology."
Ware is equally impressed by Murphy's reliability. "Support has been a defining factor with this machine. It's all about putting out tonnage — we can't have downtime, and Murphy understands that."
Cornejo & Sons is one of the largest construction operations in Wichita, Kan. Specialties include asphalt, concrete and paving, sand pits, landfill, recycling, ready-mix, and more. As such, the company has an ever-present need for vast amounts of material — material they mine day in and day out. They are supported by Murphy Tractor & Equipment Co., Park City, Kan.