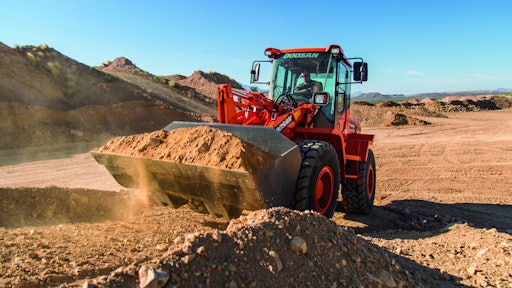 Before you utilize a wheel loader, you should match the performance features to the type of work you will be completing. According to Mike Stark, Doosan wheel loader product specialist, you should have a general understanding of a torque converter transmission-style and hydrostatic components, and how each transmission type can benefit your productivity. By asking the following seven questions, you can better utilize these powerful machines without sacrificing power and performance.
How are torque converter and hydrostatic transmissions different?
Torque converter transmissions are a type of fluid coupling in which three or more rotors are used, one of which may be able to be locked, so that output torque is augmented and output speed matches engine rpm. Manufacturers offer manual or automatic powershift transmissions that allow the machine to move forward and backward and shift the machine into neutral. According to Stark, this transmission type allows "wheel loaders to accelerate more quickly and provides the most available torque in digging applications."
A hydrostatic transmission consists of an entire hydraulic system; it contains a pump, motors and all the required controls. Power is generated and transmitted by fluid flowing through the specialized system.
"Instead of a transmission, the machine is equipped with a constant velocity (mechanical) gearbox that consists of two hydraulic motors — a low speed and a high speed motor," Stark says. "A variable displacement pump attaches directly to the engine and can push the hydraulic fluid forward to accelerate or decelerate the machine."
If more torque is needed, especially in heavy digging applications, both the low- and high-speed motors will receive flow. This provides low-speed, high-torque output from the motors, Stark says. When the demand for higher torque decreases and speed increases, he says a clutch will transfer the flow to the high-speed motor. This provides higher speed output with lower torque for improved machine performance.
According to Stark, hydrostatic transmissions have several benefits, including:
Improved fuel efficiency, such as lower consumption, because of improved performance at lower engine rpms.
Enhanced machine position control to increase productivity, especially when climbing a pile or hill to fill the wheel loader's bucket.
Low heat development in the digging range.
This type of transmission allows the operator to easily adjust the wheel loader's speed, torque and power as well as provide dynamic breaking capabilities. In addition, hydrostatic wheel loaders have fewer moving parts, which makes servicing the machine easier, according to Stark. "They also have better fuel efficiency when travelling longer distances," he says.
Are there multiple power modes?
Both torque converter and hydrostatic wheel loaders are equipped with selectable power modes that adjust the maximum engine rpm based on the operator's preference and the application. However, unique to the hydrostatic drive system, the engine rpm is not directly correlated to the machine's travel speed, so the maximum travel speed remains unaffected.
Typically, there are three power modes that can adjust the maximum engine rpm, including:
Power: Provides superior power and performance for tough conditions and truck-loading tasks.
Standard: Balances fuel consumption for everyday digging, grading and lifting tasks.
Economy: Reduces fuel consumption for low-demand applications.
"An operator moving sand may want maximum power all the time, so the power mode would work best for this application," Stark says. "Similarly, if operators are pushing snow, they may want to select the economy mode. With hydrostatic wheel loaders, operators can gain the needed torque to push the material, but they also have the ability to reduce their travel speed."
What traction management features are there?
A wheel loader needs the right amount of traction when digging, grading or loading trucks. To easily maneuver in tough terrain, most torque converter transmission-style wheel loaders are equipped with limited-slip differentials, which allow the wheel with the most traction to receive the proper torque. The differentials provide superior tractive effort, even in soft or wet ground conditions.
Hydrostatic wheel loaders have a traction control management feature that can help reduce wheel slippage for more-efficient operation in digging, stockpiling and loading applications. The three modes may include:
Max: Provides maximum traction force when working in digging and stockpiling applications.
Traction control: Displays three levels of reduced traction forces — 90%, 80% and 70% torque — to match the jobsite.
S-Mode: Helps when operating on slippery roadway conditions.
"The traction control mode works well in semi-slippery applications, helping wheels maintain better ground contact," Stark says. "S-Mode also provides operators with 50% torque at the wheels, to easily maneuver in slippery applications, such as waste transfer stations. Both modes help decrease wear on the tires, increase productivity and can lead to more fuel savings on the jobsite."
Some torque converter transmission-style wheel loaders are equipped with a standard or optional lock-up clutch that physically links the impeller and turbine, resulting in little to no slippage and virtually no power loss.
Can I match speed to the application?
Unlike torque converter transmission-style wheel loaders, hydrostatic drive models allow operators to fine-tune the travel speed and can obtain full engine rpm without the use of the acceleration pedal. 
"This function is particularly useful for operators who need optimal lift arm or hydraulic attachment performance when pushing snow," Stark says. "In applications like these, operators need to control their speed but also want higher engine rpm to get the job completed efficiently."
Are there dynamic braking capabilities?
Hydrostatic wheel loaders have dynamic braking capabilities. "Dynamic braking gives operators better control and reduces wear on the brakes," Stark says.
With the dynamic braking feature, the operator can simply ease off the acceleration pedal and the hydraulic pressure within the hydrostatic system will slowly bring the machine to a stop, without applying the brakes. According to Stark, this feature is especially beneficial in stockpiling applications or when traveling down on an incline.
What cab offerings are there?
Manufacturers continue to increase cab space, not necessarily by increasing the cab size, but by reducing the component size. Smaller components open up the space without making the cab dimensions any larger. According to Stark, some manufacturers, such as Doosan, have reduced the size of their adjustable steering columns to provide more legroom, better ease of operation and more floor space.
Since wheel loaders typically work on busy jobsites, it is important that a wheel loader has helpful features such as a rearview camera, backup alarms and good visibility outside of the cab. According to Stark, machine lighting is especially important for contractors who work early in the morning and continue late into the night. Other wheel loader features to consider include heated mirrors and emergency steering.
How versatile is the wheel loader?
Machine versatility is important when working in digging, loading and lifting applications to help maintain machine productivity. Oftentimes, a wheel loader is used to support an excavator or an articulated dump truck, so it is important that the machines are a good working match.
A torque converter transmission or hydrostatic wheel loader should be able to use multiple attachments to reduce the amount of equipment needed on a jobsite. Wheel loaders may be equipped with a hydraulic quick coupler to easily change non-hydraulic attachments such as buckets — general purpose or light material — and pallet forks. Some owners may choose a tool carrier iteration with a parallel-lift linkage versus a Z-bar configuration. The parallel-lift style allows the attachment to stay level during a lift cycle, which is especially helpful when using pallet forks.
The best way for you to compare torque converter transmission and hydrostatic wheel loaders is to demo them side by side, because not all wheel loaders perform the same way, Stark says. You should operate the two types of wheel loaders in real-life job applications, such as loading trucks or digging, so you can better assess which of these powerful machines will provide the most benefits to your jobsite.