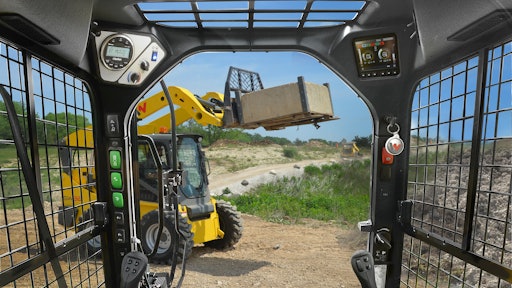 Wacker Neuson Corporation

Wacker Neuson's skid steers and compact track loaders offer an industry-leading ALL ACCESS design. ALL ACCESS means that Wacker Neuson loaders stand out among the crowded field for their superior service accessibility and enhanced cab design that allows operators to easily enter, see and reach everything they need to get the job done. 
The best-in-class ALL ACCESS maintenance accessibility starts with a cab that fully tips forward even when the loader arms are down.This provides complete and easy access to all maintenance components. Opening the wide door at the back of the machine provides ALL ACCESS to the well-organized daily check points needed which are all easy to see and reach to speed up the maintenance process. This simple design and efficient layout means less time on daily service checks and more time on the job. 
Wacker Neuson's 5.7-inch color deluxe display gives operators and mechanics ALL ACCESS to the machines information. Machine vitals such as engine oil pressure, hydraulic oil temperature, fuel level, system voltage and more are accessible. Operators can adjust the machine and display settings and access the machines maintenance history and guide for performing maintenance. Finally, it displays any error codes for quick and easy trouble shooting.
An ALL ACCESS cab starts with easy entry and exit with a wide door, convenient step and ergonomically located handles. Once operators enters the cab, they will notice how spacious it is. There is no restrictive lap bar which provides more room in the cab, the safety belt provides better protection and is more comfortable for a long day's work. Wacker Neuson also designed plenty of space in the foot well that extends out below the door allowing operators to stretch out their legs with comfort and the larger floor space accommodates large, muddy work boots.
ALL ACCESS also means having high visibility to the entire job site and also contributes to operator comfort. With one of the largest doors in the industry, large side windows and a rear hood that tapers quickly downward, Wacker Neuson's loader provide superior visibility to everything around the machine. The operator has the ability to see both leading and cutting edges to the attachment without needing to lean forward making it more comfortable the efficient to operate. Additionally, a rear view camera is available to aid with visibility to the rear.
Wacker Neuson's skid steer and compact track loaders also give operators ALL ACCESS to the machine controls. On the joystick models, the operator can select standard ISO or H-pattern operating modes. Furthermore the user can set a top speed limit, engage creep mode, adjust the acceleration, change the steering response, adjust the work-group speed or manipulate the joystick response. The operator has access to customize the machine's response to their exact preferences.
Additionally, Wacker Neuson's compact track loaders provide an ALL ACCESS undercarriage that includes an open design that makes it easy to clean. The simple design minimizes maintenance costs.
Wacker Neuson currently offers seven skid steer (SW) models ranging from 1,600 to 3,200 pounds rated operating capacity. The compact track loader line has six models with rated operating capacities ranging from 2,800 to 5,000 pounds. All models are powered by Kohler KDI engines with the choice of horsepower and vertical or radial lift units.
Wacker Neuson began manufacturing its North American engineered, designed and built line of skid steers and compact track loaders in 2015 and has continued to expand the line offering many unique features and benefits to the market. But don't be fooled by the "new kid on the block" status. Wacker Neuson has been manufacturing equipment for the construction industry for over 60 years in the United States and has developed many products that have become global mainstays. Wacker Neuson's years of industry experience allowed them to design an ALL ACCESS line of skid steers and compact track loaders.