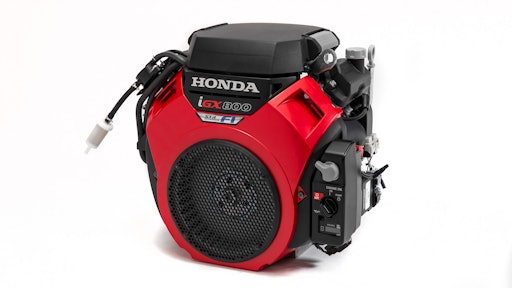 Gasoline engines are fairly simple creatures - fuel is mixed with air and inducted into a cylinder, the piston compresses the mixture and a spark ignites it, causing combustion, then gases expand to push the piston during the power stroke. It's been a pretty straightforward, mechanical process, until the advent of electronic fuel injection (EFI) made it a bit more sophisticated, to everyone's benefit.
"There have been significant gains in the areas of fuel efficiency, ease of use and reliability in recent years," says Kyle Riste, channel manager – rental and construction, Kohler Engines. "Many of these benefits can be attributed to the increased availability and adoption of Electronic Fuel Injection (EFI) technology."
Unlike the traditional carbureted engine, EFI uses computer controls with a high-pressure fuel delivery system to provide optimum power and fuel efficiency. The technology has been used in automobiles for decades, but has only recently been incorporated into general-purpose engines in response to customer demand for the aforementioned fuel efficiency as well as easier start-ability. Today's engine manufacturers are working to meet that demand with new models featuring EFI.
Tom Billigen, customer education training manager, Vanguard, notes larger V-twins are now available with electronic fuel injection (EFI) as a mainstream option. "EFI brings a lot to the table in terms of both efficiency and user friendliness," he says.
Honda, for its part, recently expanded its GX Series engine lineup with the introduction of two new V-Twin models. The Honda iGX700/iGXV700 and iGX800/iGXV800 general-purpose engines offer versatile power, greater adaptability and excellent fuel efficiency in a compact package and now are the most powerful electronic fuel-injected models offered by Honda Power Equipment.
"The industry has been going to fuel injection, and we have the technology in our automotive and powersports products," explains David Bush, Honda senior marketing strategist - engine, generator, pump and snow products. "With the launch of our newest V-Twins, suited to larger and more demanding commercial applications, it just made sense to integrate fuel injection into these models."
Benefits of EFI
According to Bush, the biggest benefit EFI brings to general-purpose engines is the elimination of the choke. "If you're renting a piece of equipment to someone who's not familiar with it, now they can just turn the key and go, without worrying about a choke, or about flooding… and the rental company doesn't have to worry about continued call backs from someone who can't get a product started," he says. "That's the most important thing with fuel injection. The other thing is it's more tolerant of poor fuel conditions that can affect components in the carburetor. Moving to fuel injection eliminates that and it improves fuel efficiency for longer running times."
Riste agrees, adding, "EFI technology – in conjunction with Kohler's service tools – provides the rental company with easier and faster troubleshooting of potential issues… Plus, with electronic fuel injection there isn't a carburetor, so you'll never have to perform a carb repair or replacement."
Kohler's closed-loop EFI also adjusts to altitude, so users will get the same performance on Miami Beach, for example, as they would in Denver. "For rental companies with multiple locations, this means they won't have to worry about potentially needing to rejet a carburetor if they send equipment from one shop to another," Riste says. "The customer who rents a piece of equipment with a Kohler EFI engine should also experience decreased fuel costs because our EFI can save as much as 25 percent compared to a Kohler carbureted engine."
Billigen says rental customers gain productivity and lower their bottom-line with the improved engine fuel efficiency of EFI engines. They also benefit from a user-comfort perspective through decreased noise and vibration, which, in turn, can improve operator productivity. Additionally, intuitive engine controls and automotive "turn and go" starting simplifies operations and eliminates knowledge barriers.
From a maintenance perspective, EFI doesn't complicate anything. "A lot of problems you see with engines nowadays are related to fuel, especially from the carburetor standpoint," Bush said. "I think with the fuel injection, you're at least eliminating that aspect, which was really a big cause of why engines had to have a lot of service done on them."
He continues, "With the addition of more alcohol to gasoline over the years, that's when we started to see some of the seals in the internal components be affected."
Diagnosing the engine is easier with computer technology as well. In Honda's case, the new iGX V-Twin features drive-by-wire connectivity, offering significant benefits to the OEM and end user alike. "You have a main processing unit and then everything's kind of a plug-in from that to control different aspects of the product," Bush explains. "The drive by wire is really a plug and play system in the ECU that can be customized based on what the OEM on the frame side is asking for. When you have a non-drive-by-wire system, everything's mechanical, so it's very hard to get that dialed in. This really gives OEMs a lot of opportunity to advance their products. Through the drive by wire system, you can actually have a CAN bus system, which is something that was introduced in the automotive industry. This engine provides the ability to communicate with the OEM's ECU if they choose to put one on the product, so it really takes it to the next level."
He adds, "From a dealer aspect, it's going to make maintenance easier because one thing this engine also offers is the ability to link to a tablet or PC. With Honda's Dr. H software system, they can look at the full diagnostics of what's going on."
But it does cost more
Of course, any time high-tech componentry is added to a machine, it's reflected in the price. "EFI is more advanced than the standard carburetor and it will add costs to the product. That's true across the board," Bush says. "We've had the ability to go to fuel injection for quite some time, but we didn't want to go there with general-purpose engines just because the technology was available. One of the things we already touched on was the price increase. Our carbureted units work just fine. But as we saw the technical advancements that the customer was really wanting, we said now it's time to take it to the next level."
Bush adds, "We actually introduced some of this technology back in the early 2000s. We had a single-cylinder engine, which was way ahead of its time. But the industry just wasn't ready for it yet. So, we've revamped it with our new iGX V-Twin models."
Riste says despite the higher price of EFI technology, the total cost of ownership over the life of the equipment is improved due to faster repairs, no carburetor replacements or service, and fewer service calls related to operating the equipment. "These benefits commonly offset the acquisition cost pretty quickly," he says. "For most contractors and other professionals, improved engine performance and fuel savings on the jobsite make EFI engines and other technological innovations worth every penny. Of course, new technologies do come with the need for more tech-savvy technicians because servicing EFI and Tier 4 Final engines requires more advanced tools and a higher level of training compared to engines and service centers from 20 or 30 years ago."
Technological advancements to engines can initially add development costs — but when those costs are scaled across exceptional engineering teams, higher-volume production and smart manufacturing techniques, it has a minimal impact at the point of sale, Billigen states.
"Maintenance procedures, cost and frequency have all drastically improved," he says. "Vanguard is invested in including voice of customer data in the engineering channels. That means addressing customer concerns, such as designing an engine to be inherently easier to maintain, is baked into the development process. Improvements to key performance areas, such as starting, noise, vibration, controls, and engine load acceptance and response, are all just value-adds of technological advances in engines."
What's coming next?
"The biggest trend we've seen is emissions regulations continuing to drive significant changes across equipment and engine lineups globally," Riste says. "The ability to electronically control fuel injection is a huge step in moving towards cleaner running engines, and when joined with some of the advanced development technologies that OEMs and engine manufacturers are undoubtedly working on, I'd expect to see the trend towards more technology on equipment and engines continue. In addition to that, with some service centers seeing a tech shortage, we're expecting the trend for better technology and virtual or online training to expedite service and troubleshooting timelines will continue to be more and more important. The easier we can make the service and upkeep through technology; the faster rental companies will be able to get their equipment back up and running if they ever experience a downtime event."
He continues, "We're dedicated to staying on the leading edge of engine design and technology. KOHLER Engines pioneered the use of closed-loop Electronic Fuel Injection in the commercial turf category more than 20 years ago and today we offer an extensive EFI lineup for a wide variety of applications. We anticipate this lineup will continue to expand and offer additional benefits as we strive to meet the diverse and changing needs of our end users."
Bush at Honda predicts fuel injection technology to spread outside of larger engines. "We haven't seen many yet, but I think that could potentially be the next wave of where systems are going because of all the added benefits. Overall, the technology is expensive, and when you have a small, general-purpose engine, cost becomes a factor. But I really do feel like it's going to move in this direction."
Vanguard is committed to developing engines that come standard with features that double maintenance intervals.
For example, the Vanguard 200, the first in the company's new single-cylinder horizontal shaft commercial engine line, has a standard cyclonic air cleaner system that extends air filter change intervals up to 600 hours. On the same engine, oil change intervals are doubled to 200 hours. "This engine family also improves end-user experience with simple controls and our TransportGuard technology, which prevents oil dilution during transport," Billigen says. "Vanguard's larger V-twin engines, often found in commercial-grade Zero-Turn mowers, are equipped with our Oil Guard innovation, which extends oil change intervals to 500 hours.
"There are a lot of exciting advancements coming down the pipeline, such as increased engine displacement options and wider horsepower ranges to fit a variety of applications," Billigen continues. "We also expect the success of EFI in larger V-twin engines to have a trickle-down effect to smaller single-cylinder engines in the near future. This will take their overall performance to the next level as well as provide a boost in fuel efficiency."
Companies in this article