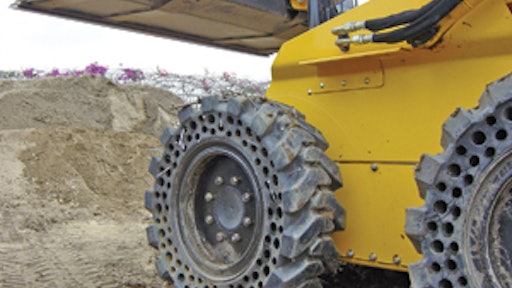 McLaren NU-AIR TYRE Series
The NU-AIR TYRE Series semi-pneumatic tire technology eliminates flats, while providing a cushioned ride even in harsh working conditions.
Strategically placed holes in sidewalls prevent cuts and snags
Heavy-duty rubber compounds offer one-third more rubber than a standard tire for twice the tread depth
1,000-hour average life expectancy
Bridgestone VTS Tire
The V-Steel Traction and Stability (L3) radial tire features a low-profile 65-series design and provides added traction and improved stability in wheel loader applications.
Pattern designed for operator comfort
Design features stone ejectors
Self-cleaning tread design for optimum traction
Arnco QuikGel*
QuikGel self-sealing polyurethane provides protection from tire punctures up to 5/16 in. in diameter.
Provides true sidewall coverage to the middle of the sidewall
Extra shoulder coverage for lateral punctures
Suited for skid steers, telehandlers and other applications where less weight is needed
North Shore Safety Seal
The Safety Seal heavy equipment tire repair kit is designed to permanently repair flats in the field.
Includes 18 Safety Seal repairs, a metal T-handle insertion tool and T-handle spiral probing tool
Large insertion tool inserts up to three 16-in.-long, self-vulcanizing repair strips into puncture at once
Goodyear Unisteel G177 Tire
The Unisteel G177 severe-service drive tire is now available with DuraSeal self-sealing tire technology, which helps seal tread area punctures up to 1/4-in. in diameter.
Aggressive tread design for greater off-road traction
High tear-strength rubber compound resists chipping and chunking
Enhanced Casing Design
Available in sizes 11R22.5 H, 11R24.5 H and 12R22.5 H
Superior Tire & Rubber Cushomatic Wheels
Cushomatic Wheels are available in a solid "soft ride" pneumatic or a wheel style.
Pneumatic version features special rubber compounding, wider tread surface and bar design lugs
Wheel style incorporates wear rubber compound throughout and is rubber bonded directly to a heavy-duty wheel
Custom tire O.D. and bolt patterns available
CEAttachments Solid Flex Tires*
These solid flex tires offer a comfortable ride without the risk of flats.
Minimum 3:1 wear ratio over pneumatic foam-filled tires
Improved ride over solid with less bounce for greater operator comfort and stability
Enhanced rubber compound with greater chunking resistance
Caterpillar Non-marking Tires*
The non-marking, Extreme Duty Solid Flexport skid-steer tires can be used on concrete, stone, indoor floor material, driveways and walkways.
Also perform well on unimproved surfaces such as dirt
Elliptically shaped holes molded through sidewall outer ring reduce cracking and chunking
Eliminate flats while providing stability and reduced bounce
31 x 6 x 10 and 33 x 6 x 11 sizes
Easy switching between standard tires
Michelin XMCL Radial Tire
The XMCL is specifically designed for compact equipment, including backhoes, compact loaders and telescopic handlers.
Lasts up to 46% longer than the Michelin XM27
Steel crown belt package and reinforced sidewalls are up to 10% more resistant to punctures
Load capacities of more than 14,000 lbs. at 6 mph and 9,900 lbs. at 24 mph
Carlisle Tire & Wheel Skid-steer Tires
Carlisle's skid-steer tires feature unique lug designs, heavy gauge sidewalls and premium materials.
Key sizes incorporate built-in rim guard for increased protection against debris and lateral hazards
Guard Dog premium-duty tire specifically made for applications where increased traction and greater puncture and abrasion resistance are required
Toyo Tires M-320Z
The Toyo M-320Z on/off-road steel radial tires are for construction and commercial logging trucks.
Feature a deep 23/32-in. tread with an aggressive rib/lug pattern for off-highway action
All-position tire with open cord construction to maximize rubber/steel bonding
Four-belt construction to protect against cutting, chipping and impact damage
11R22.5 and 11R24.5 sizes
Solideal SKS Skid-steer Tires*
SKS tires come in various styles to handle a range of conditions.
Widewall SKS high-flotation tire wears like solid rubber and can be used on asphalt and concrete
Classic SKS has an extra-wide profile, extra-thick sidewall, extra-deep tread and extra-thick undertread
Hauler Lifemaster SKZ with non-directional lugs provides added traction in sandy conditions
Xtra Wall tire features an extra-thick profile, deep tread, wide wall and rim guard
Hauler XD44 has a 44/32-i
Galaxy Primex Bossman
Primex Bossman "The Original" L4+ are severe-service skid-steer tires featuring deep tread lugs that overlap at the center to provide improved wear and less lug squirm on pivot steer.
10-16.5 and 12-16.5 sizes
8.25- and 9.75-in. rims
30.2- and 33.4-in. O.D.
* World of Concrete Exhibitor