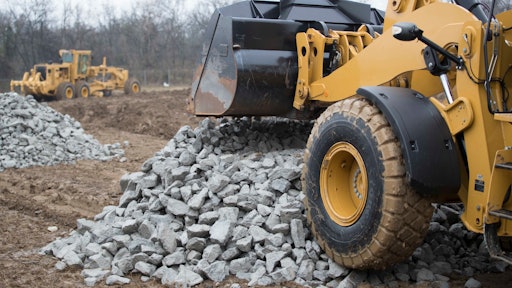 Bridgestone Americas
The construction industry plays a significant role in how communities and societies across the country develop and grow. New construction projects can result in economic and societal benefits and create lasting impacts on neighborhoods and cities, making the industry critical to advancing infrastructure.
To ensure the construction industry operates at maximum efficiency with little to no down time, construction teams rely on a variety of heavy-duty equipment at sites to get the job done. Due to extreme workload, the productivity of vehicles such as articulated dump trucks and loaders directly impacts timelines, making the uptime of these vehicles vital for maintaining project schedules.
Keeping heavy duty vehicles operational requires preventative maintenance and reliable equipment. As the only part on any construction vehicle that touches the ground, there are fewer pieces of equipment more vital to uptime than tires. Heavy duty vehicles work in harsh conditions and require durable tires that can operate on any type of surface and in any environment. These unique and tough conditions have challenged tire engineers over the years to bring new innovations to the industry and advance tire technology in new directions. The result of these efforts has taken the construction industry down a new path of intelligent and adaptable tires that can still manage extreme working conditions and ultimately contribute to advancements in infrastructure.
Not Your Normal Tire
Consider the unique surfaces that a construction tire must weather each day on a jobsite. Heavy-duty equipment on construction sites require tires that can maneuver over these diverse types of surfaces and handle heavy loads, both from the vehicle itself and the material being moved or hauled. This requires tires to be engineered with high load capacity and with durable features that can extend the life of the tire. With the advancement and modernization of tire technology, tire engineers have taken decades of data and designed tires that can not only withstand tons of weight and uncertain terrain, but also thrive in these challenging conditions. This is possible because of the composition of modern day, premium construction tires that are designed with operation in mind, which in turn provides vehicle operators with confidence.
When analyzing the makeup of a construction tire, fleets will want to prioritize a tire's durability and lifespan. Any construction fleet that wants to maximize uptime at jobsites from start to finish will want to equip their vehicles with tires that have these qualities. Common tire features that provide durability include tread life and durable compounds that resists cut and tearing in both the tread and sidewall of a tire. Deep tread allows construction vehicles the ability to travel across any type of surface and provide drivers with long tread life enhanced traction. The deep tread also plays a key role in extending the life of the tire, helping fleets maximize their investment. Durable compounds and sidewall protectors help increase cut resistance—one of the most commons issues to face a construction tire—when operating with heavy loads and provide added protection against the common, harsh elements found at construction sites. All three features can be applied to tire designs for all applications and sizes, which is why they have become so popular among fleets.
Construction Tires of the Future
The modernization of tire technology has also introduced a wave of new opportunities in tire design. To complement the durable characteristics of the tires described above and to further adapt to current needs within the construction industry, tire manufacturers have begun to incorporate more technology and flexibility into each new product. The aim of these additions is to provide construction fleets with more cost savings, data insight and safety.
Construction fleets are already using state-of-the-art mobile technology at jobsites to create more convenience and safety for workers. The same roadmap has been applied to tires. New premium construction tires can be equipped with the latest in tire monitoring sensor technology, providing fleets with real-time data on tire performance. These intelligent products offer insights into a tire's health and help assist with spotting problems before they arise. Because tire manufacturers have the capability to pre-equip this technology in new products, businesses are able to immediately begin gathering data and use it to maximize the life of all their tires.
The best return on investment for construction fleets is to combine this tire-monitoring technology with premium tires and a widespread service network. A holistic approach to tires can optimize actionable insights and minimize downtime, helping to get work done on a jobsite. Given the unique environments that face construction tires each day, having that data in the palm of one's hand has the ability to make or break the efficiency of an operation.
The New Formula for Success
The construction industry will continue to be a key catalyst for the advancement of our communities and play an integral part in providing economic growth for people across the country. To make sure construction crews stay active, make progress and hit project deadlines, jobsites need heavy duty equipment to perform at optimal levels and remain operational.
The tires used on construction equipment play an influential role in whether construction fleets miss their mark. And it will continue to be important that construction tires are manufactured with increased durability to maximize uptime.
As we take stock of what types of tires are currently making an industry impact, providing construction fleets with tires that have a wide range of capability, trusted durability and the latest technological advancements is the ideal equation for high performance at a jobsite. As tire manufacturers gather more data and improve this new modern tire equation, more innovations will enter the marketplace, which will benefit the construction industry and our country as a whole.