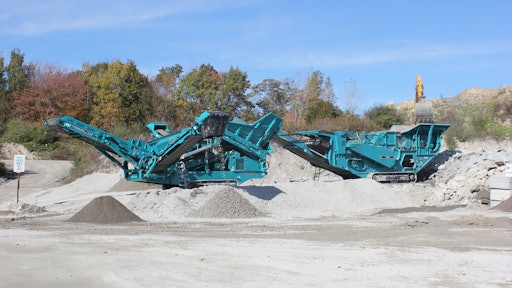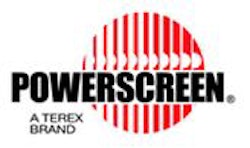 During an Open Day event for their North American distributors October 16-17 in Boston, MA, Powerscreen showcased a full range of crushers and screens, featuring the latest design innovations plus demonstrations of equipment adaptability in wide-ranging applications.
"Our Americas Open Day was an outstanding success and feedback from distributors has been fantastic," said Global Product Line Director Damian Power. "Economic conditions globally may be challenging, but Powerscreen is committed to reinforcing our position as one of the world's leaders in mobile crushing and screening equipment for the mining, quarrying and recycling industries and to continue to innovate as we have in the past."
Powerscreen senior management and representatives from the engineering, quality and applications departments interacted with distributors to explain the 'why' and 'how' of improvements in machines and processes aimed at fulfilling customer needs more fully and efficiently. Delegates from Scania also attended to have feedback sessions and discussions around their Tier 4i/Stage lllb engines.
The event included visits to two neighboring quarry sites to see new and existing Powerscreen equipment working together. The first site in Walpole featured an XH500 impact crusher feeding the new Warrior 1400X screening machine working on a recycled concrete and asphalt application. The Warrior 1400X was set at 3″ while the bottom deck was set at 1″ producing 3″+, 1-3″ and 0-1″.
The second site at Wrentham had a new XA400S Pre-Screen jaw crusher feeding a 1300 Maxtrak cone crusher, feeding a Chieftain 2100S screen and a separate Warrior 2400 screen, working on blasted granite. The pre-screen on the jaw was set at 2″ with the Chieftain configured at 1″ on the top deck, 1/2″ on the middle deck and 1/4″ on the bottom deck. The Warrior had a top deck of 4″ and a middle deck of 2″.
Powerscreen XH500 is the flagship horizontal impact crusher. It is versatile and efficient (up to 500 US tph with excellent reduction) for quarrying, recycling and demolition applications. It features a live independent pre-screen, standard full underbelt product conveyor and optional vibrating underpan. Ideal for contract crushing due to its high productivity and ease of setup, operation and maintenance.
Powerscreen Warrior 1400X Screen builds on the established Warrior 1400 performance and is designed to be the market leader in this class of scalper with improved performance, lower operating costs, easier serviceability, faster setup/shutdown, reduced engine running speed, enhanced hydraulics, up to 25% greater stockpiling capacity, and (with options) double the fines and mid-grade stockpiling capacity of the standard Warrior 1400.
Powerscreen X400S Jaw Crusher incorporates a fully independent high amplitude, hydraulically driven pre-screen with increased drop angle on the bottom deck to improve throughput and overall capacity. Also, the discharge opening from the under chute has been increased from 200mm to 320mm for faster pre-screened material flow.
Powerscreen Maxtrak 1300 Automax Cone Crusher is ideally suited to secondary applications such as taking all-in-feed directly from a primary crusher without a screen. Provides excellent cubicity, throughput and reduction ratios with sub-base or aggregates.
Powerscreen Chieftain 2100S Screen is designed for medium to large scale operations with high volumes of high spec products. It is the largest model to feature a high capacity hopper, belt feeder and radio controlled tipping grid. The 3-deck version includes a patented, hydraulically-folding recirculating conveyor, eliminating the need for a crane on site; and a 2-bearing screen with adjustable screen amplitude and hydraulic screen angle adjustment. Optional Dual Power for choice of diesel or electric at the turn of a switch. Additional electric/hydraulic drive system connects to an external electric power source to provide power for the screen.
Powerscreen Warrior 2400 Screen for large scale quarrying and mining operations (up to 880 tph, feed size up to 750mm3 on 2.5 solid density, separate materials at 300mm); provides easy portability, setup, operation and maintenance. Ideal for screening, scalping, 2 or 3 way splitting and stockpiling aggregates, topsoil, coal, C&D debris, and iron ore. A slide-out tail conveyor facility aids media access, and a load-sensing collection conveyor circuit helps to avoid blockages.
For more information on Powerscreen crushing and screening equipment or customer support, please contact your local distributor. Details can be found at here.
Companies in this article