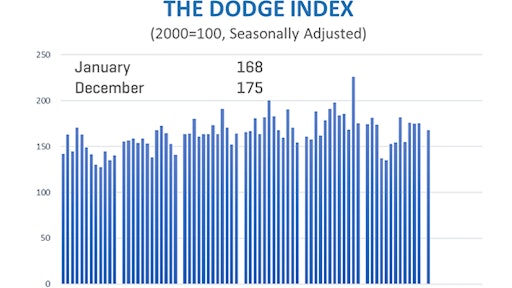 Dodge Data & Analytics
Total construction starts dropped 4% in January to a seasonally adjusted annual rate of $794.3 billion. Nonresidential building starts were flat in January, while nonbuilding starts dropped 10% and residential starts were 4% lower. From a regional perspective, starts were lower in three of the five regions – the Midwest, South Atlantic, and South Central. Starts rose, however, in the Northeast and West.
With only one month of 2021 completed, a year-to-date analysis will provide little useful information. Additionally, January 2020 (i.e. pre-pandemic) was the culmination of a strong cyclical upswing in construction starts that began in 2010 and thus provides a poor point of comparison. An alternative viewpoint for analysis is comparing 12-month totals. For the 12 months ending January 2021 total construction starts were 11% below the 12 months ending January 2020. Nonresidential starts were down 25%, while nonbuilding starts dropped 15%. Residential starts, however, were 5% higher for the 12 months ending January 2021. In January, the Dodge Index lost 4% to 168 (2000=100) from the 175 reading in December.
"The tenuous beginning to construction starts in 2021 highlights the long and rocky road ahead for the sector this year", stated Richard Branch, Chief Economist for Dodge Data & Analytics. "Over the course of the year the economy will recover as more Americans receive their vaccinations. However, the construction sector's recovery will take time to materialize due to the deep scars caused to the industry by the pandemic. Patience will be key in the months to come."