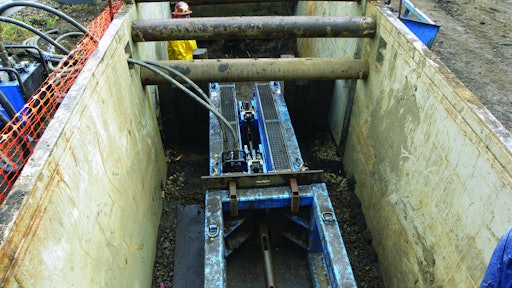 Over a number of years, 17 major leaks had been detected and repaired along the Rutherford water transmission line in the city of St. Helena, CA, leading to plans for replacement of 2,627 linear ft. of pipe. However, the 12-in. steel main was located in a very narrow right of way between heavily traveled Highway 29 to the east and the Wine Train Railroad to the west. Numerous utilities were also in the same alignment, many in very close proximity to the main.
Consequently, the city sought a less intrusive replacement method than open cut construction. In the fall of 2009, Team Ghilotti, Petaluma, CA, was awarded the contract to replace the aging pipeline using the static pipe bursting method.
Couplings add complications
The entire run of the steel pipe was joined at 40-ft. intervals with Style 38 dresser couplings, requiring both the pipe and couplings to be split. The couplings added several inches to the diameter of the pipe.
Glen Ghilotti contacted TT Technologies, Inc. to determine if the pipe and couplings could, in fact, be reliably split. The decision was made to excavate, remove and ship back to the factory a 10-ft.-long section of welded steel pipe containing a dresser coupling in the middle for above-ground testing. TT Technologies was able to successfully complete the burst test using a Grundoburst 1250 G static bursting machine. The machine was subsequently used for the project in St. Helena.
Bursting operations
The remaining project footage was divided into four bursting runs. One reach was approximately 600 linear ft., while the others were in the range of 400 to 500 linear ft.
Team Ghilotti crews constructed two-way machine pits that were used to pull from each direction. The existing 12-in. steel pipe was approximately 7 to 8 ft. deep. The first run was completed without incident, taking approximately 2.5 hours of actual bursting time to complete. The second was performed two days later.
The static bursting machine operated without interruption and ultimately all runs were successfully burst and replaced with new 12-in. C-900 fusible PVC pipe. Representatives from the city of St. Helena were pleased with the project's progress and successful completion.