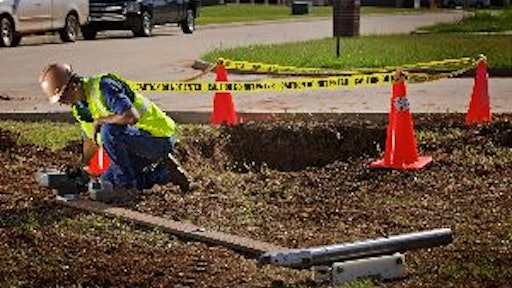 The Ditch Witch organization has introduced OnGrade, an advanced, accurate system for installing new gravity-flow sewer systems using horizontal directional drilling (HDD). The system utilizes laser technology and advanced electronics to help sewer-installation contractors efficiently drill accurate grade bores.
A grade laser is used to create the desired grade line. From this fixed reference, all depth measurements are taken. For the drill operator, it's a matter of maintaining a constant distance between the drill string and the laser line, and making steering corrections as necessary all the way to the exit pit.
OnGrade differs from the conventional grade-drilling method, which requires a full survey to establish the bore line, and calculation of depths at predetermined points along the bore path. Readings at each point require recalculating the depth to maintain grade.
This is no longer necessary with OnGrade, which can be used to establish and maintain the grade with the help of advanced electronics, including the Ditch Witch 8500TK tracker, an advanced 850BG beacon, and a rotating grade laser plane. The 8500TK tracker is mounted on a specialized grade pole with laser detectors, a configuration designed to take the effect of surface topography out of the calculation for required depth at any given point.
Other components include a grade drill housing that is specially designed to provide consistent beacon signal strength in all roll positions; a calibration fixture for precise beacon depth and pitch calibration in the housing; an inspection trolley with a video camera that can be pulled through the service pipe after installation to verify the grade; and bore-plotting software for providing as-built documentation.
All components of the OnGrade system (except downhole tooling) are contained in a convenient job box for easy transport to the site.
Companies in this article