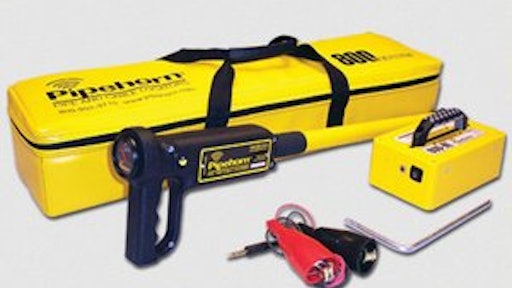 800 Series Locator
The Pipehorn 800 Series pipe and cable locator features the same high-frequency (480 kHz) performance as the Classic Pipehorn.
Works on tough conductors such as cast iron, un-energized power (street lights), tracer tapes and worn-out tracer wires, short side services and fiber
Simultaneous conductive transmission of both high and low frequencies
Fast-response signal strength meter and sharp audio tone for precise pinpointing in all conditions
Pipehorn Utility Tool Co.
D20x22 NAVIGATOR HDD
The D20x22 NAVIGATOR mid-size horizontal directional drill provides 2,200 ft.-lbs. of torque and 20,000 lbs. of pullback force.
83-hp Kubota turbocharged diesel engine
Standard AutoDrill feature monitors changing soil conditions and adjusts the bore or pullback as necessary
AutoResume function allows slurry and cuttings to mix by starting rotation before thrust/pullback resumes
Compatible with Rock Adaptable Terrain Tool (RATT) system
Uses 10-ft. forged one-piece Firestick rod
Vermeer Mfg. Co.
DD-2024 Directional Drill
The EarthPro Series DD-2024 horizontal directional drill offers 20,000 lbs. of thrust/pullback force with the capability of up to 2,400 ft.-lbs. of rotary torque.
85-hp Cummins B3.3C turbocharged diesel engine
Quad rack-and-pinion drive with adjustable force limiter
Offers independent rear stabilizers and a dual stake-down system
Tethered travel control unit
Front-drive track system for traction and balance
Es!Lok system integrated into the drill controls for added safety
Astec Underground
Directional Drilling Pipe
Underground Tools, Inc. is now a nationwide distributor of the Hunting Iberia Workstring drill stems Versions I and II.
Also offers a range of downhole HDD tools
Complete inventory in stock and available on demand
DirtSmart customer service for technical support
Underground Tools Inc
GBM Guided Boring Machines
These Guided Boring Machines (GBM) install small-diameter pipes with grade and alignment precision.
Launch and reception shafts strategically located to minimize surface disruption
Three robust jacking frame configurations
Used in conjunction with a theodolite guidance system to provide accurate pipe installation
Available for installation of pipe in the 4- to 48-in. OD range in displaceable soil under 50 blow count
Akkerman Mfg., Inc.
Grundodrill 4X
The compact Grundodrill 4X is designed for residential service, small-diameter main installations, "last-mile" operations and gas pipeline applications.
9,800 lbs. of thrust and pullback
Dual hydrostatic pump system
Four-auger stakedown system
Smart Vice system performs vice cycling operations automatically
TT Technologies
HydroBurst HB125
The HydroBurst HB125 pipe bursting system is based on the Vermeer Navigator HDD platform and packs 250,000 lbs. of pulling force.
Capable of replacing pipes from 4 to 20 in. in diameter
Features a rotating rod string that can punch through collapsed lines
52-lb. rods enable use by a single operator
Provides power to replace fracturable and non-fracturable pipes such as ductile iron, steel and PVC with the ductile slitter
Earth Tool Co., LLC - Hammerhead
Innspector 07
The self-contained Innspector 07 hand-held "all materials" locator can detect most any type of pipe, cable or other target underground.
Requires no separate transmitter, receiver or cables/wires/clamps and no calibration or tuning
Two L.E.D. lights activate a laser beam that points directly to an objects location underground
Depth up to 10 ft. achieved via triangulation
Power provided by four "C" type batteries contained in the handle.
SubSurface Instruments Inc.
JT2020 Mach 1
The JT2020 Mach 1 directional drilling system offers 20,000 lbs. of pulling power, yet is quiet enough for operation in noise-sensitive areas.
Rack-and-pinion thrust system
Pipeloading system allows columns to be selected from the operators station
Two-speed carriage drive
Independent stabilizers and a simple anchoring system enable quick setup and the ability to secure the drill frame on uneven terrain
30-gpm drilling fluid system
Ditch Witch
McL-36/42 auger borer
This next-evolution McL-36/42 series is capable of bores up to 500 ft. in length and diameters as large as 42 in.
Improved torque, plus a 75-hp Deutz diesel engine
Delivers 400,000 lbs. of thrust
OPC Clutch
Hydraulic dog plate
McLaughlin Mfg. Co.
Model 12 Mighty Max
The Model 12 handles cased bores from 2 3/4 to 12 in. in diameter.
Weighs just 880 lbs. for easy transport
Spring-centered control valves offer easy control for even the most difficult bores
Includes a 12-in. master pusher and saddle, 3-ft. track extension and two 20-ft. hose lengths
Options include 9-ft. track sections and 4- to 10-in. casing attachments
Bor-It Manufacturing Co., Inc.
Porta-Mole Underground Boring System
The Trench-Mole underground boring system will bore both small holes for installations under driveways and parking lots and large holes for larger pipe installed on grade.
Operates above ground with no extra digging required
Boring unit lowers into the trench for a straighter boring angle
Joystick aiming device for quickly boring small holes
Bores 2- to 9-in.-diameter holes on grade through rock and hard soils
Core bores through concrete and cleans culvert drains
Carlton International Mfg. Corp./Porta-Mole Boring Systems
RD7000 and RD800 Locators
The RD7000 and RD8000 pipe and cable locators are ergonomically designed to deliver a lightweight, energy efficient and well-balanced tool.
High-end RD8000 with iLOC Bluetooth link and SurveyCERT feature is designed for multiple applications and industries
RD7000 suited for operators requiring an application- or industry-specific locator with a cost-effective feature set
Centros Enabled to improve the accuracy and repeatability of measurements and deliver greater responsiveness in the field
Receiver and transmitter feature a large, high-contrast, backlit LCD screen that provides clear information in any light conditions
Radiodetection
SeekTech SR-60
The SeekTech SR-60 utility locator is able to receive the full range of locatable frequencies, allowing it to be used with any pre-set frequency transmitter.
Locates at a frequency range of 10 Hz to 490 kHz, and can tune the frequency 1 Hz at a time
Passive search mode can be used to search all broad band passive frequencies at once for easy identification of unknown metallic lines in the target area
Easy-to-read display visually maps the signal
Program up to 30 field-configurable, user-designated frequencies
RIDGID, a subsidiary of Emerson
Companies in this article