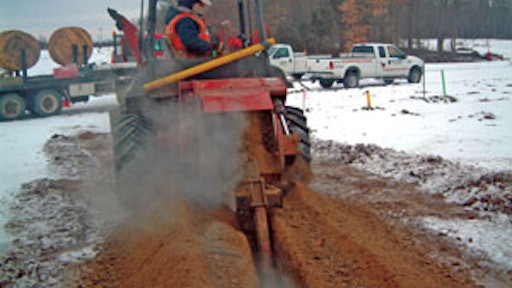 Frost conditions vary throughout the country and from year to year. An early snow might mean a well-insulated ground and little frost. But a rainy season followed by a cold snap with little snow cover could mean frost as deep as 4 ft.
With winter just around the corner, it's important to know how to equip your trenchers for whatever cold-weather soil conditions they may encounter.
Choose the right outfit
Trenching through frost can be nearly as difficult as trenching through rock. Weight and horsepower are important considerations for tackling frozen ground conditions. A ride-on trencher is viewed as the minimum for regular frost trenching.
Stu Senska at Vermeer Midwest Inc. in Aurora, IL, says the majority of trenchers rented out for winter trenching are in the 14,000-lb. and 90-hp range. "The heavier the machine and the more horsepower, the easier it is on the operator, especially if you're in frozen soils with rock, because the machine will want to bounce or buck," he explains. Minimizing the bounce with a heavier machine will also reduce wear and tear on the trencher.
Properly outfitting the chain and tooth assembly is also essential for working in frost conditions.
"In any condition, not using the proper digging chain and tooth arrangement can cause premature wear on teeth, chain and sprockets," says Bob Wren at Astec Underground. "In addition, it takes horsepower and torque to run the digging chains. Not using the proper setup can also cause elevated wear on the prime mover."
The standard summer digging tooth is a cup tooth, which scoops the soil out of the ground. In frost conditions, however, the cup tooth is ineffective.
"A cup tooth takes too much of a bite at that frozen ground — it wants to grab and it causes more problems. So we typically switch to a carbide bit that has a definite point, and it chips away [at the soil]," says Brent Bolay, senior product manager at the Ditch Witch organization.
The bullet-shaped carbide bits rotate and are self-sharpening. They are also replaceable when they become worn or damaged.
The shark tooth bit is another tooth style that was introduced to the industry about five years ago. "It has carbide on the end, but it's stationary," Bolay says. "You don't have to replace it — whatever wear life you get out of it is what you get from a particular chain."
The chain is also an important element when outfitting a trencher for winter work. In most cases, you will want to use what is known as a frost chain. "The difference between it and a standard chain is that it has a sidebar on every station, which means you end up with a tooth on every station," Bolay explains. "Typically, more teeth on a chain means they're taking a smaller bite of the material you're trying to cut rather than a large bite. In frost, you want to chip away at it."
Al Chancellor, Ballantine, Inc., says his company's Trench-All chain line is specifically engineered for the most severe digging conditions, including trenching through frost or rock. It features a raised rivet design, which provides more wear area on the bottom of the chain; anti-back-flex, which minimizes the force driven back into the cutter; and a low profile.
"A low profile is extremely important when you build these rock-style chains," says Chancellor. "We build what we call a low-profile, H-plate style chain. The higher a tooth stands, the more load it forces back onto the trencher itself, and that will accelerate the wear on all the other components. So what you do is use a low-profile style of chain and it keeps the tooth down closer to the power source. When it engages properly at the right attack angle, it then basically reduces that load and kickback."
Rod Bendit is regional fleet manager for the central region at Henkels & McCoy, Inc., a national contractor performing all types of utility construction. He oversees about 50 trenchers of varying sizes and brands in the central fleet.
Bendit has tried different tooth and chain configurations on the machines for winter trenching, including rock chains with carbide bullet teeth, shark teeth and other combinations. This year, he plans to carefully track production in order to come up with the best combination for his company.
"Some people will use a combination chain, which still has the dirt cups on it with the carbide teeth. They alternate them back and forth with varying patterns," Bendit notes. "If you still have some cup teeth on there, it will help clean the trench out a lot better when you're trenching. When you get into a rock chain with only the carbide teeth, it does not clean your trench out very well."
In addition to tooth and chain changes, some contractors will change the boom to a larger-tail roller (LTR). "That larger roller at the end of the boom gives you more surface area for the chain to ride on as it makes the transition around the end of the boom, leaving less chance for the chain to jump off in adverse conditions," Bolay says. These booms also have side plates that enclose the area between the top and bottom of the digging chain, eliminating an opening for debris to get in and cause interference with the chain.
Cool running
Working in cold temperatures requires special maintenance attention. For example, use oil, fuel and antifreeze that are optimal for cold conditions. It's also a good practice to grease the back end of the trencher at least twice a day.
If you're regularly working in cold climates, it's also a good idea to take advantage of the cold start options trencher manufacturers offer, including a cold-oil bypass, ether assist and block heaters. Also remember that it takes longer for your machine to warm up in the cold.
Infrasource Underground Construction Services, Central Division, Princeton, MN, takes several steps to ensure its trenchers continue to work effectively in the cold Minnesota winters. "The machines all have block heaters on them so we can plug them in at night and in the morning they'll start up," says John Elifrits, operations manager. "We run the same oil as we do in the summertime. But in the winter, we have winter blend diesel fuel up here, which runs anywhere from a 70/30 mix (70% No. 2 diesel and 30% No. 1 diesel) to a 60/40 mix. It thins the fuel out so it won't gel. And we'll also put anti-gelling additives into the fuel when it's really cold."
Chain and tooth inspections are also very important. On a daily basis, make sure the chain is free from debris and that it has the correct tension. This will help you avoid unnecessary chain wear.
"Chain tensioning on the boom is extremely important because the work is so severe that it's putting high tensile and shock loads on the chains. Chains are designed to stretch a little bit, especially in the beginning of their lives," Chancellor points out. "The tensioning is critical to get full life out of a chain. The OEM has specs on how tight the chain should be for that specific boom."
In his area in Indiana, Bendit advises that a mechanic or qualified person examine the chain for wear on a weekly basis. "Daily would be ideal if you have a person on the crew who can recognize these problems before a breakdown," he adds. "We are teaching operators to have a better understanding of preventive maintenance while out trenching."
In the rocky soils of Wisconsin and Minnesota, teeth should be checked at least once a day for wear and damage.
Trench-It, Inc., a Union, IL, utility contractor working throughout northern Illinois and the Chicagoland area, focuses on preventive maintenance to keep its trenchers working in the winter. Road mechanics perform work when needed, but the company really relies on its crews to keep their eyes on the machines.
"Each morning, the crew inspects the trencher — they inspect the fuel and oil, grease it, and tighten and inspect the chain," says Matt Turk, vice president of operations at Trench-It. He adds that crews sometimes perform tooth and chain inspections at noon because of the possibility for wear and breakage in the winter.
Higher trenching costs
On average, contractors reported that the price of a winter trenching job can run anywhere from 20% to 40% higher than a comparable-sized job in the summer. This extra cost can be attributed to several factors.
If the frost is deep, trenching production could be cut in half, while wear and tear on the machine increases. Maintenance costs will rise, as will the cost for parts. A heavy-duty chain with rock and frost teeth can run anywhere from 25% to 60% more than a standard chain with cup teeth. And that doesn't include the price of replacement teeth.
"Those teeth are probably $4.50 to $5.00 each," Senska says. "Let's say you replace 90 teeth in a day — that's very possible with the ground conditions we've had in the last few years. The teeth alone are going to cost you $450. And you have to pay someone to do it, so there's labor involved. A lot of times, they'll do it in the middle of the day. That means they're not trenching, so there's a cost in lost production there, too."
Ken Jacob, Trench-It's director of maintenance, says his company goes through "thousands" of teeth each winter for its 15 trenchers. On average, each machine will also go through two chains at $3,000 each.
Of course, you must also consider the cost to workers when temperatures drop below freezing.
"We have guidelines on cold," says Turk at Trench-It. "If the temperature gets down below zero with the wind chill, we will not work. Even if the machine could work, we won't send our men out."