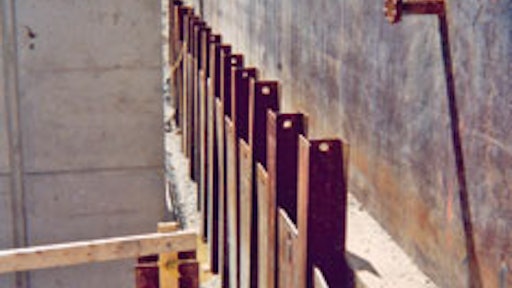 Pizzagalli Construction, a privately held, multi-state corporation with headquarters in South Burlington, VT, and offices in North Carolina, Arizona and Maine, was contracted to perform a $25 million plant expansion at the Mattawoman Waste Water Treatment Plant in La Plata, MD. The expansion was planned to improve the quality of the water discharging into the Potomac River, a tributary of the Chesapeake Bay.
Major portions of the project included construction of several new structures. This would involve the excavation of over 100,000 cu. yds. of soil, and placement of 33,000 cu. yds. of concrete. With the depth of excavations ranging from 14 to 22 ft., the contractor was unable to obtain the legal and safe sloping requirements due to site constraints.
To overcome these site challenges, Pizzagalli Construction turned to The Icon Group, an underground engineering and distribution company, to design and supply a site-specific shoring system that would limit the extent of the excavations for most structures.
Due to the presence of water on the site, the specifications initially called for sheet piling as a cantilevered cut-off wall. However, Icon proposed to use a different, more efficient shoring method combined with a slope. This allowed Pizzagalli Construction to use smaller equipment on the job.
Icon designed an H-Beam and Steel Plate Cantilevered support system of walls ranging from 10 to 14 ft. in height. The walls were installed behind the existing structures by using a drill to auger holes for the steel H-piles. The H-Piles, set at 4- or 8-ft. spaces only, were positioned to rest in the hole and secured by material placed in the bottom 2 ft.
Pizzagalli Construction ended up shoring approximately 1,000 linear ft. of excavated area using the beam and plate systems. Some excavations required HP 12' x 53' x 25' beams on 4-ft. centers with 4' x 10' steel plates. Others utilized HP 14' x 89' x 35' I-beams on 8-ft. centers utilizing 8' x 20' plates.
Once the I-beams were driven to the necessary depth using a vibratory hammer, the plates were placed between the beam webs and also driven to the bottom of the excavation with a vibratory hammer.
"Everything worked as designed and we were able to realize savings in both time and money over some of the other systems we looked at, " says Michael Cecil, project manager for Pizzagalli Construction.