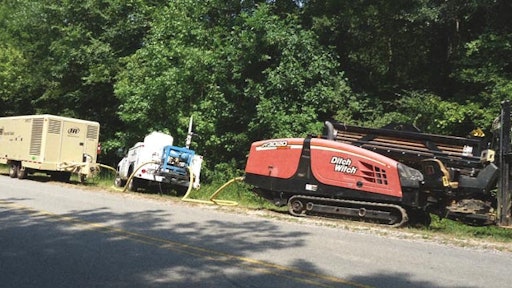 Southern Directional, Wilsonville, AL, encountered a bore north of Ashville that was 450 ft. in length and required the installation of a 4-in. gas line. This bore presented a nearly impossible steering challenge.
The easement on this job was set at 30 ft. off of the center line of the road. The bore was to follow the curve in the road that was 60° to the left of the entry point. The entry angle was to be set so that a 30-ft. depth could be achieved.
This bore had been attempted with several drilling methods with no success. Southern Directional decided to contact StraightLine to explore the 4-in. RockEye air hammer system. A field technician was deployed to demonstrate the system's capabilities.
The air hammer system entered the ground to achieve the depth required, going through clay loam for the first 20 ft. At this depth, hard shale was encountered. The steering down and to the left began immediately and was maintained the entire distance of the bore.
The system completed the complex pilot bore in two days. By the end of the third day, the entire project was complete.
Equipment used:
Ditch Witch JT3020 horizontal directional drill
StraightLine RockEye 4-in. air hammer system
Sullair 900-cfm x 350-psi portable air compressor