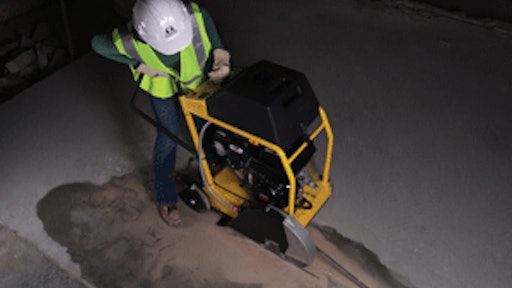 Wacker's new series of walk-behind saws offers a new dimension to pavement cutting. Better cutting performance, easy operation, longer life and reduced maintenance move Wacker's new BFS series to the front of the line.
The most significant advantage to Wacker's walk-behind saws is better cutting performance. This is achieved by placing the engine forward on the unit, directly over the cutting shaft. This design better distributes the majority of the machine's weight, allowing it to pull the saw forward with less effort and providing straighter, more stable and faster cuts. The protective frame is made from high-strength steel that protects the engine and provides overall machine stability, again contributing to straighter cuts that help prolong the life of the blade.
Wacker's design also promotes long life and low maintenance. A long-life, state-of-the-art poly V-belt provides direct power transmission from the engine to the cutting shaft. Because the belt will last longer and experience less wear, Wacker's saws will keep running at top performance for an extended period. Double-sealed bearings keep concrete and dust out, reducing maintenance and prolonging the life of the bearings. Water sprinklers on both sides of the cutting blade keep the blade cool during operation for extended blade life. An optional large water tank offers long run times between fills or when water is not readily available.
Other features include a unique vibration-dampening ergonomic handle system that makes individual adjustments to the handle width and height possible, allowing for optimum operator comfort and control of the unit. The central lifting point is integrated into the durable protective cage, plus the foldable guide handles make transporting the machine easy.
Wacker's new 2007 walk-behind saw line includes five models, three standard and two self-propelled units. The standard models include the BFS 914AB that weighs 192 lbs., has a 14-inch blade and is powered by a 9-hp Honda engine. The BFS 914B also has a 14-inch blade, weighs 182 pounds and is powered by Wacker's popular 9-hp overhead cam engine. Both 14-inch blade models offer a maximum cutting depth of 5 inches.
The BFS 1318AB weighs 207 pounds, offers a 14 to 18-inch blade diameter with a maximum cutting depth of 6.5 inches. This unit is powered by a 13-hp Honda engine.
The self-propelled models offer an infinitely adjustable travel speeding and feature a heavy-duty hydrostatic transmission with variable speed drive of zero to 80 fpm. The BFS 1318AS weighs 310 pounds, has an 18-inch blade diameter, a maximum cutting depth of 6.5 inches and is powered by a 13-hp Honda engine. Wacker's largest walk-behind saw is the BFS 2020AS. This model weighs 392 pounds, has a 20-inch blade diameter with a 7.6 inch maximum cutting depth and is powered by 20-hp Honda engine.
Wacker's BFS walk-behind saws are ideal for all standard cutting applications. Their versatility, excellent cutting performance and ease of operation, matched with Wacker's complete line of quality blades offer an industry best value.
Companies in this article