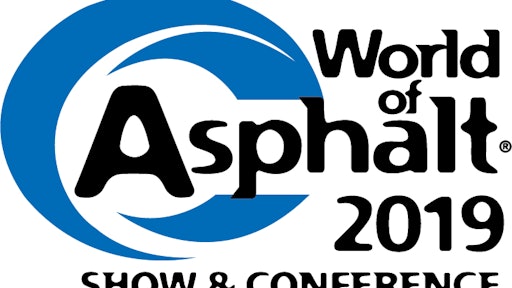 World of Asphalt (WOA) 2019 will head to Indianapolis ebruary 12-14 at the Indiana Convention Center. The show is recognized as a 'Fastest 50' trade show for demonstrating the greatest percentage of growth show-to-show and in 2016 won for record gains in both attendance and exhibit space.
WOA is geared toward asphalt, highway/street, pavement maintenance and traffic safety industry professionals from small to large contractors, materials producers, state and agency specification personnel, maintenance companies, manufacturers and service providers. Over 9,000 visitors came from across the United States as well as worldwide for the show in 2016 and the 2019 show is expected to be even bigger. 
Over 400 of the industry's leading manufacturers and service providers in the aggregate, asphalt, pavement maintenance and traffic safety industry sectors will come together to showcase their latest products and technologies. 
Full details and registration can be found at: http://www.worldofasphalt.com
Be sure to visit Asphalt Contractor in Booth 17106 while you're at the show and we'll see you in Indy! 
Show Hours
Tuesday, February 12th: 11am-5pm
Wednesday, February 13th: 11am-5pm
Thursday, February 14th: 9am-1pm