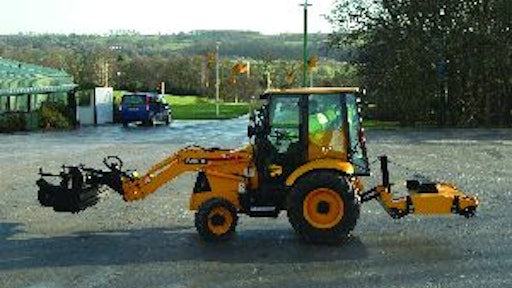 In early January, JCB treated a select group of editors to a sneak preview of products it will be unveiling at CONEXPO-CON/AGG 2008. Seventeen new models will be showcased within a 50,000-sq.-ft. exhibit, the company's largest ever presence at the triennial show.
Targeted for North America, the new products - along with the recent ground breaking for a new parts distribution center adjacent to the Savannah, GA, manufacturing facility - are intended to demonstrate JCB's continuing commitment to the U.S. and Canadian construction markets. The company also announced plans to expand its investment in new product development, as well as significantly grow its dealer network within the region.
Improving on a world-class product
Globally, JCB is perhaps best known for its backhoe-loaders. It now enhances this product offering with a new model, plus improved versions of its existing products.
The latest addition, the Midi CX, is a compact machine positioned between the skid-steer ICX and the all-wheel-steer 2CX. Its removable backhoe enables use of the rear three-point hitch to power various construction and agricultural attachments. It is available with an air conditioned cab and the optional Smooth Ride System (SRS).
Modifications to its larger siblings include a redesigned loader geometry on the 3C, which delivers improved dump angles and rollback for optimum material retention. V-shaped side panels make it easier to carry pipe. A redesigned front end includes a soft front nose section to prevent damage during truck loading. And a captive loader arm strut increases safety and is easier to use. Revised gearing also allows the 3C to achieve travel speeds of up to 22 mph.
In addition, the 14-ft. 3CX-14 now features a 92- or 100-hp JCB Tier III DieselMax engine and JCB designed and manufactured axles and transmissions. Increased torque delivers an 18% improvement in bucket breakout force (13,701 lbs.), and 10% increases in dipper breakout (8,710 lbs.), dipper lift (8,950 lbs. at 4 ft.) and boom lift (3,700 lbs. at 12 ft.). Loader lift is increased 4% to 9,631 lbs., and breakout force with the standard 1.4-cu.-yd. loader bucket has jumped 14% to 14,498 lbs.
A revised auxiliary hydraulic circuit enables use of single- and bi-directional attachments. Hydraulic circuit cycle times have been reduced by up to 50% on certain functions. Optional Precision Controls provide for a further 9% reduction in trenching cycle times.
A factory fitted hydraulic thumb attachment with 7,868 lbs. of clamping force is available for both fixed and extending dipper arm backhoes.
New range of lift and place telehandlers
JCB is also introducing the first four models in a completely new range of high-boom Lift & Place Loadall telehandlers, and has announced plans to introduce a series of Hi-Viz models with lowered boom towers for even greater visibility.
The high-boom Loadalls are equipped with side-mounted Tier III-compliant engines, 4x4 Power Shift transmissions and JCB axles with torque-proportioning differentials and outboard planetary hubs. Rear-axle stabilization is included on all but the smallest models. A quick hitch on the boom enables use of a variety of JCB and proprietary attachments.
The Loadall 506-36, 507-42 and 509-42 replace the existing 506C, 506CHL and 508C. The 506-36 has an 85-hp JCB motor, a 6,000-lb. lift capacity and 36-ft. working height. The 507-42 and 509-42 have a 42-ft. lift height and 7,000- and 9,000-lb. maximum lift capacities. They are powered by a 100-hp DieselMax engine.
Topping out the range is the all-new 510-56, rated at a 10,000-lb. lift capacity and a working height of 56 ft. It comes with a 114-hp DieselMax engine. Axle-mounted stabilizers allow for optimal chassis leveling.
Larger, ergonomically designed cabs provide a large glass area for all-around visibility. An easy to use plus pattern hydraulic servo control lever with proportional flow share capability replaces the multiple mechanical levers found on previous models. Three cab levels range from the base canopy to the Ultra cab. Cab conversion kits are also available.
Bigger is better
JCB is setting out to prove this adage true with the addition of three heavyweight machines to its JS tracked excavators.
The all-new 63,945-lb. JS290 bridges the gap between the JS260 and JS330 models, while the 79,380-lb. JS360 completes the range between the JS330 and JS460. Tipping the top end of the scale is the 114,660-lb. JS520, a concept machine that will become the largest model in the company's lineup.
Powered by Isuzu six-cylinder, Tier III-compliant engines, the excavators combine high productivity with greater lift capacity and drawbar pull. For example, according to the company, the JS290 offers 6% more engine power; 4% more hydraulic power; 11% higher dipper breakout force; 14% greater slew torque; and 19% more bucket breakout force than average for its size class.
Companies in this article