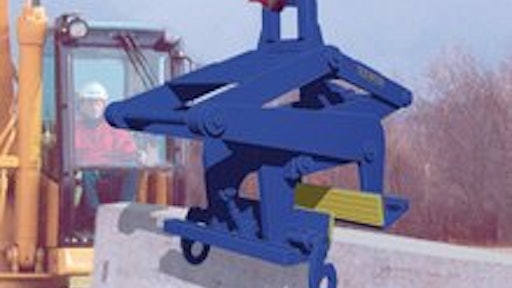 aftermarket wear parts
The Ace Group manufacturers high-quality after market wear parts for pavers, milling machines, material transfer devices, windrow elevators, shuttle buggies and elevating scrapers.
Augers, burner boxes, chain, flights, cutting edges, sprockets, screed and floor plates, chain and bar assemblies, track pads, track and chain and track rails
Ace also offers its RAPwranger RAP crusher and Shaker Decks
Also plant chain, floors, sprockets, flights, buckets and many other required wear parts
Booth #1949
Ace Group
aggregate/RAP pre-heating system
Ray-Tech has recently developed an infrared heating system specifically for heating and drying aggregate and RAP.
Composed of multiple heating units, which are designed to be placed over a conveyor belt in close proximity to the product on the belt.
Length of each unit is 8 feet and can accommodate the width of the belt being used
Each unit of the system is completely self contained and can operate independently
By placing multiple units over the conveyor belt, you can create as long a heating system as required
System is supplied with a centrally located control panel, so each unit can be controlled from one location
Booth #649
Ray-Tech Infrared Corporation
AP600D Asphalt Paver
The AP600D is designed for various applications, from routine commercial jobs to highway operations.
174-hp EPA Tier III-compliant engine
Dual operation stations with Advisor Monitoring System (AMS) and unique material handling system with independent auger and conveyor controls
8-foot standard paving width
Rubber-tire undercarriage
Booth #1129
Caterpillar Paving Products
AR-13DR Tandem Drum roller
The AR-13DR generates 3,100 lbs. of centrifugal force and up to 4,000 vpm.
35.7-in. drum width
Travel speeds up to 4.8 mph
23.6-hp Vanguard/Daihatsu diesel or 16.6-hp Honda gasoline engine
7.75-in. curb clearance
Maintenance-free vibratory assembly
Booth #637
Multiquip Inc.
Barrier Lift
Kencos Barrier Lift can be used on any concrete surface including median barriers, sound walls, curbing and piling.
Lifting capacities are available from 1,500 to 30,000 pounds
Can also be used to align barriers already in place
Actuator allows for hands-free barrier movement
Elastomer pads provide grip in wet weather
Optional self-aligning guides
Booth #????
Kenco Incorporated
BF6615 Paver
The 20,500-lb. BF6615 self-propelled asphalt paver features the UNIMAT electrically heated, full-width floating screed, which delivers a standard 8- to 15-ft. paving width.
99-hp Cummins water-cooled, turbocharged diesel engine with ECO-mode
Dual vibrators provide 2,500 vpm
9-ton hopper capacity
Working speeds up to 180 fpm
Crawler-style track drive system undercarriage with bolt-on polyurethane track pads
BOMAG Americas
Blacktopper Asphalt Distributor Heat Strips
Optional electric heat strips are available to mount to the belly of the asphalt tank on the Blacktopper Centennial asphalt distributor.
Can be plugged into a source of power for overnight heat maintenance
Optional onboard hydraulic-driven generator energizes heat strips as required in transit or while on the job
Additional circuit can be added to apply heat to the asphalt pump for fast easy startups
Designed to supplement and help maintain asphalt temperatures
E.D. Etnyre & Co.
Bondade CU-31
Transpos Bondade CU-31 asphaltic bond promoter is designed to enhance durability on hot and cold patch repairs, dry or damp holes, pavement overlays or cold joint emergency repairs.
Can be sprayed or brushed on
Contains no VOCs
Non-toxic, non-flammable and non-combustible; will not irritate skin
Secures a water insensitive bond between repair and base materials
Booth #1276
Transpo Industries, Inc.
Coneqtec/Universal BG Berm Grinder
The BG berm grinder features an offset design and a low-profile drum and housing that allow for berm removal while leaving the guardrail intact.
Center-pivot design places the down force of the skid steer directly over the cutting drum
Side shift allows the cutting drum to reach under guardrails and obstructions past the skid steers tires and retract to a compact transport width
Electric or hydraulic controls are available to operate side shift and tilt functions
Booth #1583
Coneqtec
Double Barrel Green System
Astecs Double Barrel Green System saves energy and eliminates smoke and emissions without compromising mix quality by using water to produce a foamed warm mix asphalt.
No smoke, no smell
run high percentages of recycle
Longer pavemetn life dut to less oxidation of mix and more uniformity of compaction
Reduced fuel consumption due to 50 degrees F lower temperature
11% increase in production
Booth #933
Astec Inc.
Ecosorb Asphalt Additives
Ecosorb additives are a natural and effective solution for significantly reducing hydrocarbon emissions as well as eliminating organic or inorganic odors associated with asphalt and fuel oils.
Do not contain amines
Will not react negatively with your binder
Booth #1801
OMI Industries
Equipment Line
Grasan designs and manufactures complete crushing, screening, conveying, stacking and feed/storage systems for quarry operations of all types and sizes.
Can create a whole new system from the ground up or integrate new equipment and systems into existing facilities for upgrading or expansion
CAD-CAM is used to design and build each system
Field technicians available for assistance during assembly and startup
Custom operation manuals written for each system
Training provided for production and service personnel
Booth #823
Grasan Equipment Co., Inc.
Equipment Line
Roadtec manufactures asphalt pavers, material transfer vehicles, cold planers and stabilizers/reclaimers
Services include parts, including competitive parts for many brands
Equipment rebuild, including drum rebuild
Booth #934
Roadtec, Inc.
EZ-OP Monitoring System
The VSS EZ-OP monitoring system provides slurry seal and microsurfacing crews with information about the mix design.
Decreases training time for new operators
Displays current operating parameters in percentages exactly as seen in the mix design
Provides information quickly
Booth #1967
VSS Macropaver
FastMeasure
The FastMeasure mobile distance measuring device helps contractors quickly and accurately measure parking lots, roads, utilities and more from the comfort of their vehicle up to highway speeds.
Mounts on the vehicle dashboard
Can also be mounted on concrete saws, crack routers, striping machines, etc. for accurate job accounting
Scooter package consists of a foldable 450-watt electric scooter, mounted distance measuring device, paint wand and clipboard for measuring and laying out jobsites at up to 15 mph
KTP Enterprises, Inc.
Heater skid
The Heatec heater skid combines a hot oil heater with other components that result in a compact package with centralized controls.
Components are mounted, wired and piped at the factory, reducing field installation work
Two sizes: 21- or 26-feet long
Both are 8-ft. 6-in. wide
26-foot model includes an unloading pump, strainer, asphalt meter and calibration tank; a vertical additive tank can be included instead of the calibration tank
Booth #933
Heatec, Inc.
Manhole Safety Ramp
The Manhole Safety Ramp protects motorists from exposed utilities on mill and fill road projects.
Made of durable 100% recycled rubber
Various sizes available
Grip tight design
Fast simple installation
Stackable for storage
Booth #1883
American Highway Products
MK-1 Transfer Sweeper
Broces MK-1 transfer sweepers are designed to pick up and transfer material to a truck in a continuous operation.
Allows for significant savings in time, equipment and manpower
Load to a height of 10 6" straight ahead or to either side
Booth #1559
Broce Manufacturing
MT2000 and MW500
Volvos new line of milling machines includes the MT2000 and the MW500. The MT2000 is a four-track, front-load, half-lane machine powered by a 610-hp Tier III Cummins engine. It can run both 78.74- and 86.02-in. drums. The MW500 is a four-wheel, rear-loading, utility-class machine with a standard cutting width of 19.69 in.
Booth #1149
The MT2000 is a four-track, front-load, half-lane milling machine, while the MW500 is a four-wheel, rear-loading, utility-class model.
MT2000 features a 600-hp Cummins Tier III engine, three distinct engine and drum cutting speeds and can run both 78.74-in.- and 86.02-in.-wide drums
MW500 features a 29.53-in.-diameter drum with an 8.27-in. maximum cutting depth and 19.69-in. standard cutting width, plus a 7.87-in. tight cutting radius, all-wheel drive and standard anti-slip control (ASC)
Line Manager System works in conjunction with the ASC to maintain a constant speed of operation and direction of travel
Volvo Construction Equipment
NovaStar
Hauck Mfg. Co.s NovaStar uses the latest lean burn premix technologies.
Easy installation
Ultra low NOx emissions of less than 15 ppm
Precise air flow via VFD and low horsepower design offers significant energy savings with no inlet or outlet damper required
Compact modular design for stationary or portable plants
Easily adaptable to long-nose variations
Patent-pending lean burn premix technology
Booth #1813
Hauck Manufacturing Co.
plant automation systems
WEM Automation offers a full line of PC/PLC-based plant controls for complete drum, batch, loadout and scale ticketing operations.
Ethernet network
Off-the-shelf parts
Windows XP Professional OS
ODBC database
Built-in redundancy for minimum downtime
24/7 no charge phone/modem service
Booth #1807
WEM AUTOMATION
Plants
Asphalt Drum Mixers Inc. manufactures a complete line of portable and stationary plants available in both counter-flow and parallel-flow designs.
The Milemaker Series features a dual drum counter-flow design
Roadbuilder and SPL series feature parallel-flow designs
Booth #1679
ADM Asphalt Drum Mixers Inc.
plants
Stansteel/Hotmix Parts upgrades and updates any brand of hotmix plant regardless of age or condition.
Provide engineering, manufacturing and knowledgeabel field service solutions and improvements
Offer repair parts to complete new, used or reconditioned asphalt plants from 50 to 850 tph
Booth #1901
Stansteel
RaynMaker
Rayner Equipment Systems introduces the RaynMaker, a specialty asphalt distributor.
Totally self-contained
Can be mounted on an available truck in minutes; requires no external hookups
Computerized spary rate controls
Full-sweep internal mixer
Wireless remote control with digital GPS inputs
Booth #1871
Rayner Equipment Systems
Screener Crusher
The ALLU SM screener crusher attachment can be used with skid steers, wheel loaders or excavators.
Reclaims and recycles most asphalt types
Can process RAP on-site to increase RAP usage
Can also be used to load materials
Available for wheel loaders and excavators in 48 models and screen sizes
Screen sizes from 1" minus to 4" minus
Booth #1837
ALLU Group
SpraySaver
CAL Technologies features the SpraySaver Automatic Truck Bed Lubrication System designed to minimize truck downtime as well as improve and control release agent usage.
System is activated by electronic sensors and automatically sprays the truck bed for about 15 seconds
Includes a spray rack stanchion with spray piping, wind skirts, reliable injection pump, controller and operating software
Compatible with all available release agents that are either soap- or oil-based products
Booth #1579
CAL Technologies
TempRamps
EZ Roads TempRamps are made from recycled rubber.
Used at milled butt joints, end-of-day joints and steel plates
Milling crews place TempRamps down and when paving crews show up, the take them up and place them in the pickup
Designed for no cleanup
Booth #1953
EZ Road
TR 550 Heated Asphalt Distributor
The TR 550 Heated Asphalt Distributor can heat and spray asphalt emulsions, cutbacks, rejuvenators, primers and more.
300,000-btu vapor heat system with push-button ignition and safety shutoff
7.5-gal. diesel wash down system
Standard 5.5-hp Honda engine or optional Yanmar diesel engine
Easy access basket strainer reduces tip clogging
Electric brakes with safety break-away system
Booth #1961
SealMaster
track pads
Everpads bolt-on track pads are specially designed for cold-milling planers.
Provides better traction and smooth ride
Can be found on Volvos MT-2000 asphalt milling machines and are available under Wirtgen Rhino brand
Booth #1578
Evertire, Inc.
TUF-STOP
TUF-STOP car stops from Tuf-Tite Inc. are UV stabilized and made of impact copolymer polypropylene plastic.
Available in 3- and 6-foot lengths
No painting or rebar are required
Come in Safety Yellow, Handicapped Blue and ECO-FRIENDLY Green (Hybrid)
Booth #1983
Tuf-Tite, Inc
Uni-Mix pugmill parts
Kenco offers a range of pugmill parts that provide greater wearlife and abrasion resistance to increase the productivity of asphalt plants.
Parts include the Uni-Mix, Uni-Shank, Uni-Shroud and bolt-on Uni-Tip
All are designed to be easily and quickly installed
Streamlined design and 90-degree rotation of Uni-Shank bolts allows Uni-Mix components to slice throught the mix with less friction and less wear
Booth #1959
Kenco Engineering Inc
V Series Vertical Light Tower
Allmand Bros. V Series vertical light tower configuration is an option for its Night-Lite PRO Series light towers.
Mast retracts and telescopes in and out of chassis
Compact design
Electric winch allows tower to be raised and lowered in 20 seconds
Integrated bunded tray and remote oil drain
Booth #655
Allmand Bros Inc.
Companies in this article