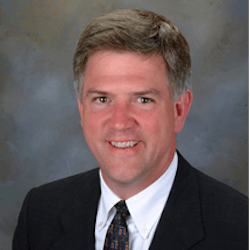 The American Concrete Institute
8001 Conser, Suite 280
Overland Park, KS 66204
FACI, Structural Services Inc.
Pat Harrison is a Vice President and Principal with Structural Services, Inc., with 38 years of concrete slab design, construction and forensic experience. Based in Kansas City, he has worked throughout North America, focusing on exposed retail, commercial, and industrial concrete slabs on ground.
He has significantly contributed to the design, construction, and development of exposed concrete slabs on ground systems.  Recognized for his consultation to a variety of clients, including the largest major retailer's and e-commerce distributors, his firm has influenced innovative industry design and construction management of concrete slabs.  He has also been a featured speaker in various locations in Mexico, Latin and South America, as well as the U.K. on quality floor slab design and construction.
He has published several articles concerning slabs on ground design, construction and maintenance for various journals, including Concrete Construction, Concrete International and Concrete Products.  He was the recipient of the 2006 ACI Construction Award – "For providing guidance on proportioning concrete mixtures for slabs-on-ground" from his publications.
Pat is a Fellow of the American Concrete Institute and a current voting member of ACI 211 Proportioning Concrete Mixtures, ACI 310 Decorative Concrete (Current Chair of the 310J Polish Concrete Subcommittee), ACI 302 Construction of Concrete Floors (serving as Committee Chair from 2004 to 2010), and ACI 360 Design of Slabs on Ground.