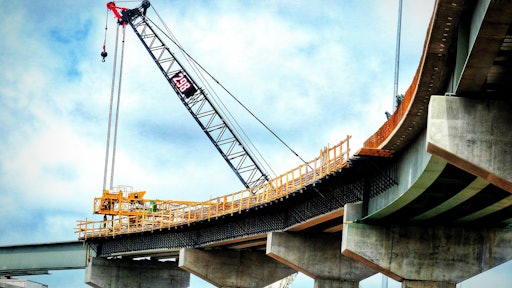 ©juliana sears/EyeEm – stock.adobe.com
The U.S. construction and engineering sector is about to enter a time of infrastructure boom as the Infrastructure Investment and Jobs Act (IIJA) provides a $1 trillion plus revenue opportunity for U.S. construction and engineering contractors to take on infrastructure projects. Forecasts from Global Construction Perspectives predict infrastructure construction will take center stage as it outstrips residential construction for the first time in years as the primary revenue stream for contractors. But with such large public investments at stake, how can construction contractors and governments ensure tax funds are put to good use?
Infrastructure has long been a less lucrative sector for the construction and engineering industry, with underfunding of public projects plaguing the sector for years. Research from the American Society of Civil Engineers shows the infrastructure investment gap is now at $2.59 trillion over a 10-year period. The state of the current infrastructure isn't just a government problem but impacts everyone, as a lack of adequate funding means countries such as, the U.S. and the U.K. are forced to get by with archaic systems that are no longer fit for purpose in a modern society. If the current condition of infrastructure continues in this way, the average U.S. household could lose up to $3,300 per year by the year 2039.
2022:
A Booming Year For
Infrastructure Construction
With the disruption of the pandemic largely behind us and economies starting to get back on track, the time is ripe for a refresh of outdated infrastructure systems and the impetus of the Infrastructure Investment and Jobs Act (IIJA) has put in motion new infrastructure works. Sustainability is another key driver in the push to modernize U.S. infrastructure. When compared to the newly constructed infrastructure seen in many modernizing countries, U.S. infrastructure is inefficient and highly pollutant. In order to achieve key ESG targets, infrastructure systems must be modernized with a greener outlook in mind.
Criteria for Successful Infrastructure Construction
Project: Reliability
Herein lies a golden opportunity for construction and engineering contractors to prove their mettle in these critical infrastructure projects. But the competition won't be easy, and governments will be looking to contractors who can get them the most bang for their infrastructure investment bucks. In order to win highly profitable Public-Private Partnerships (PPPs) contractors will need to focus on project delivery and demonstrate they will not fall into the age-old trap of project delays and budget overruns. It is here, emerging digital technologies and innovative management solutions will be the deciding factor in the allotment of contracts.
Methodical Project Planning With Modular Construction And BIM Technology
Large, complex projects, such as infrastructure, require detailed and methodical planning from start to finish. Modern Methods of Construction (MMC) can improve the planning and implementation process by utilizing modular, offsite, or prefab construction. The assembly of pre-manufactured modules decreases the complexity of on-site construction by manufacturing large portions of the build in a controlled environment and allows builds to be standardized through design. This in turn lowers the risk of delays and improves efficiency where unforeseen risk factors have been planned out of the construction process. A recent IFS study suggests that within 5 years, 50% of all construction projects will use modular manufacturing and/or 3D printing, with prefabricated modules accounting for up to 25% of the construction.
BIM (Building Information Modeling) also enables large-scale construction projects to be designed with modularization and standardization. BIM seamlessly integrates different data sets into a 3D model, where layers of data can be added or removed, to allow precise design and planning in the assembly of pre-manufactured modules. While in the U.K. BIM compliance has become part of the selection criteria for contractors, this practice is yet to reach widespread adoption in the U.S.. However, the use of BIM and modular construction technologies could prove to be a critical selling point for contractors to win competitive PPP contracts during this time of infrastructure boom.
Tech-Enhanced Progress Tracking Enables Strong Project Delivery
When it comes to obtaining valuable PPPs project delivery is key. To secure lucrative contracts construction and engineering contractors need to ensure projects keep to schedule and to budget. Here technology can play a pivotal role in tracking project process and avoiding unexpected delays and costs. The automated measurement capabilities of augmented reality (AR) technology can be instrumental to this process. AR devices can automatically perform measurement scans of construction sites at precisely the same point as the previous scan. This provides accurate updates of construction project progress, allowing irregularities and errors to be spotted faster, reducing costly delays.
IoT (Internet of Things) sensors can similarly monitor and relay real-time data into a digital system creating a virtual overview of project activity. IoT sensors in construction equipment can help project managers organize efficient use of equipment and resources for optimal operation. IoT sensors can also be used to monitor conditions within construction sites, such as temperature and humidity, as these factors can cause delays and even damage to construction. Access to accurate, real-time data heightens project managers responsiveness to crises so that the right action can be taken at the right time to avoid incurring unexpected costs and delays.
Going Beyond Expectations With Full Asset Lifecycle Management
Contractors that provide service throughout the entire lifecycle of the construction asset will be uniquely positioned to unlock more value from infrastructure contracts. Servitization is an underrated differentiator among construction and engineering contractors, but asset construction and servicing from a single contractor is highly appealing. This is because the contractor is familiar with the asset and its maintenance history, and the client knows the quality of service that will be provided. It is also beneficial to the contractor, as it provides a continuous revenue stream throughout the entire lifecycle of asset—and for infrastructure assets that can mean decades.
Quality servitization can be achieved by deploying a construction-specific ERP that goes beyond the limits of simple back-office finance system but is an integrated business system that manages all the processes that are executed across the whole asset lifecycle.
A data driven approach allows construction organizations to foresee where repairs, retrofits, and servicing will need to take place and schedule these ahead of time before it is urgently needed over the course of an asset's lifecycle. Given the rigorous demand of a fully functioning economy on infrastructure systems, high quality maintenance through a servitization model can provide a greater ROI on infrastructure projects—something governments will be eager to obtain and will make contractors more appealing project partners.
Technology Is The Cornerstone For Any Modern Construction Project
While the IIJA presents a unique opportunity for construction and engineering contractors to team up with governments in high-stake infrastructure projects, the main aim of the act is to improve the competitiveness of the U.S. economy, by boosting productivity and creating new opportunities. Contractors need to improve their project delivery and productivity to both seize this infrastructure opportunity and create and service new infrastructure systems that will support the U.S. economy for years to come.
By combining technologies, including BIM, IoT and construction ERP with innovative management solutions contractors and governments can limit unforeseen delays and expenses in infrastructure projects—so that U.S. infrastructure can be modernized to fully serve the needs of a modern society.