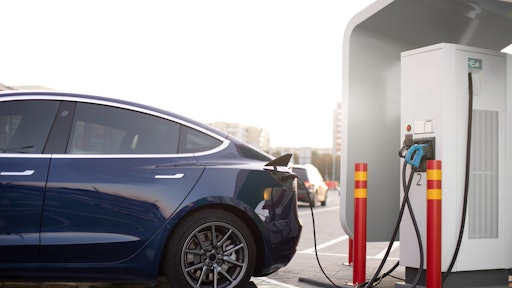 AdobeStock_415584864
Late last week, the legislature in the state of California took one of the broadest and most bold steps in the fight against climate change. The United States largest individual economic region passed a ban on the sales of petroleum based, gasoline-powered vehicles, that is designed to go into effect in the year 2035. Even for those who support the fight against climate change, and believe in the science that recommends extreme action to avoid critical temperature thresholds, the new law came as somewhat of a shock.
Michael Quigley with the Fix Our Roads Coalition said, "We support the transition to the green future. We believe climate change is real and needs to be addressed, however, we can't do it in a way that totally disrupts our society."
Some would counter-argue that the catastrophic effects of climate change are also a total disruption to our society, of which we are seeing evidence of currently with massive droughts in regions where the world's third largest river is below 50% normal flow, and other places like Pakistan where recent historic floods have killed more than a 1000 people, so far. California itself is no stranger to these types of increasingly frequent disruptions, as their fire season, and others in the western United States, have now stretched into the winter months.
Talking about these events isn't meant to be for the sake of doom-and-gloom. It's meant to help give context to things like California's new law, the challenges it represents, and the obstacles it will have to overcome.
Tax Funding Shortfall
Despite facing these growing concerns, Quigley isn't without a point entirely. According to CBS news, there are some reports that indicate this new ban could mean that the state will be short on their budget needs by as much as $30 billion due to a loss in gas-tax-revenues. Those funds go to support a majority of road building, transportation and infrastructure projects across the entirety of the state. Losses of that nature and scale would mean improvements and repair initiatives could be impacted and required to adapt. However, these financial estimates are only preliminary, and should not be considered as anything other than that, for the time being.
The law doesn't prohibit the use of gasoline vehicles in their entirety. Ones already purchased (whether in or out of state) will still need to fill-up at the pump like they always have. There are, according to a 2020 survey of registered light-duty vehicles by state, in excess of 14,000,000 gas powered cars in California, the most of any state in the whole of the country. On average, each registered vehicle produced ~$430 a year in tax related revenue. Those are not going to disappear over night, and will arguably still produce gas-tax dollars for some time.
However, the goal is that they wont be forever. That's ultimately the intended point of the ban, and thus, an alternative funding will need to be sourced. This, by itself, does expose a potentially self-defeating mechanism built in to the way we finance our infrastructure. A hurdle to real, drastic change. How can we get rid of the single biggest contributor to green-house gas emissions, if we depend on those same contributors to sustain our roads and freeways?
Finding Viable Alternatives
The executive director of the Energy Institute at UC Berkeley spoke, again to CBS News, in the wake of the bill's passage about one such alternative: a mileage tax. He was, however, somewhat dubious, "There are big challenges. The government knows how much gasoline stations are selling. The government doesn't know how many miles drivers are driving," he said.
This criticism is, on the surface, pretty fair. As of today, there is not a fully worked-out and operational monitoring system, but alternatives to gas-tax funding have been in the process of development for a long time. The Government Accountability Office website states that, "Since fiscal year 2016, 13 states, including two multi-state coalitions, have used Surface Transportation System Funding Alternatives (STSFA) funds to pilot and research user-based funding alternatives to the fuel tax." California is one of the 13 pilot states. In light of this, the move by the State's lawmakers does not seem so radical a thing.
The Tech Puzzle
The technology to implement such a system may now be available and affordable enough to justify a marriage with this moment in time and the 2035 deadline presented by legislation. Within the $369 billion dollar Infrastructure Reduction Act, passed by congress and signed into law in August by the Biden administration, there are ample opportunities for the private sector to use public funds for transition transportation systems and infrastructure into greener and more advanced versions of themselves. It is an exciting time for our industry to lead the way forward where it can.
There are electric vehicles in every shape and size; smart highway systems with high-tech sensors built right into the asphalt; autonomous driving systems for cars improving every day in quality; built-in GPS to every watch, phone, tablet, dashboard, etc; and even more that could be described here at length. All the pieces to the puzzle pieces are already present and on the table. The real question is about initiative and innovation to put them together, and literally pave the way for a better future.