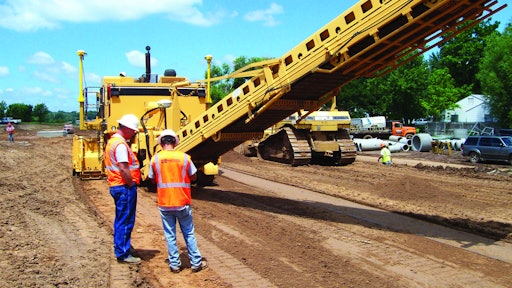 Sherwood Construction, Wichita, KS, was contracted to work on the Oklahoma Department of Transportation (ODOT) Interdispersal Loop project, a $70 million stimulus project involving the rebuilding of a major square-shaped highway loop around downtown Tulsa, OK. The massive project includes approximately 160 bridge deck spans that will be removed.
Sherwood Construction is responsible for putting the network of roads, interchanges and bridges back together. "There are interstate and highway interchanges at each of the corners and we're working on three of the interchanges and all the paving in between," says Rod Evans, office engineer/project manager.
"Our company's job is to demolish all of the existing roadway and safety devices, and rebuild the subbase and base, and do all the concrete paving," he continues. "All the surfaces on the two sides of the interchange will be completely redone with new parapet barrier safety walls to replace old guardrails."
Once the contractor removed the old roads and bridge surfaces, the biggest concern was how to put them back together geometrically. "We had to accomplish everything within demanding parameters that call for redesigning and reestablishing all these grades on new elevations," Evans notes. "And everything had to be completed within deadlines that accommodate three demo crews, two subgrade prep crews, four bridge crews and a paving crew. This is an arduous task that we were able to accomplish with some intelligent risk taking, like using a Trimble dual GPS system on the trimmer."
Twice the control
Sherwood Construction has been using dual GPS machine control since late 2006, and understands the productivity edge the technology provides. So when Evans was looking out at the company's Terex CMI TR-4503 trimmer-reclaimer sitting idle in the equipment yard, he thought, "Why couldn't the Trimble system work on the trimmer I have sitting here?"
Evans arranged for installation of a Trimble GCS900 grade control system with two Smart GNSS antennas and a CB430 control box located in the machine control station. The setup is much like what you would see on a motor grader.
"My logic was that if the GPS system works on a blade, it will work on either end of this trimmer head," says Evan. "It functions the same, controlling hydraulics to raise, lower and tilt a cutting blade.
"As far as I know, we are the first contractor to try a dual-mast GPS system on a trimmer," he adds, "and I'm happy to say that it works just as I thought it would."
Accuracy achieved
Following a couple days of testing at the yard, the trimmer-reclaimer went to work on the Interdispersal Loop project. It proved instrumental from the start.
Once 9 in. of concrete and 4 in. of hot sand asphalt subbase were removed from the old road surface, the trimmer-reclaimer was used to cut an additional 5 in. to achieve the new finished subgrade for the thicker pavement section. The materials coming off the machine were loaded onto a 60-ft. conveyor belt that can be swung to either side for truck loading.
Accuracy requirements on the project are tight given the density of bridges and complex geometrics. The grade control setup enabled the trimmer-reclaimer to run off a 3D digital model. "This ensured incredible accuracy and consistency as it trimmed through all the super-elevation rotations in the curves," Evans states. The unit is achieving finish grade within 1/4 to 3/8ths of an inch.
"The trimmer is enabling us to achieve incredible accuracy," he continues. "We're checking with a robotic total station and it's confirming that the trimmer is cutting grade with one pass. Without the Trimble system you may have to make two or three passes."
Evans knows that the finished paved surface will be accurate and smooth. "When paving is applied to this surface it's going on top of a surface that's already been generated by a precision 3D model," he points out, "and the trimmer has finished to these specs rather than finishing between blue tops that are set 50-ft. apart. We're just getting a lot better results, with minimal to no yield loss on the concrete."