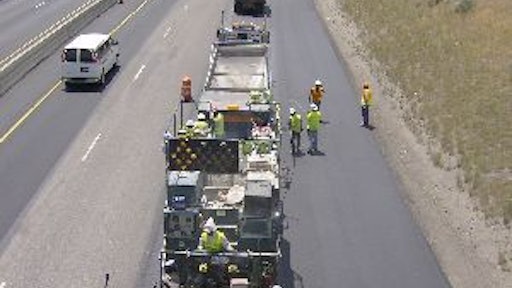 For the past few years, the Utah Department of Transportation (UDOT) was regularly forced to patch and repair a highly traveled 9-mile section of I-80 that begins at the top of the Wasatch Mountain summit and extends to Salt Lake City, UT.
Previously, the state used an open graded surface course (OGSC) that was made up of a thin layer of hot-mix asphalt, comprised of 1/2-inch aggregate. An OGSC surface treatment is designed to have very small voids so precipitation seeps through it and drains off the side of the road. This process often works well, but not in this part of Utah. Extremely cold temperatures prevented the treatment from bonding correctly to the existing asphalt overlay.
"The OGSC lasted only two years and it was failing," said Deryl Mayhew, UDOT Resident Engineer and overseer of the project. "We were patching potholes constantly because the surface was cracking severely. We have many freeze and thaw cycles here because it might be in the 20s in the morning, and then up into the 50s by the afternoon. The OGSC really takes a beating during these cycles, so we decided to see if micro surfacing could do better because of its history of being a good product."
Micro surfacing to the rescue
Utah-based Intermountain Slurry Seal (www.intermountainslurry.com) won the Parley's Canyon I-80 micro surfacing bid. The company is a wholly owned subsidiary of Granite Construction Company, one of the nation's largest heavy civil contractors and construction materials producers. With a specialty in various pavement preservation methods, Intermountain Slurry Seal's three branches in Utah, Nevada and California work together and cover most of the western United States.
This particular project consisted of six total lanes -- three going east and three going west -- over a stretch of nine miles. Intermountain Slurry Seal milled the previous surface, and then used Bergkamp Inc.'s M1 full-size continuous micro surfacing paver to apply two layers, or a total of 1,211,553 square yards, of Type III micro surfacing treatment.
Intermountain Slurry Seal took on many challenges when they executed this high-profile job:
Challenge 1: The Existing Surface. Micro surfacing is well suited for protecting roads in the early stage of deterioration and serves as a surface treatment that extends the life of the existing asphalt. It doesn't provide structural stability to the road.
With the previous surface in such bad shape, Intermountain Slurry Seal performed a 1 1/2-inch mill to remove the unstable OGSC layers before applying the micro surface. A fine head mandrel with milling tools, or teeth, only a 1/4-inch apart was used to create a smooth milling surface that appeased ongoing traffic and provided a better bond between the existing asphalt and the new micro surfacing treatment.
Challenge 2: UDOT Restrictions. With an average traffic volume of 51,000 vehicles going in each direction per day, the UDOT and Intermountain Slurry Seal set up general guidelines to keep traffic moving as efficiently as possible. During rush hours, the contractor was allowed only a single-lane closure, while off hours allowed for a double-lane closure to do the necessary milling and surfacing. Failure to comply with any of these lane closure limitations would result in a penalty of $1,500.00 for every 15-minute violation.
"We did all of the milling work at night due to traffic restrictions," said Rusty Price, General Manager for the Utah-based Intermountain Slurry Seal branch. "We cut the road the full width every night so it would be ready for motorists the next day. That meant backing up the mills and doing smaller stretches than normal. On an average night, we would cut between 4,500 to 5,000 feet."
Challenge 3: Proper Bonding. Due to temperature fluctuations and the considerable amount of snow the Parley's Canyon area receives, proper bonding of the new micro surface to the existing asphalt was crucial. Intermountain Slurry Seal thoroughly cleaned the surface so the pavement would adhere directly to the new treatment. Nearly all of the micro surfacing was done during the day because it adheres better in warmer temperatures, so the contractor was forced to keep a concise schedule.
Challenge 4: Environmental Concerns. Half of the job included work around the water shed reservoir that supplies drinking water to area residents. All mill tailings had to be cleaned from the road each day to prevent water contamination. Micro surfacing is a green product and is environmentally safe, but letting it get into the area drinking water was not an option.
Parley's Canyon draws a lot of pop-up rain showers, so the crew watched the weather constantly to ensure the rain didn't wash anything into the reservoir. In addition, as a highly travelled road, the crew made sure everything looked professional to the public so they knew the drinking water would be kept safe.
Preserving I-80 for the long haul
The Parley's Canyon section of I-80 is steep with eight percent grades, windy and has limited visibility at night. The project was also unique because the micro surfacing treatment was put on top of a milled asphalt surface. In most cases, it is laid over the existing asphalt.
Micro surfacing mixtures use four main ingredients, including a polymer-modified emulsion that produces a chemical reaction to force the moisture out and allows it to set in less than an hour -- so traffic can return quickly. In total, Intermountain Slurry Seal used approximately:
16,000 tons of Type III aggregate
1,850 tons of polymer-modified emulsion
80 tons of Portland cement
300,000 gallons of water
Due to the environmental restrictions, all of the materials had to be stored at one end of job. Each day, Bergkamp's M1 was first loaded with all of the necessary materials at the stockpile site. Then four Bergkamp mobile support units and three Flow Boy support units were loaded with material and stationed at specific intervals in front of the continuous paver. As the paver ran out of material, a support unit slowly backed up to the paver, connected and transferred materials so it could keep running. Those support units then went back to stockpile and refilled.
"This process reduces the number of construction joints, or bumps, in the final surface," said Price. "We also used Bergkamp's variable width spreader box to adjust to varying pavement widths and prevent overlap and gaps. Combined with a continuous paver, this makes the road smooth and consistent for easy driving."
To ensure a smooth and long-lasting surface, Intermountain Slurry Seal put the micro surfacing treatment down in two layers. The first layer was used as a scratch coat to smooth and level the milled road. It was applied thicker at about 27 pounds per square yard. The second coat was applied as the final driving finish to provide improved skid resistance and protection against the extreme weather conditions. It was applied at 25 pounds per square yard.
"When micro surfacing east, we had a traffic control plan where the heavier trucks ran on the right shoulder and the other vehicles ran in the normal right lane," said Price. "This allowed us to work in two lanes at one time and still meet the UDOT's requirements. When going west, there wasn't enough room to do this so we had to perform most of the micro surfacing in one-lane increments and the center lane at night. "With this micro surfacing treatment, I am confident it will hold up better and won't delaminate from the pavement because it keeps precipitation out."
A favorable outcome
Mayhew drives the route every day to work and says the results have been favorable. "Last winter we only observed about seven total potholes going both east and west," said Mayhew. "And honestly, those had more to do with the underlying asphalt surface that failed than the micro surfacing. With the OGSC, we had more than 700 potholes per year for the last two years. The micro surfacing treatment has held up well and doesn't have the cracking that we saw with the previous treatment."
----------------------------------
New Technology Aids Intermountain's Future
Intermountain Slurry Seal's equipment arsenal includes Bergkamp's new M1E continuous paver, which was used to help complement the original M1 unit's preservation of I-80. The difference between the two units is that the M1E uses the EMCAD (Electronic Mix Control And Diagnostic) System to simplify maintenance and calibration and help the owner or operator better monitor production rates and costs.
"We still like our other units, but we felt this was the direction that the industry was going," said Price. "This machine doesn't have any chains or sprockets because it is all hydraulically driven and it has cut our calibration time in half. And with this new technology's computerized monitoring system, we know the percentage of each micro surfacing mix ingredient that goes onto the roadway at all times. At anytime during or after the job, the owner or contractor can request a print out of the system to determine whether the contractor is meeting the required specifications. These pavers last a long time, so if we didn't move toward this new technology now, it would probably be at least another ten years."
This was the sixth job on which Intermountain Slurry Seal used the new paver; it had also been used on other micro surfacing jobs in Utah, Wyoming and Idaho.
"The EMCAD System technology has proven to help reduce calibration by up to two-thirds," said Bill Cooper, Bergkamp's Sales & Marketing Director. "Through automation, owners and operators can gain information they need immediately regarding production and make changes to output levels instantly. As pavement preservation's popularity increases globally, this technology is an excellent way to enhance performance and minimize job costs."
----------------------------------
Pavement Preservation on the Rise in Utah
With the instability of the economy today, many states are turning to pavement preservation to keep their roads safe. The price is right. For example, in Utah a slurry seal costs about $1.30 per square yard, a chip seal with a fog seal flush is about $1.75, an OGSC treatment is about $5.00 and micro surfacing treatment is about $2.50 to $3.00. The section of I-80 in Parley's Canyon was $4.50 per square yard when combined with the asphalt mill.
"The future for micro surfacing in Utah is very promising," said Mayhew. "I like the product because the texture performs very well, it provides great skid resistance, it is very durable and it goes down fast. In Utah, it is not uncommon for the elevation to rise 3,000 feet above sea level in a 10-mile stretch, so the cold weather takes a beating on the roads. The micro surfacing treatment has proven to work very well in both the low and high altitudes.
"For that reason, our use of micro surfacing has grown tremendously in the last year or two," he noted. "I now have a micro surfacing treatment on almost every project that has a hot-mix asphalt component to it."
When used as part of an ongoing surface treatment program, contractors can avoid doing a complete mill and overlay for many years. While a mill and 4-inch asphalt overlay provides structural stability to the road, it also costs approximately $20.00 per square yard.
"If you want roads to last for 20 or more years, it's important to have a consistent plan of how to treat them," said Price. "Slurry seal is definitely the most economical surface treatment for residential streets as far as costs go. Micro surfacing is ideal for higher travelled roads and will generally last about seven to eight years. Asphalt overlays have their place, but I think significant money can be saved by keeping those structurally sound roads preserved as long as possible."
The American Recovery and Reinvestment Act is having a positive effect on pavement preservation contractors as well. Each state is handling its money differently. While some governments are using the money to do new asphalt overlays, a lot of the money is also going toward preservation.
"Looking at the past ten years, I fully expect pavement preservation to continue to grow," said Price. "Whether it's directly or indirectly related to the stimulus, people have definitely caught on to its benefits. The future looks good."