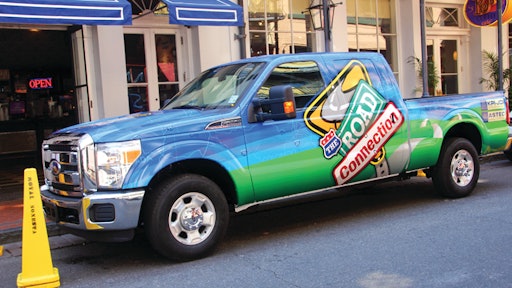 The first official stop of "The Road Connection" will kick off this January in the nation's capital during the 2012 Associated Equipment Distributors (AED) Summit as part of a year-long national tour designed to bring about positive change in America's transportation system.
The Road Connection is an innovative campaign driven by KPI-JCI and Astec Mobile Screens and supported by industry organizations designed to spotlight the need for infrastructure funding and increase pressure on government to fund road construction. KPI-JCI and Astec Mobile Screens is a premier worldwide manufacturer of heavy equipment for the aggregate and recycle markets.
"By officially launching the campaign in a city full of political movers and shakers, we hope to emphasize the necessity of legislative action in securing a multi-year, federal highway bill to improve our roads and bridges," said Joe Vig, group vice president for KPI-JCI and Astec Mobile Screens. "As an industry leader, we feel it is our duty to help lead the way toward greater investment in our transportation system. Better roads and better bridges mean better business for all Americans, and more jobs."
Throughout 2012, KPI-JCI and Astec Mobile Screens will travel the highways and interstates to all corners of the nation and host and attend dealer stops, demo days, open houses and industry tradeshows. The Road Connection truck will first be on display at the AED Summit Jan. 18-21, 2012. Future industry events for the Road Connection include the 2012 Georgia Construction Aggregate Association's Management Workshop, the Rocky Mountain Asphalt Conference & Equipment Show, the 2012 National Demolition Association Convention, AGG1 Aggregates Forum and Expo and World of Asphalt.
"This is a crucial time for Americans to push for a transportation bill," Vig said. "It is critical that we unite with others in our industry and make it clear that a multi-year, federal highway bill is absolutely vital in continuing America's prosperity. By investing in our transportation system, we not only improve our quality of life and infrastructure, but we also put more Americans back to work. Our hope is that 'The Road Connection' will serve as the one voice that will be able to bring about real, positive change that will help improve the daily lives of our fellow Americans."
For more information about The Road Connection, visit theroadconnection.org. To follow The Road Connection's progress, visit facebook.com/theroadconnection or twitter.com/road_connection. To learn more about KPI-JCI and Astec Mobile Screens, visit kpijci.com.
Companies in this article