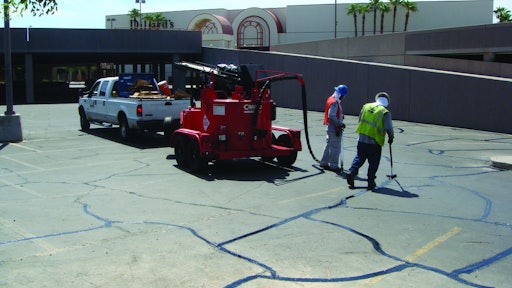 With the right-sized equipment, sealing cracks can be very profitable.  The emphasis is on having the right equipment.  There's no way that a setup designed to seal cracks on small driveways and parking lots will profitably make the transition to larger jobs. The same logic holds true transitioning from small municipal street projects to sealing cracks on roads and highways.  Having the right equipment will help deliver the optimum performance and profit margin.
Count the ways and pounds
If you've been using a small melter and pour pot, putting down 20 to 30 pounds of sealant would be a good day's work. At the far other end of the job spectrum, crews employing a large melter/applicator like the Crafco EZ Series II 1500 can go through an astounding 2,800 pounds per hour while sealing between 5,000 to 10,000 feet of cracks. 
"If you're not interested in sealing 10,000 feet of cracks a day, then it wouldn't pay to have the Series II 1500," says Crafco marketing manager Mark Manning. "It's not only the excess kettle capacity and cost that would be issues, but large kettle applicators require larger trucks to tow them around and store sealant.  The loaded weight of the 1500, for example, is 10,600 pounds and the smaller but still sizeable models 1000 and 500 weight 7,700 pounds and 5,400 pounds respectively."
As he points out, it's very important to understand the application before buying equipment, and there's plenty of crack sealing equipment on the market to make the right match.  In addition to the three Series II models, what Manning calls the newest generation in the Crafo line, the company offer three models in the smaller yet still very productive Super Shot Series, with 60-, 125-, and 250-gallon capacities. 
The Super Shot 60 is designed for pavement maintenance contractors who look to apply up to 2,000 pounds a sealant per day. This unit features a melt rate of 480 lbs/hr and is available as a skid mount unit. The diesel-powered model 125, with a melt rate of 900 lbs/hr, is suited for both medium-sized and large projects. With a melt-rate of 1,700 lbs/hr, the model 250 is designed for larger projects.
Among key features, Manning says all Super Shot models have digital control to accurately control and regulate sealant heating temperature and an internal pumping system.  "Mounting the pump inside the melter eliminates outside plumbing, high pressure lines, and the need to re-circulate sealant," Manning points out. "This saves on pump wear, as does the micro-switch on the applicator wand that allows the operator to run the pump only when applying material."
Rule of thumb
Stepp Manufacturing offers five melter/applicators, two vertical and three horizontal units.  Of the three horizontal models, company national sales manager Jason Stepp says the OJK 250, with a 250-gallon capacity, is the most popular. "The rule of thumb is that operators can apply 2 ½-times the material capacity of the kettle in a day. So our OJK 250 is capable of applying 625 gallons or 5,600 lbs of product in a day."
He continues, "The obvious reason to upgrade to a larger melter/applicator is to gain productivity, to be able to crack seal larger projects and have the ability to keep a crew busy. Larger melting kettles also keep temperature differential to a minimum, something that is very important when applying rubberized sealant. This product is difficult to heat and it has to be applied quickly. Keeping sealant at the ideal temperature of between 350 to 400 degrees F is a requisite to ensure it adheres properly to the asphalt."
The OJK 250 features a large 26-hp Kubota diesel engine and a 60-gallon-per-minute pumping system. Stepp notes that the former has plenty of power to run the melter/applicator and is quieter than many smaller engines. The large pump has capacity well beyond what would be required for applying sealant but that, too, has its advantages, he adds. "Bigger pumps last longer." 
Stepp points to three additional especially attractive features on the OJK models.  "The low profile, thanks in part to the placement of the auger at the bottom of the kettle, makes for easier loading and enhances visibility when towing the unit down the highway. They also feature a free-flow heat exchanger that quickly and efficiently heats up the oil in the jacket to ensure faster heat-up times, and an overhead heated boom to facilitate maneuverability." Like the Crafco unit, he notes that the OJK models have a submerged pump that eliminates freeze-up and facilitates effective use of the optional 'Pump Saver' system. 
Making green with green
Cimline offers three melter/applicators in its METRO line that control sealant fumes and emissions. These 165-, 275-, and 425-gallon models employ the company's AfterBurner II technology that reduces smoke and odor from melting sealant by more than 95 percent, explains Cimline's Vice President of Sales Steve Johnson.  Other features include a no-contact loading chute that dumps sealant blocks into the kettle, an innovative hose carrier that allows operators to move the hose through a wide range of motion, and an auger/agitator that helps to circulate material through the kettle for even heating.  He notes that all three Metro models are equipped with a digital control station for up-to-date diagnostics and status of important machine functions and a material level indicator.
"For contractors looking to do big and small jobs, the MATRIX 1500 would be ideal," says Johnson. "It has a 150-gallon kettle, auto start feature, and a multi-point overhead boom and heated hose.  For jobs that are 6,000 linear feet or less the Matrix 60 diesel-powered, no-pump machine gives the operator fast efficient sealant melting with its oil jacketed design and the flexibility of operating multiple speed banding machines."
Three other models in the Generation 3 MAGMA line, with 110-, 230-, and 410-gallon kettles, round out the company's offering of melter/applicators.  Like Stepp, Johnson says the 230-gallon unit is the most popular.  All three feature digital control, integrated diagnostics, splash free loading door, the ability to operate either a heated or non-heated sealing hose for flexibility, and an auger/agitator. The Magma line of melter/applicators also takes advantage of a passive fume reduction system to help control sealant fumes and emissions. 
Major options
For the Super Shot Series, Crafco offers many options that help reduce labor and operating costs. Among them is a 70 cfm air compressor available on its larger melter applicators.  "Most of our melter/applicators are sold with compressors," Manning relates. "The 70 cfm compressor provides more than enough air volume to match large-melter, high seal rates.  On-board compressors are also a big money saver, negating the necessity to operate an additional engine and tow vehicle."   An autoloader, cab brake control, overnight heater, and surge brakes highlight other available options.
Cimline's Magma 230 also offers an integrated 70 cfm rotary screw air compressor that delivers a continuous 100 psi output and features a 50-foot retractable hose,  all located safely under one engine enclosure.  Johnson notes that dual wand MAGMA models can be equipped with two non-heated hoses, two heated hoses, or one of each. "Both hoses," he adds, "receive sealant flow from one 30 gpm pump, which reduces pump maintenance and replacement costs and maximizes production. " 
On its OJK 250, Stepp Manufacturing offers an overnight heater, an on-demand pumping system, and a pump saver system among options. Says Stepp, "The on-demand pumping system saves wear and tear on the pump and the exact-flow option allows the operator to adjust the pump speed right at the wand."
All three manufacturers emphasize that serviceability and the ability to get service rate extremely high in a business where downtime costs dollars. Having access to wear items such as pumps and motors is important, just as it is important to be able to monitor performance and make needed adjustments. Cimline also includes a spare parts kit with many of the emergency items right on the machine for maximum up-time.
The first selection criteria, though, is to match machine to application.  Excess capacity is always a nice-to-have, and it allows for growth.  But as Crafco's Manning pointed out, with a larger melter/applicator comes attenuating costs, not the least of which is the size of the towing vehicle.  As the saying goes, "do the math."  Stepp's rule of thumb will come in handy here. If you plan to apply two pallets or 600 or so gallons of sealant day, than a 250 gallon melter/applicator would be your machine of choice.
There's a number of melter/applicator models, sizes, and options on the market for a reason. Your challenge is to find the right one for your application.