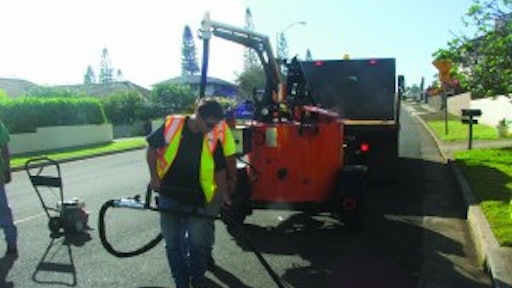 So you want to set up a hot pour cracksealing crew? Why not? Cracksealing can be very profitable and it helps extend the life of pavement - something that most customers can appreciate. To be profitable, though, crews need to be outfitted correctly, with the type of equipment that will deliver optimum performance for the job at hand.
"The first question you have to ask before setting up a crew is define your purpose," says Cliff Cameron, director of sales for KM International (KMI). "Are you going to work on highways and other larger projects or focus on driveways and small projects? In other words, how much linear feet of cracks do you anticipate sealing in a day? Once you've determined that amount, then you can decide on a prep tool, melting kettle, application system, and a reliable truck and trailer."
KMI offers a couple of tools for contractors looking to get into this line of work. One is the Crack Jet II, a preparation tool that cleans, dries, and etches the walls and surface of cracks. "This fully self-contained heat lance eliminates the need for wire wheels, routers, or tag-along compressors," Cameron says. "If you apply rubber sealant without first drying and cleaning out the crack and opening up the pores in the asphalt, it won't adhere."
The other tool is a melting kettle. The model KM 55 has a 55-gal. capacity, ideal for cracksealing driveways and parking lots. Among features is a thermostatically controlled propane burner that provides continuous accurate heating of material, a 2-in. flow valve for easy filling of application equipment, and a utility torch for heating the valve tools and pour pot. The Crack Jet II, KM 55 Melter, and KM 10 pour pot can easily fit into a utility trailer.
Cameron emphasizes that crack preparation is all important for proper sealing, noting that the ideal, ready-to-seal crack measures approximately ½-in. wide by ½-in. deep, allowing the material to reach the bottom. "Most cracks are shaped like an inverted V," he adds. "One needs to open up the top a bit to allow sealant to reach the base. The rubber then will seal the entire crack."
Wider cracks, up to 2 in. or more, are best sealed using infrared technology, he points out. An infrared unit is pricey but gives contractors the ability to open up an entirely new profit center, such as repairing potholes and performing other maintenance tasks.
The Right Tools
Billy Goat manufactures a crack-prep product called the Grazor. Featuring a spinning wire-brush wheel, the unit pulls out weeds by their roots and then burnishes the sides of a crack. "The Grazor is the ideal start-up prep tool for a cracksealing crew," says Drew Coates, Billy Goat product manager. "It takes the place of a putty knife or screwdriver used on the small jobs, and the front caster wheel allows the machine to easily follow cracks."
Agreeing with the KMI's Cameron, Coates advises contractors to keep the crack within ½ in. deep. "To remove more asphalt would require spending money needlessly on additional rubber sealant," he says, noting that any of the company's Force blowers would complement the Grazor by blowing out the loose debris once the crack has been cleaned.
Crafco manufactures melters that range in size from 10 to 400 gal. The line includes the smaller Mini Melter 10 and Mini Melter 30 and the larger Super Shot, E-Z Pour and E-Z Series II melter/applicators. "If you're going to seal 1,000 linear ft. a day, then a melter within the 10- to 30-gal. range would be adequate," says Mark Manning, Crafco marketing manager. "These units cost under $2,000 and are perfect for the smaller operator. The price jumps up when getting into the 60- to 125-gal. and larger units, but they have far greater capacity."
Manning puts it in perspective for operators. "The smaller, direct-fired melters are capable of applying 20 to 30 lbs. of sealant a day. Larger, 125-gal. melter/applicators like the Super Shot 125 will do between 2,000 and 3,000 lbs. a day." Designed for both mid-to large-sized projects, this unit comes with an optional compressor to run an air lance and a labor-saving Auto Loader. Two other Super Shot models are available, the Super Shot Model 60 and Model 250.
"Contractors can apply the sealant using pour pots or select single- and dual-pump melters/applicators, again it comes down to the size of the project," he says. "Of course, getting into the larger units will give contractors more project options."
This industry veteran has a couple of other tips for contractors outfitting a cracksealing crew. "By widening the crack, routers will double the life of the sealant, from two to three years to four to six years. The router will actually create a reservoir-like space for the sealant, allowing the sealed crack to 'give' with the pavement. This is especially critical in northern climates where a crack widens in the winter and closes up in the summer.
"Heat lances can be another important addition to a crew operating in cooler, wetter climates," Manning says. "They act like mini jet engines that blow hot air into the crack. If you don't have a clean, dry crack, the sealant will come out the next day."
LAB Manufacturing's Jim Kahl agrees. The company has been making the Heat Lance for 25 years, a product designed to take the place of three machines: an air wand, wire brush, and propane torch. "The Heat Lance has an air velocity of up to 3,000 ft./sec. and heats to 2,800 to 3,000°F," Kahl says. "Since the flame is retained in the head of the lance it never comes into direct contact with the asphalt."
LAB Manufacturing offers three Heat Lance models. The Hot Shot is designed to be used with melters equipped with an onboard compressor. Models B and C are for use with 100 to 150 cfm and 150 cfm or larger air compressors, respectively. "Because they require using a tow-behind air compressor, these units are more appropriate for commercial contractors on larger projects," Kahl says. "Except for the compressor and propane tank, the Heat Lance comes with everything a contractor needs to start prepping cracks."
Thinking Ahead
"My advice to anyone getting into the cracksealing business is to start out with a melter in the 125-gal. range," says Jason Stepp, national sales manager for Stepp Manufacturing. "This size melter may cost a few thousand dollars more than a 75-gal. unit but it will allow the contractor the flexibility to perform larger jobs, possibly even sealing cracks on small town and municipal roads." Stepp Manufacturing offers a variety of melting kettles, including oil-jacketed models that range in size from 75 to 400 gal.
Stepp, who is the third generation to work in the family-run business, notes that a melter with applicator will dramatically increase productivity, as will optional integrated air compressors that eliminate a separate truck and driver for pulling around a compressor. Models can also be equipped with an optional overhead boom to reduce operator fatigue, exact-flow and on-demand wands, and safety loading chutes.
"Rubberized sealant is tough to melt and requires smooth, even heating; a consistent temperature; and constant agitation for properly mixing asphalt and polymers," he says. "Direct-fire units are still used for filling cracks with straight asphalt, but the rubberized sealant is preferred because it actually seals the crack to keep water out. Among issues, water that gets into a crack can wash out asphalt or, if it freezes, can pop out the sealant."
Steve Johnson, Cimline vice president of sales, says that probably the biggest decision a contractor can make is deciding between a direct-fire or oil-jacketed unit. "Indirect-fire or oil-jacketed units are more expensive than direct-fire counterparts but they are more productive, the sealant is less costly, and you get a better job by actually pumping the material into the cracks," he says.
Cimline offers a full line of melting kettles all the way from start-up, 10-gal. direct-fire units to 410 gal. oil-jacketed kettles. "A good choice for contractors would be our 150-gal. Matrix model," he says. "It's really a back-to-basic oil-jacketed unit that is versatile enough to do big and small jobs and easy to maintain."
For contractors looking to stay ahead of the sustainability curve and be a little more "green" Cimline's high-performance Metro line features kettle/applicators that reduce pollutants by actually recycling or reburning the smoke and steam, making them ideal for city work and other high-traffic areas. "Buying melter/applicators with integrated compressors is another way to be environmentally aware," Johnson says. "Taking another truck and fuel out of the work equation saves money and helps reduce carbon emissions."
The company's Magma line fills in a niche in between the Metro and Matrix oil-jacketed kettles. Both Metro and Magma units feature optional compressors and heat lances. Like the above manufacturers, Johnson notes that the most effective way to seal cracks is to rout first, followed by a heat lance and then a quality sealing job using hot melt. "Two things kill a cracksealing job," he adds, "dirt and moisture. Using a heat lance takes care of both obstacles. If you just 'blow and go' you won't get any adhesion."
He continues, "Tell your customers about the benefits that cracksealing provides. Studies have shown that for every dollar a municipality or large client spends on cracksealing they save $6 on additional maintenance costs. Advise them, too, that time is of the essence once a crack appears. Some cracks will appear a year of two after a new paving job. The time to seal them is when they appear."
Profitable Venture
"Years ago, when cracksealing was not in the mainstream, pricing was all over the board," says Crafco's Manning. "But now, it's common practice, and the market is fairly stable." How much revenue contractors bring in depends on the size of their operation, the scope of the work, and built-in efficiencies, he emphasizes.
"Large contractors, for example, may charge only 25 to 35 cents per linear foot whereas midsize operators may have to up the ante to 50 cents a linear foot. A smaller operator on a small job may need to get upwards of $1 a foot to be profitable."
"Find out from the manufacturer how the upfront cost of a machine compares to product costs over a five-year period," adds Johnson. "Determine how much fuel it burns, how long it takes to heat the sealant, and so forth. Spending $40,000 on an oil-jacketed unit may seem like a lot of money, and it is for start-up companies, but by having an efficient and productive machine and pricing right, your investment can be paid for within a relatively short period of time.
"If the price tag of a new oil-jacketed unit is too costly I advise customers to buy a good demo or used machine. That gives them a couple of years to save some money and determine if the business is right for them."
KMI's Cameron says that yes, there is money to be made in filling cracks. "But don't buy the cheapest or the smallest piece of equipment," he says. "Take the extra time to put the best tools for the application in your tools box." Doing so, he points out, will be healthy for the bottom line and provide a quality, first line of defense for your customers' asphalt pavement.
Rod Dickens is a freelance writer specializing in the construction industry. He is based in Neenah, WI.