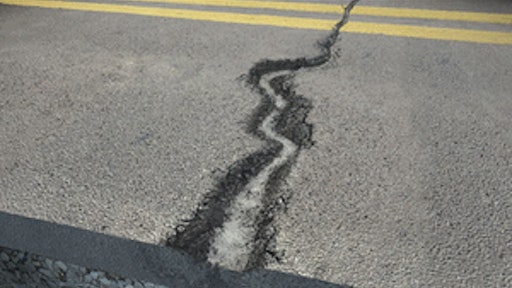 Black Repair Mastic
Wide crack repair
Crack leveling
Pot hole repair
Manhole and utility box leveling
Deery American Corporation
CP Heated Hose Melter/Applicator
The SealMaster Crack Pro Heated Hose Machine for hot pour crack sealing gets material is ready to apply within one hour
Oil-jacketed melter/applicator
Both the burner and the engine are powered by diesel fuel
Available in 125-, 200- and 400-gal. tank capacities
SealMaster
Crack Fill Melter Pots
The 10-gal. wheeled melter works on both hot and cold pour material. Mounted on steel wheels and equipped with spring loaded hand controlled release valve steel screed for striking off sealant in uniform width, burner assembly with hose, as well as a platform for propane bottle. The 30-gal. Direct Fire Melter features a hand agitator, temperature gauge, hose, burner, retractable lifting handles, hinged lid and 1 1/2-in. Molasses valve.
Sage Distributing
Crack Jet II
New improved sleek body style
New electronic spark ignition for easy lighting
Comes complete with 30-lb. propane bottle ready to work
Larger pneumatic tires for easy maneuverability
One man crack preparation tool
Cleans, dries, and etches the walls of the crack allowing for proper bonding of fill material
Fully self contained heat lance produces 2,800 degrees of hot air at 90 cfm
KM International
Flex-a-Fill crack sealant
Hot-applied crack sealant
Said to outperform cold-pour sealers
No double-boiler expense
Designed to not track or bleed through
Bonds to asphalt or concrete
Traffic-ready in 10 minutes
No sanding needed under most conditions
Crafco Inc.
Grazor router
Billy Goat Grazor
Removes vegetation, debris, and oxidized material and burnishes sidewalls
360-degree swiveling 5-in. caster for maximum maneuverability
4.5-hp Subaru with cyclonic air filter or 4-hp Honda with oil bath air cleaner
5-position height adjustment, solid steel wire bristles, and 8-in. pneumatic rear tires
Billy Goat Ind. Inc.
Billy Goat Ind. Inc.
Metro Series Melter Applicator
Cimline introduced its newest line of meltor applicators at the ConExpo-Con/Agg show. The Metro Series is available in 150-, 275-, and 425-gal. capacities. The new hose carrier has a three-section articulated boom available in single or dual hose models. The Metro Series also comes with Fume-Guard to burn off excess fumes generated from heating sealant.
Cimline, Inc.
Nuvo Crack Sealant
Nuvo hot pour asphalt crack and concrete joint sealants offer superior crack penetration, quick set-up times, wide application temperature ranges and fast melt times.
InteliBond Technology promotes adhesion to pavement, not tires
PolySkin packaging melts completely into product so there's no waste to clean up and it's environmentally friendly
Long storage life
Various formulations, including Nuvo Elite for areas with extreme climate variations, and Nuvo CS for any climate
Maxwell Products Inc.