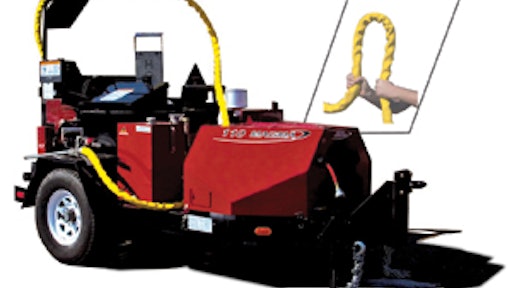 Generation II Magma Series
Melter/applicators in 110-, 230-, and 410-gal. capacities
Superflex III heated hose
Wand incorporates replaceable aluminum pipe, ball valve construction and trigger flow control
60-gal. unit also available Cimline Inc.
MA-15 Push Melter
14 gauge steel, 1 1/3-in. valve
Swivel front wheel
Fingertip controls Seal-Tuff Mfg.
CS8 Random Crack Saw
Follow random crack patterns in asphalt and concrete surfaces
8-inch diameter, dry cut-type diamond blades produce smooth-sided cuts for proper crack filling
Center-mounted blade configuration allows CS8 to center pivot about its own axis to follow random crack patterns
1/2-inch max cutting width, 1-1/2 inch max straight-line cutting depth General Equipment Co.
Lastek 33 Crack Sealer
Rubberized asphalt emulsion-based sealer
For filling cracks up to ½ in. wide in concrete or asphalt
Elastic ready-to-use, no heat needed Maintenance Inc.
Billy Goat Grazor
Removes vegetation, debris, and oxidized material and burnishes sidewalls
360-degree swiveling 5-in. caster for maximum maneuverability Billy Goat Ind. Inc.
Melting Kettle and Crack Jet
KM 55 Melting Kettle is thermostatically controlled for hot crack sealants; 55-gal. capacity; features full-sweep agitation and utility torch to heat valve, tools, and pour pots
KM Crack Jet is self-contained heat lance with 2800° F at 90 CFM output; cleans, dries, and etches cracks Keizer-Morris Inc.
Glenzoil 20 Plus
Replaces conventional blotting materials
Spray onto hot-melt crack sealant, traffic can resume immediately after use
No clean-up Emulso Corp.
Super Shot Melter/Applicator
No valves
Few moving parts
No hose pressure build-up
Available in three sizes
Optional compressor, auto loader, engine cover, router carrier Crafco Inc.