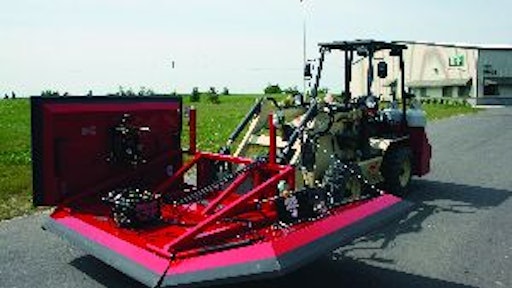 Contractors looking for a silver lining in this economic cloud might not have to look any further than the infrared industry. With tight budgets, many clients are looking toward maintaining their asphalt instead of replacing it. And interest in infrared repair is growing.
But the infrared industry was growing long before the economy turned. Since infrared came on the market, the number of contractors offering infrared services has grown. Most of these contractors, both large and small businesses, are adding infrared as an extra revenue generating service to their pavement maintenance businesses. Or they're adding it as a niche service to either stay competitive or get ahead of their competition. Some larger companies are also turning to infrared as a way to keep their employees busy during down times. Infrared offers these contractors and their customers a green technology for recycling asphalt.
Along with the increase in contractors using infrared has come an increase in the applications it is used for. Infrared has long been used as a method for seamless pothole repair, but contractors are also using it for tasks such as decorative asphalt, thermoplastic application, removal of oil spots, and joint seam heating. Infrared reclaimers can also be used to keep asphalt hot throughout the day or reheat stockpiled asphalt when the asphalt plants are closed.
The uptick in interest is not the only trend this industry has seen over the last few years. Some manufacturers have seen a shift toward larger heating units and all-in-one truck-mounted infrared equipment. Bob Kieswetter, president of Heat Design Equipment, says infrared equipment is trending toward larger units to accommodate full lanes and larger areas of asphalt.
"Everything tends toward larger and larger all the time; bigger boxes, bigger heating chambers," says Ray-Tech Infrared Corporation's President Wes Van Velsor. "And typically, when you develop one thing, it leads toward the development of something else."
But don't think the smaller, portable units are going away any time soon. "I think they [smaller, portable and large, truck-mounted units] will grow proportionately," says Joel Marshall, Asphalt Reheat Systems' marketing and sales manager. "A small maintenance contractor won't be able to afford a full truck-mounted unit but he will still want to compete. And in that case the smaller, walk-behind units are more affordable."
Contractors have many different sizes and options of infrared equipment to choose from. And that is continuing to grow.
Infrared enters attachment market
KM International, for example, introduced the KM 4-78 detachable unit for utility tractors this past spring, says KM International's Kurt Schwartz. With four independent heating zones, the unit can heat up to 72 sq. ft. This infrared attachment allows customers a more mobile and flexible unit to fit in areas larger equipment might not. Featuring the same quick release as other attachments, the KM 4-78 is an easy addition to many utility tractors.
Although the unit could be attached to a skid-steer loader, it was designed specifically for utility tractors. "The utility-type of vehicles have the oscillating steering that makes tight turns and takes tight corners and can be used to get into hard to reach areas," Schwartz says.
Walk-behind units get larger
Asphalt Reheat Systems also introduced a new unit this year. The new portable, walk-behind unit features a 4-ft. by 6-ft. infrared heater. Featuring a stainless steel design similar to its 4-ft. by 4-ft. unit, the new 4-ft. by 6-ft. unit has the ability to run with one or two propane tanks. The unit's redesigned wheels can be easily arranged for compact transportation and more versatile heating patterns and a split channel option allows zone heating of a 2-ft. by 6-ft. area instead of heating the entire panel.
"It's kind of an entry level unit," Marshall says. "Down the road, if you'd like to increase production, all of our portable units are designed where they can be attached together to work in tandem and off of one control." The 4-ft. by 6-ft. unit, which was introduced at National Pavement Expo in 2009, is now competing with the 4-ft. by 4-ft. unit as Asphalt Reheat Systems' best selling unit.
Taking on joints
Heat Design Equipment has seen a recent emphasis on joint heating and a growth in sales of its longitudinal Joint Match Heaters. Kieswetter says pavement joints are one of the most critical problems in today's paving industry, adding that reheating joints can help eliminate low density areas and prevent premature cracking. Heat Design's 16-ft. unit can be attached to the side of a paver, and the company offers another model that is towed behind a truck to heat the joints. "The unit allows for reheating and recompacting of the cold edge," Kieswetter says. "It also creates a seamless, waterproof edge."
The unit is pre-wired for electronic ignition and has both manual and automatic modes. When attached to a paver and in automatic, if the paver stops the heater switches to low and heats the joint slowly until the paving commences and it switches back to operating pressure. Heat Design's trailer joint heater unit includes a hinge to attach another heater creating a longer joint heating system for highway joint repair.
Infrared on a roll
Thermotrack manufactures infrared heating units for pavement repairs as well as decorative stamped asphalt and thermoplastic application niches. Its heaters feature technology that allows the infrared elements to roll back and forth on a track, while achieving short heating times, says Greg Larsen, owner and president of Thermotrack. This reciprocating movement of forward and reverse travel safeguards against overheating the surface while allowing for deep penetration. "You can visually see what you're doing and how the asphalt is reacting due to the fact the heating elements are non-stationary and non-obstructive," Larsen says. He adds that the visual aspect can be beneficial for many applications and situations including changes in ambient temperature and variants in asphalt mixes.
Early next year Thermotrack will be releasing a new model, Larsen says. The new model will feature larger wheels and tires allowing the unit greater mobility. A direct-spark ignition will allow the unit to ignite faster and more frequently with greater ease.
Transitioning with combo units
Ray-Tech Infrared Corporation offers contractors a step up from the portable, walk-behind units. Ray-Tech's Mini-Combo, which came on the market in the early 90s, is the company's best selling unit. The Combo features a 2-ton reclaimer and an 8-ft. by 6-ft. heating chamber all on one dual axel trailer.
The heating chamber allows each side to operate independently for heating smaller areas while the reclaimer allows the contractor to carry more asphalt or operate in colder weather. Van Velsor says customers have found this size of Ray-Tech's chambers to work best for most types of infrared work. Ray-Tech also offers a Mini-Combo with a 4-ton reclaimer for customers who want the ability to carry even more asphalt.
Keep on truckin'
The Patriot, from KASI Infrared, features a 4-ton reclaimer and a 48-sq.-ft. heating chamber mounted onto a truck chassis. Tom Allen, KASI's general manager, says the Patriot has been a KASI offering since the company started. But in the last 12 months it has taken over as KASI's number one selling unit.
"Customers are doing larger areas of restoration which requires more asphalt. And with a bigger area to cover - from one job to the next they may have to travel 30 miles - and a 4-ton reclaimer will provide more asphalt in one day," Allen says.
He says the Patriot is popular with contractors who do or are looking to take on larger jobs such as working with property management companies who own multiple properties.
The Patriot features KASI's newly redesigned infrared chamber with eight converter rows. The added converters allow for even heat transfer and a reduced time for heat penetration, Allen says. Plus, the unit is totally hydraulic - requiring less manual work on the unit - which is an added feature for safety and ease of operation, Allen adds.
Heating up the future
Manufacturers agree that the infrared industry will continue to grow. They agree the customer base will continue to grow as well. Schwartz sees industries outside of the asphalt market, such as landscape contractors, becoming infrared operators. And he predicts more contractors in the pavement maintenance industry will continue to add infrared services to become a "one stop shop" for their customers.
Larsen predicts municipalities may start legislating the infrared process for seamless permanent asphalt repair. And if that's the case better specs on infrared application and use may need to be developed.
One major aspect the infrared industry is lacking is research and development data, Allen says. "If you go to any of the big research parts of the asphalt industry you'll find no data on infrared, and that needs to be done," he says. "The parameters for applying infrared to restore asphalt need to be established. Independent R&D entities will need to get involved."
But the absence of this data isn't stopping contractors and customers from realizing the benefits of infrared equipment now. "Now is not the time to be afraid to buy equipment," Schwartz says. After all, it doesn't look like the infrared industry is showing any signs of stopping.