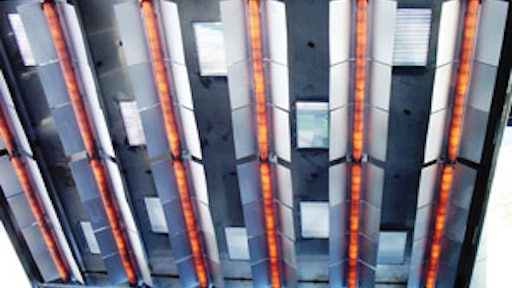 Of all the equipment in a pavement repair arsenal, infrared repair equipment probably requires the least maintenance. With few moving parts, these units come to work everyday ready and raring to go. Still, to keep them in top shape requires some attention to details - details that if left untouched can put a damper on your pavement repair effort for the day.
There are two critical components to an infrared repair job: an infrared heater used to re-soften the pavement and an asphalt reclaimer/storage unit, often called a "hot box," where new material to be used in the repair is stored and heated. These components are sold together as "combo" packages or separately, and come in various configurations (towed behind a pickup or mounted on a truck chassis). Unlike other maintenance equipment with similar design features, infrared repair equipment differs considerably from manufacturer to manufacturer, so some maintenance procedures are also different.
Keizer-Morris International, Imlay City, MI, manufactures five infrared recycler models, the most popular being the KM 4-48. Designed as a folding trailer to be towed behind a pickup, this model features four independent heating zones that allow users to recycle an area ranging from eight square feet up to 48-sq. ft.
The controls, heating elements, and combustion technology are identical on all five models, says Bryan Burke, Keizer-Morris general manager. The units employ a series of ceramic blankets to convey infrared radiation from the heating system to the asphalt surface. A blower, powered by a 12-volt battery system, provides the combustible air/fuel mixture required to generate the infrared heat.
"Most infrared units are relatively maintenance free," Burke says. "Keeping the batteries maintained is a requisite for operating the blower, and they should be charged up after every use. The caster wheels on our trailer unit need to be routinely lubricated and operators should give the recycler a good visual inspection prior to going to the field."
Infrared recyclers use LP gas for a fuel source. As Burke points out, any mobile system using LP gas (because it's jostled by traveling down the highway) needs to be inspected regularly to ensure that connections and hoses are in place and not leaking. He advises operators to have the system inspected by a qualified gas technician at least once a year to ensure that all parts are working properly.
Blanket advice
The ceramic blankets on the Keizer-Morris recyclers comprise the central core of the heating system. Even though they are not considered a true wear part, the blankets will eventually need replacing, says Burke. "Some operators will get five years of use out of their blankets, others replace them every year. If a blanket gets a tear or rip, it needs to be replaced. More likely, though, dust and smoke accumulated over time will eventually reduce their efficiency.
"Other than keeping tabs on the blankets, fuel system, and electrical system, the recyclers require little maintenance."
KASI Infrared, Claremont, NH, manufacturers infrared heaters that employ infrared converters instead of ceramic blankets to generate the infrared ray. The ProHeat line, designed to be towed by a one-ton pickup, features a two-ton capacity reclaimer, a 48-sq.-ft. infrared heater, and a heavy duty compactor lift. The Patriot line is designed to be mounted on a truck chassis.
"The maintenance on our heaters is minimal, too," says Al Knipfing, Knipfing Asphalt Solutions, a KASI dealer. "They use eight 6-volt deep cycle batteries to operate a 12-volt system. Unlike automobile batteries, industrial batteries are not sealed, which means operators need to pay attention to the water level and keep the cells filled. Part of any battery maintenance regimen also requires cleaning the terminals and keeping the batteries fully charged."
Knipfing and KASI president Roger Filion offer other maintenance tips for KASI infrared units. "Routinely check the lines and connectors on the LP gas system and replace o-rings on POL fittings once a year," Knipfing says. "Blowers that pressurize the heating system and mix the fuel and air are relatively maintenance free, too, thanks in part to operating a 12-volt system that puts less wear and tear on the blower's motor."
"The armature life on these motors is two years, and brushes last a year or longer," Filion says. "They can easily and inexpensively be replaced at the end of the season."
Ray-Tech Infrared, Charlestown, NH, offers a line of six infrared asphalt heaters with a converter heating system. Engineering manager John Strich says Ray-Tech-designed pavement heater converters on its Total Maintenance Vehicle which feature a 2-, 4-, or 6-ton capacity reclaimer/storage unit and a 48-sq.-ft. infrared pavement heater, and all other Ray-Tech models, employ a 24-volt Ray-Tech designed DC brushless motor system, eliminating replacement of brushes and armatures. The 24-volt DC system is supplied by a separate alternator on the truck, or by a battery system. Under heavy use, the Ray-Tech's converters normally last up to eight years and the grids two years. Therefore, maintenance on the converters and blower motors, for the first two years, is virtually non-existent.
Strich says minimum maintenance consists of keeping the stainless steel chamber clean and making sure that the surface louvers do not get crushed or blocked, thereby restricting proper air flow. The grids are made of very soft material and should not be bumped, flattened, or pushed out of shape. If this happens, or if holes are visible, remove the grids and straighten or replace them, as needed. The reflectors should be periodically painted with high-temperature aluminum paint, and the heaters should be visually inspected at least twice daily to ensure that all burners are properly lit.
Normal maintenance also includes daily examination of the propane supply system for leaks, and batteries should be checked for acid levels weekly and hydrometer tested monthly. Where the battery system is charged by a battery charger unit, recharging nightly is required. When the unit is not in use, the batteries should be charged at least once a month.