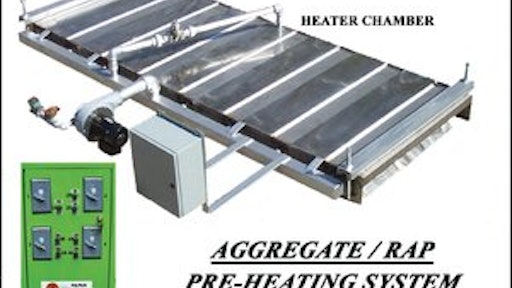 aggregate/RAP pre-heating system
Ray-Tech has recently developed an infrared heating system specifically for heating and drying aggregate and RAP.
Composed of multiple heating units, which are designed to be placed over a conveyor belt in close proximity to the product on the belt.
Length of each unit is 8 feet and can accommodate the width of the belt being used
Each unit of the system is completely self contained and can operate independently
By placing multiple units over the conveyor belt, you can create as long a heating system as required
System is supplied with a centrally located control panel, so each unit can be controlled from one location
Booth #649
Ray-Tech Infrared Corporation
HDE 200 INFRARED ASPHALT HEATER
The 200 infrared asphalt heater from Heat Design Equipment is designed to be used as a 4' x 3' infrared patcher.
Changes into a 8' x 18" lineal crack/seam heater
Heat up, and soften a localized area of surface course of asphalt to be reworked and re-compacted
Soften asphalt to original mixing temperatures in 5 to 10 minutes
Heat Design Equipment, Inc.
HLV Series Infra-Red Heating System
HLV Series from Detroit Radiant Products
The HLV Series is the latest in infra-red technology. Engineered to utilize both two-stage and condensing technology, it offers optimal operating efficiencies and fuel savings. Key operational features include a 20-percent reduction in output when operating in low fire and stainless-steel tailpipe when optional condensing operation is utilized. Infra-red output in optimized with highly polished aluminum reflectors and coated aluminized or hot-rolled steel radiant tubes. Standard features include titanium-coated combustion chambers, hot surface ignition, indicator lights and most mounting accessories.
Detroit Radiant Products
Infrared Heater/Generator
Trackless Vehicles Infrared Heater/Generator
Trackless Vehicles Ltd. offers infrared asphalt heater/generators as a replacement for traditional propane asphalt heaters.
Heater can be separated from generator frame in less than 5 minutes when not in use
80-hp generator produces 45 kW and 175 amps
Trackless Vehicles Ltd.
Trackless Vehicles Ltd.
LB 2-16 Infrared Asphalt Recycler
LB 2-16 Infrared Asphalt Recycler
Keizer-Morris International introduces the newest addition to it's line of infrared asphalt recyclers -- the LB 2-16 4'x4'. This unit offers a single operator two independent zones and 16 square feet of infrared powered performance. The sturdy, fully self-contained unit has a unique folding design that makes the unit easy for transport and use.
Keizer-Morris Internatl. Inc.
Pro Heat 2000
The Kasi ProHeat 2000 infrared patching system includes a 48-square-foot UltraGlo pavement heater.
2- or 4-ton asphalt reclaimer
Compactor lift; optional hydraulic compactor lift
30 cubic feet of storage area
For repairing alligator cracking, potholes, utility cuts, settling against concrete walks or barriers
Kasi Infrared
RCH Series infrared spot heaters
SunStar Infrared Spot Heaters
Available in natural and propane gas, the new SunStar RCH Series of spot heaters heat construction sites, large buildings and workshops and can be used in emergency heat situations, thawing applications and freeze protection applications. Units feature heavy gauge steel construction and come in either manual or energy-saving thermostatically-controlled models.
Sunstar Heating Products, Inc.
Split Box Infrared Heater
Asphalt Reheat Systems Split Box Infrared Heater
The Split Box infrared heater features chambers for 2x4 or 4x4 heat areas.
1 to 2 person asphalt repairs with ease
For asphalt printingf
Working temperature in only a few minutes
Asphalt Reheat Systems LLC
Asphalt Reheat Systems