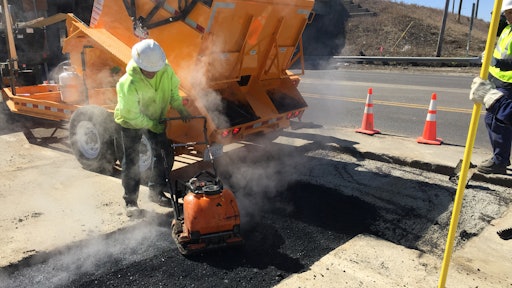 Breaking into the municipal market can sometimes be a challenge. As an asphalt contractor however, you already have all the necessary equipment, manpower, and most importantly expertise, to offer municipal entities a long-term solution to pavement maintenance and repair.
Municipalities have always contracted paving, line striping, and crack fill services out to local asphalt contractors specializing in those particular services; however pothole patching has always been a service most municipal entities have self-performed. But with the dwindling budgets, a lack of manpower, and higher priority issues municipalities have begun to look for outside help for pothole repair services.
It's no secret that most municipal entities lack the necessary resources to effectively repair potholes and other asphalt defects. With the growing list of municipal responsibilities, pothole patching is usually low on the priority list and typically goes neglected until it is far too late to offer any real long term repair solutions other than throwing a cold patch in the pothole and hoping for the best.
Contracting pothole repair services out to local asphalt contractors has several benefits to municipal entities including:
Reduce Overhead Costs: No longer do they need to make the capital investment in equipment and materials.

Free Up Labor Resources: Municipalities have more pressing matters than patching potholes, so by contracting these services out they can allow employees to prioritize other responsibilities.
Quality Repair: Most municipals simply are not set up to patch potholes effectively and efficiently, so often the repairs that are made are a short-term solution to a long-term issue.
Public View: Potholes are one of the most widely publicized and criticized issues municipals face. Every year during the late winter/ early spring season the freeze thaw cycle wreaks havoc on public roadway systems and citizens are quick to point this out. By contracting pothole patching out municipals are guaranteed that those potholes are handled in a timely and effective manner which will eliminate or at least reduce the number of complaints from citizens.
A Hot Box Adds Distinct Advantage
With the addition of a hot box, contractors have an even larger advantage, especially in cooler climates. As many municipalities solicit bids for asphalt patching contracts, a common factor in most of them is a requirement for the type of asphalt and the temperature at which it is applied. Although most municipalities will spec out patch work with hotmix asphalt, some will also allow cold patch material, depending on the time of year and asphalt availability. However, there will often be a set temperature requirement at which the asphalt must be applied, usually 325 to 350°F for hotmix and 80 to 90°F for cold patch, depending on the manufacturer's specifications.
These application temperatures are obviously unrealistic for contractors who are simply patching out of the back of a pickup or dump truck. And this is exactly where owning an asphalt hotbox could make a world of difference.
An asphalt hotbox can maintain asphalt temperatures for up to two full days, allowing you, as the contractor, to completely fulfill the municipality's requirements. With an asphalt hotbox, you can even exceed the expectations of the municipality, getting more work done faster and solidifying the relationship and future work.
Additionally, asphalt hotboxes are reclaimer-type units, meaning you can reheat bulk stored or leftover virgin asphalt year-round. Let's say you get 20 tons of material before the asphalt plants close and bulk store that material in your yard. With an asphalt hotbox reclaimer, you can reheat/reclaim that material overnight and can patch with hot mix asphalt year-round.
Competing bidders without a hotbox reclaimer would be forced to use cold patch material, which is more expensive and less reliable. With an asphalt hotbox, you will undoubtedly have a huge competitive advantage over them, especially when bidding winter work.
The ability to have hotmix asphalt year-round is game changing when it comes to patch work both for municipal clients as well as commercial clients, such as utility companies that are constantly looking for asphalt contractors to fill in utility cuts made during the winter.
With the right equipment and knowledge base, municipal contracts can be lucrative and very profitable for contractors. Setting yourself above your competitors by owning an asphalt hotbox can be the difference between winning and losing these contracts. A small investment in an asphalt hotbox could yield huge returns down the road.