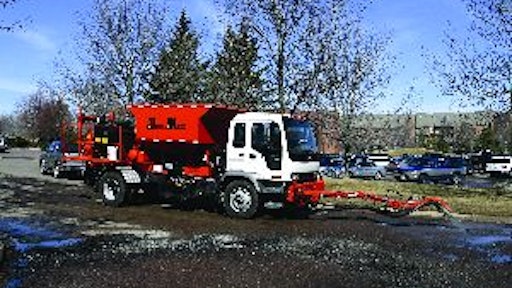 Most of us, while we see potholes every day this time of year, don?t think twice about them - unless we can?t avoid one. But for any pavement maintenance contractor, potholes can be an important and lucrative part of your business.
Most pavement maintenance contractors know there are a number of ways to repair potholes. And with advancements in the industry, the use of equipment in pothole repair has become increasingly acceptable, if not the preferred method, because of safety and cost savings.
And the variety of pothole repair equipment available makes it possibole for any interested contractor to match the equipment to the amount of pothole repair work he expects to do.
Hotboxes are an option
For a contractor who prefers filling potholes with virgin hot mix asphalt, a hotbox can be a worthwhile investment. A hotbox helps in the storage and transportation of material, says Ron Jay, vice president and part owner of Process Heating Co. Hotboxes can be heated using an electric heating system or a propane burner. The Patch King from Process Heating is one example of an electric heated hotbox. The electrically heated box keeps mix heated all day, can be used to keep extra mix heated overnight, or even used to heat up cold mix, Jay says.
Spaulding Mfg. also manufactures pothole repair equipment with heated hoppers. Spaulding?s equipment is heated with propane- or diesel-fire burners. The units can be trailer or truck mounted or slid into the back of a truck, says Linda Kwapis, general manager. Spaulding?s units also work with hot or cold mix asphalt to keep the mix heated at a workable temperature. Spaulding also offers a unit that can reclaim asphalt, turning it back into a molten state to be used for another repair. The biggest advantage to using this equipment is the increased production a contractor can get from the material, Kwapis says.
Units like these use heating elements attached to the sides and bottom of the hopper. These elements heat the entire box resulting in uniform and even heating of the mix inside. ?You don?t have hot spots that will tend to burn and dry the asphalt material out," Jay says.
Jay says a hotbox helps cut back on waste and the costs associated with it. Before this type of equipment was available contractors had a very small window of time available to use the hot mix for repairs before it began to harden on them. Now, heated hoppers give contractors hours more in a day to work with the material as well as the option to keep it heated overnight and usable the next day. "With the cost of asphalt today, they're not throwing it out back or paying the asphalt company to take it back. So they're increasing their bottom line by reducing waste and increasing production," Kwapis says.
"It allows them to pick up their mix at the hot plant and keeps it hot all day," Jay says. "And then if they have a ton or two left at the end of the day they can go back, plug it in, and keep it overnight so that they don't have to dispose of it and pay the disposal fees that they charge now to get rid of it."
Hotboxes can also be used for utility cuts and shoulder repairs and in some cases crack filling as well. But this type of equipment is just one tool a pothole repair contractor will need in the overall process of the repair. A contractor will also need other equipment such as cutters, a way to blow out the pothole, and compactors.
Kwapis says she knows contractors have different demands for their equipment, and the Spaulding models can be a good option to suit those different needs. "The unique thing is that we offer over 40 different options because every crew feels there is a different way and different types of materials that they need to provide to get the job done. And all of those options can be included right on the trailer. So when they leave to go to the job everything is right there for them," Kwapis says. "A contractor can build it to his specifications depending on the types of tools that he feels need to be on that trailer and on that job to get the job done."
And for contractors who aren't so thrilled with shoveling mix out of the hopper, Spaulding now offers a hydraulically controlled auger model. "All the operator has to do is push a button and the material dispenses into the hole. It really eliminates all the shoveling," she says.
Kwapis says both municipalities and contractors purchase the Spaulding equipment. And whether pothole repairs are a main line or a sideline business for contractors, this equipment is suitable for both. "The reason being is because of the capacity sizes," she says. Units can be purchased with hopper sizes ranging from 1 to 6 tons. "That allows the price range to go into a price range that's very affordable to a small contractor or somebody that doesn't use it as their everyday bottom line piece of equipment," Kwapis says.
Jay says the Patch King's biggest customers are government agencies, cities, and states. But contractors who subcontract work from these entities might also find the hotbox to be a good investment. Three different units of the Patch King are available: a dump truck unit, an auger system unit that can fit in a dump truck or be chassis mounted, and a trailer unit. The hopper sizes range from 3.5 cu. yds. up to 8 cu. yds. "Originally it was designed to fit in the back of an existing 5-yd. truck, which most cities, counties, and municipalities have. So it would keep the cost down by not having to buy a truck," Jay says.
Dedicated repair trucks
But now the industry seems to be going in a direction of having one truck dedicated to containing all of the equipment needed for pothole repair, Jay says. And if you're one of those contractors who prefers to have one unit that can carry all your pothole repair equipment, there are a variety of units from which to choose.
These all-in-one machines offer equipment to store and heat mix as well as places to store all the tools used in the pothole repair process.
Bergkamp Inc.'s FP5 Flameless Pothole Patcher is one example of this type of equipment. Bill Cooper, director of sales and marketing for Bergkamp Inc. describes the FP5 as the "total pothole patcher." The unit is used for what he refers to as the mechanical patching method.
With an insulated hopper, similar to a hotbox, integrated into the unit and all the tools available at the rear of the unit, a contractor has everything he needs. The FP5 can be truck or trailer mounted, Cooper says, and can best be operated with two people - one driver/traffic controller and one person doing pothole repairs.
The FP5 uses electric heat to keep material in its 5 cu. yd. hopper warm, an auger system to transfer material out the back end of the machine via a material chute, and an air-driven wand that sprays both air for cleaning and tack for repairing. After cutting and removing large spoils of asphalt, the operator can set the wand to the air setting to blow out small debris from the hole. He can then switch to the tack setting to spray a tack coat in and around the hole. The material chute then delivers the material into the hole, and the operator finishes the job by spreading and compacting the asphalt.
Cooper says this mechanical method has increased the life of a pothole repair over the old "throw and go" method. Like other hotboxes, the FP5 can also handle hot or cold mix. Municipalities are the number one customer of the FP5, but Cooper says that mid-sized contractors and those who do business for municipalities purchase the equipment as well. But this isn't equipment that is meant for occasional use. "It's a specialized piece of equipment that should be a mainline business for at least one crew," he says.
This type of equipment is solely for asphalt repair, Cooper says, not for crack filling. But the new swing auger system on the FP5 makes it a good candidate for repair work other than potholes. "We have a swing auger system that actually allows you to drive down the road and deliver the material to do shoulder repairs off the side of the truck," Cooper says. "Or if you've got a longitudinal cut down a curb and gutter you can put material into that cut as you're moving the truck."
Bergkamp has added another feature to its all-in-one pothole repair equipment that might add another source of revenue for pavement maintenance contractors who work in areas where snow and ice are common during the winter months. The FP5 has a sand spreader that can be used to spread sand - but not salt - during the winter months. This is just one of the ways Bergkamp is trying to expand the utility of the FP5, Cooper says.
Spray-injection repair
Another type of equipment on the market is a spray injection pothole repair machine. Spray injection units, such as the DuraMaxx from Duraco, almost completely eliminate manual labor. This one-person unit can repair a pothole without the contractor ever leaving the comfort of the cab of the truck, says Nat Alford, vice president. Alford says that spray injection units not only eliminate manual labor but also increase safety because the worker does not have to stand in the road to repair a pothole.
Spray injection machines mix together liquid asphalt emulsion and crushed aggregate to create a permanent, water-proof patch, Alford says. The DuraMaxx has a boom mounted on the front of the truck and a joystick control that positions the boom and controls all of its functions. Air is sprayed into the hole to clear out debris, and then a tack coat is sprayed. Next, air is used to blow a mixture of emulsion and aggregate into the pothole, according to Alford. Finally, a light coating of dry aggregate is sprayed over and also compacted over the repair. The area can then be opened to traffic immediately.
Alford says Duraco's first spray injection unit came onto the market in the mid-1980s, and since then he has seen an increase in the use of spray injection machines, turning them into a well-accepted practice now. The DuraMaxx is used by larger contractors, but Alford says Duraco's trailer-mounted unit can be used by smaller contractors for parking lot repairs. Like other equipment available for pothole repair, spray injection machines can be used for utility cuts, shoulder repairs, alligatored areas, as well as repairing really wide cracks, he adds.
The DuraMaxx and a two-man truck-mounted Durapatcher have 7-yd. hoppers and carry 250 gallons of emulsion material. A trailer-mounted Durapatcher has a 250-gal. emulsion tank and is towed by a dump truck carrying the aggregate.
Alford says the spray injection equipment is very easy to use and operator friendly. Even so, Duraco offers a factory rep to do onsite training for contractors who purchase its equipment. No matter how easy a piece of equipment may be to use, Alford still suggests the operator have some form of training. "I think training should be done. That eliminates all your problems from the very beginning," he says.
According to Alford, spray injection units can save a contractor in a few different areas. For example, he says the material cost is approximately half the cost of other mixes. Another area of savings is in labor. "Everyone fights the problem of having enough labor. You can put down more material with less man power than you can with the conventional methods," he says.
No matter what type of equipment a contractor uses for pothole repair, it is bound to be a beneficial investment or area of business. "The parking lot repair business for contractors is huge," Kwapis says.
Cooper agrees that pothole repair can be a profitable business. "It's a natural revenue source for them," he says. "They're in the pavement maintenance business anyway, and potholes are just a naturally occurring flaw in asphalt. So a contractor has to have a way to deal with potholes."