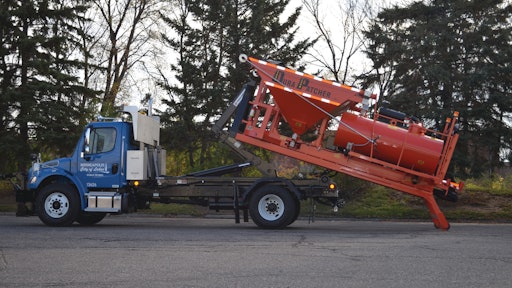 Each year, Mother Nature leaves her stamp on highways, roads and parking lots in the form of potholes. Born from both harsh, cold winter and dry, hot summer weather, potholes show up many times throughout the year and in all regions and climates – no area is immune.
Something else we've learned about potholes, is there's no surefire way to stop them. All those seemingly small holes littered throughout our cities pack a lot of punch. Potholes potentially cause major damage to vehicles and management is key. Cities, counties and states are faced with developing plans to manage pothole repair.
"There are many ways to address the pothole epidemic," says Steve Johnson director of marketing at Cimline. "The goal is to address fixing the patch right the first time and using the method that is right for your time schedule budget and type of surface being addressed."
"After the winter many of us have endured, you want to be sure the investments you make in your patching and road equipment are worth it," says Branda Jacobson sales coordinator at Stepp Mfg.
Spray and go
Most potholes occur during late winter or early spring when the freeze/thaw cycle is at its peak. "Unfortunately during this time of year, most asphalt plants are closed making new asphalt unavailable," says Johnson. "Contractors and municipalities must then resort to other methods such as cold patch or spray injection."
One option for pothole patching on the go that many contractors are looking into is a spray injection pothole patching unit. A large truck unit can be daunting on the budget and when a unit is truck mounted, that truck becomes seasonal and is not fully utilized throughout the year. Cimline recognized this and evolved their Durapatcher line to accommodate this. 
"The DuraHook is a hook lift style, self-contained module," says Johnson. "This allows the contractor, when done patching for the season, to simply offload the DuraHook, switch to a dump bed or sander box and have one truck to do multiple tasks."
"Cold patch is considered by many to be a temporary solution so CPMG opted to pursue the most permanent method which is spray injection," Johnson adds. "For best adhesion, a pothole must be prepped properly: cut out and large loose areas removed, tacked with a medium set or rapid set emulsion, filled with asphalt and properly compacted. If one of these steps are skipped, (which they typically are in a "throw and roll" situation) your pothole is doomed to fail."
Heat and repair
While some companies might choose to purchase large, spray patchers, it can be beneficial to purchase and use smaller equipment too. An asphalt recycler is a great way to create hot mix on the go.
"A contractor can make a service of filling potholes at very little cost using hot mix asphalt that sticks in the hole better than even a premium cold mix. It is available in the winter time, easier to shovel than cold mix, and more comfortable for the workers working near a heat source. The contractor can sell the service as a longer lasting fix of a pothole using a green process," says Bob Kieswetter, president of Heat Design Equipment Inc.
HDE produced the MR75 mini recycler to help produce hot mix with a portable tow behind infrared unit.
"Two workers generally work together, loading waste chunks of asphalt, 2-3 inches thick onto the screen deck," says Kieswetter. "Because of the efficiency of heating using infrared, in about 5 minutes, the asphalt chunks are hot enough to start falling through the screen to a storage area below. The operators continually load the screen deck with asphalt as it falls through the screen, then shovels the hot mix asphalt out of the storage area and fills potholes as needed. This is a continuous process, and customers say that two people can make 2-3 tons of hot mix in an 8 hour shift while filling potholes."
While the MR75 is a trailer unit that is pulled behind a small truck loaded with waste chunks of asphalt, Stepp Mfg produces a unit that mounts on to a tailgate.
"The Stepp SMM is a tailgate mounted asphalt recycler," says Jacobson. "It's self-contained, it easily attaches to any fleet truck. It heats the material to 325 degrees, uses road millings and old dug up asphalt, then drops this permanent "hot asphalt mix" into the pot hole for a long lasting fix. This unit can produce a quarter ton of hot mix every 8 to 10 minutes to permanently fill the troubled areas, and better yet, does it for only about $20 per ton."
Patch with mastic
If you have an inexperienced crew, you might not want to throw them in to working with hot mix right away. Crafco offers a solution with their Mastic One and PolyPatch system. "Mastic One and PolyPatch are two different brands of prepackaged, hot applied, polymer modified asphalt containing engineered aggregate that is used to repair asphalt and concrete pavement distresses," says Brian Price, director of marketing at Crafco, Inc. "Distresses like patching large cracks (> 1.5" wide), longitudinal cracks, potholes, leveling utility cuts, bridge deck approaches, repairing distresses prior to another type of surface treatment will help other surface treatments last longer."
Using a Cracfo Patcher, a two person crew can completely repair the distress with the Patcher on either a skid-mount or trailer-mounted unit. "Minimal training is involved to get started using hot mastic, clean, pour and go," says Price. "This is a significantly more simple solution than using hot mix asphalt."
"When using hot mix asphalt you typically need compaction, a larger crew, more than one vehicle, additional fuel and more to complete jobs.  Also, hot mix asphalt doesn't bond like hot mastic and often those HMA repairs don't last a season whereas mastic will last 5 years and longer," says Price.
Hit the road
What method will work best for your crews depend largely on how many potholes you have to repair and how many men you have to allocate to the jobs. Many of these units can be pulled behind a truck on a trailer or attached right to the truck box itself. Portability with these smaller machines can be a huge benefit to getting around town to fill potholes at several locations. 
Using a hotbox, removal/tack/compact method typically takes up to 15-30 minutes for a single patch. Two workers generally work together, loading waste chunks of asphalt, 2-­3 in. thick onto the screen deck.
Infrared units can take up to 30-45 minutes to heat up a single patch, but traffic control is minimal and you can perform several patches in a small amount of time.
With a mastic patch, the material is heated in the patcher and poured into the distressed area with a crew of two men. Once cooled, the pavement is ready for traffic within five minutes. 
Finally, the spray injection method is typically two to three minutes for a patch, but the start up cost for the equipment is considerably more. This is typically a one or two man operation (not including traffic control personnel).