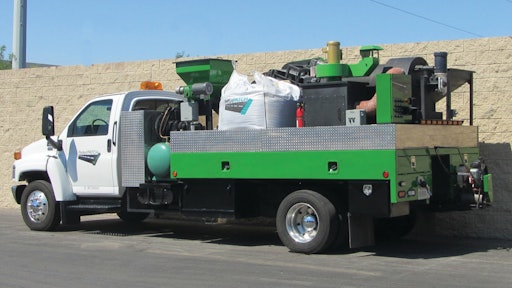 Las Vegas (September 27, 2011) - Phoenix Industries, LLC (PI) is pleased to announce it has entered into a multi-year fabrication and sales/service agreement with the M-B Companies, Inc. (MB) Under this agreement MB will take over the manufacturing of PI's line of recently developed mobile pothole repair equipment.
"We look at this more as a strategic alliance than just a fabrication agreement," said Kelly Sockwell, Director of Operations for Phoenix Industries. "MB has a rich history, dating back to 1907 for building quality equipment but also has a well established sales and service force. We believe MB will be a huge asset to help us meet the demand for our MP 300, as well as other equipment we're developing."
The MP 300 is a truck or trailer mounted mobile patching unit that is designed to utilize PelletPATCH, a unique rubber modified pelleted material specifically designed for pothole patching. This combination lets an agency or contractor permanently repair utility cuts and potholes with true, modified hot mix material right at the road repair location, even in the middle of winter.
Mr. Sockwell went on to say, "We feel this PI/MB agreement brings together the vision and resources of both companies to produce a new level of future innovations to focus on the growing demands for more environmental responsible solutions for issues facing the paving and road repair industries."