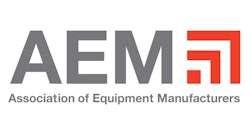 The U.S. Senate Committee on Environment and Public Works, led by Senators Barbara Boxer and Jim Inhofe, yesterday took a significant step toward passing a bipartisan highway funding bill that will help manufacturers and farmers move their products to overseas markets and create thousands of American jobs.
Congress began consideration of the long overdue multi-year surface transportation reauthorization legislation known as Moving Ahead for Progress in the 21st Century, or MAP 21, a two-year bill which seeks to prevent a decrease in federal funding for America's transportation infrastructure needs.
At the U.S. Senate Committee on Environment and Public Works hearing, Senator Boxer specifically referenced the Association of Equipment Manufacturers (AEM) in her testimony, stating:
"To close, I want to read only one sentence from one letter, and this is from the Association of Equipment Manufacturers and this is what they write us: 'We believe there is no single piece of legislation that this Congress can consider that could do more to quickly create jobs and generate economic activity.' "
"Road and bridge deterioration is one of the greatest barriers to global competitiveness," says AEM President Dennis Slater. "U.S. manufacturers and farmers alike say deteriorating roads, bridges and highways cost them time and money transporting their products to ports for export to overseas markets. For example, the recently passed export agreements with Columbia, South Korea and Panama have the potential to create thousands of new jobs, but if farmers and manufacturers can't transport products at a competitive rate, they lose."
Slater added, "Global competitiveness and productivity require modernizing and rebuilding America's transportation system. Bipartisan support in Congress for the transportation reauthorization bill is vital to U.S. manufacturers and farmers."