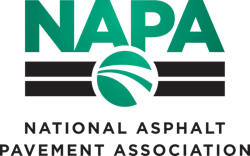 The National Asphalt Pavement Association (NAPA) Associate Members are developing a new program - the "NAPA Care" Emergency Benevolent Fund - to provide immediate financial assistance to NAPA Member employee families who have suffered a fatality in an asphalt work zone or plant site.
"When there is a fatality in an asphalt work zone or work site, the immediate need for that family is cash," says Roger Sandberg with Maxam Equipment. "This program will help families with that need."
Each family would receive a gift in the $4,000 to $5,000 range via a check written by NAPA. "NAPA Care" operates under the auspices of the National Asphalt Pavement Association Research & Education Foundation, Inc. (NAPAREF)
Right now the NAPA Associate Members are concentrating on fundraising efforts, hoping the actual program will begin when sufficient funds are received. The target operational date is midyear 2012.
"We're offering a Founder's Circle with a donation of $5,000, or $1,000 for five years," says Sandberg.