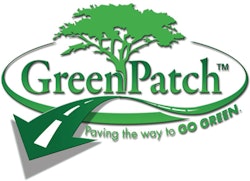 Cold Mix Manufacturing (CMM) of Flushing, NY has been awarded the renowned NOVA Award from the Construction Innovation Forum (CIF) for its environmentally friendly road repair product GreenPatch. This award honors revolutionary programs and advancements to all areas of the construction industry worldwide.
"We are proud to be part of an era where governments and end users are finally on board about cleaner and safer products. We are also able to prove in many ways that GREEN is actually more affordable," says Sales Manager Michael Milano.
Since 2007, GreenPatch has fulfilled major orders by meeting all municipal product evaluations across the U.S. Dr. Robert Carr Ph.D., P.E., an emeritus professor at The University of Michigan's Department of Civil and Environmental Engineering nominated GreenPatch for its no-petroleum cutbacks, a "zero voc" pledge and its cost-effective ingredients; over 50 percent RAP (Recycled Asphalt Product) equating to a 70 percent decrease in fossil fuel consumption during production.
Dr. Rasha Stino, Vice Chair of CIF supports the nomination because GreenPatch's innovation addresses "one of the most pressing issues in construction — our ailing infrastructure. U.S. is currently ranked 25th place in overall infrastructure by The World Economic Forum. In its 2009 Report Card, the American Society of Civil Engineers gave our infrastructure a "D" average and estimated that it would take $2 trillion over five years to repair it. The developers of GreenPatch recognized this urgency and offered an innovative solution for a new, improved and safer infrastructure. The NOVA Awards exist to recognize such innovations, which contribute so much to the construction industry."
This year's CIF ceremony recognizes innovations from more than 20 countries producing over 700 award nominations in conjunction with the 2012 National Conference of the Construction Users Roundtable (CURT). The NOVA Award was instituted by the Construction Innovation Forum in 1989 to recognize new advancements that have proven to bring significant effects on construction to improve quality and reduce cost. Tim Alter, chair of the Construction Innovation Forum and president of Rudolph/Libbe Inc. says, "The award recipients gain exposure in the industry through CIF's online database and to construction users (owners) through CURT's annual convention awards event, as well as their publications highlighting the winners. It is an internationally recognized award."
Companies in this article