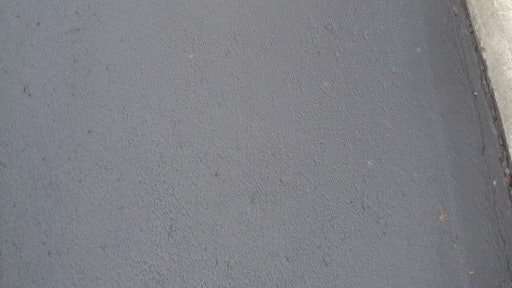 In response to efforts by communities to ban sealcoating using sealer made from refined coal tar, RUETGERS Canada has developed an alternative material that the producer says can serve as a non-coal tar base for manufacture of pavement sealcoats that are comparable to traditional sealcoats in terms of color and performance.
The new product, called LP Sealer Base (LPSB), was formulated to meet ASTM D490 quality specs and according to the company has undergone extensive laboratory development and testing. RUETGERS said the new sealer base material is based on aromatic chemistry, has less volatiles than refined coal tar, emits a weaker and less irritating odor than coal tar, and testing shows no skin irritation.
RUETGERS says that in addition to the chemical benefits, the material can be produced by any producer of traditional sealer with minimal changes to the production process and without any equipment changes. The LPSB, which Rutgers said meets all ASTM road tar performance standards and FAA specs in lab testing, can be made using commercially available emulsifiers and clays and does not require use of additives to attain a black color.
RUETGERS Canada is a division of the RUTGERS Group whose parent company is the RAIN Carbon Group headquartered in Kingwood, Texas. RUTGERS is an international manufacturer of coal tar-based products and a supplier of RT-12 sealer base to a number of sealer producers in the United States. The company announced it has been working on the alternative pavement sealer base over the last few years.
RUETGERS Canada representatives will be at the January 2014 National Pavement Expo in Fort Lauderdale. Please contact them to discuss and learn more about LP Sealer Base.