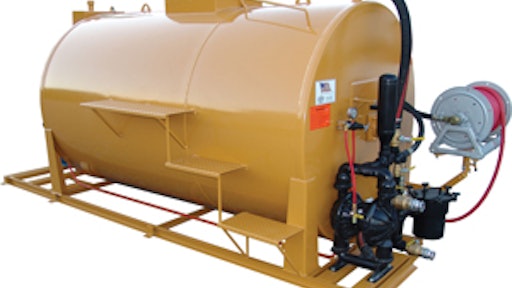 Once you've made the decision to upgrade to a big sealcoating rig, say 1,500 gal. or more, you've made only the first of many decisions. Manufacturers such as Able Industries, Nealco Equipment, Neal Mfg., and SealMaster all produce a variety of large skid- or truck-mounted sealcoating systems, and Seal-Rite produces a 1,500-gal. skid-mounted unit. So options are plentiful. In the May issue of Pavement Maintenance & Reconstruction sealcoating equipment manufacturers offer insights into how to buy the right rig for your business - and your truck. Here's a look at other considerations contractors should take into account when moving up to larger truck- mounted sealcoating equipment.
Additional space. When systems are custom mounted on a chassis, manufacturers will consult with the contractor to provide as much usable space around the system as possible for blowers, stripers, baskets, tools, and anything else the contractor might want to carry on the truck.
Agitation. Tanks this large require agitation. Able Industry's agitation system, for example, relies on steel sand grates (basically wire mesh paddles), attached to the shaft to break up the sand in case it clumps inside the tank. "They also help keep the sand in suspension," says Brian Dye, Able president.
Hydraulics. Nealco Equipment's Jason Mixell recommends a large hydraulic fluid reservoir for larger sealcoating systems. "You need a large reservoir, especially if you have an hydraulic pump, because the less fluid you have the hotter the fluid gets -- the fluid has less chance to cool down," Mixell says. "The hotter the fluid the more the agitator and the generator are going to have to work." He says hotter hydraulic fluid also means the equipment wears out quicker and the truck uses more fuel.
Pumping systems.Pumping systems are either hydraulic or air, and each manufacturer (and most contractors) have their own preference. While some large tanks don't have pumps and are designed instead to gravity dump material to the pavement for hand work or a buggy to follow, most large systems do include pumps so the system can spray. "A reliable pumping system is essential because if the pumping system goes down the whole truck goes down," Dye says. Pumps should be capable of handling up to 8 lbs. per gal., though most sealer is applied at 3-4 lbs. per gallon.
Safety. Access to the hatch on the top of the tank draws a lot of focus from both manufacturers and contractors, according to Steve Rapp, SealMaster Inc.
"How easily are workers going to be able to access the hatch on the top of the tank? Are provisions made for safe access to tank? Is it safe for your workers who are lugging 50-80-lb. bags of sand up there? It must be easy and safe for them," Rapp says.
While there are some space limitations when putting together flatbed-mounted systems, for custom-designed systems SealMaster offers an operator platform with a safety railing, easy step-up from the ground, a step onto the fender, steps up to the hatch, and a safety railing around the hatch. "There's an easy step up each way until you get up to the lid assembly," Rapp says.
Nealco installs a six-step ladder with handrail to allow easy access to the catwalk and manway on their 990 and larger models. Mixell adds that they apply a non-skid for added safety to all areas where stepping or standing are necessary.
Spray bar. Offered as an option on most systems, a spray bar on a large tank enables the contractor to apply sealer quickly over a large area. "Not everyone sees the benefit of that but they should consider it because they can pout down a 10-ft.-wide path -- and even wider with extensions -- with a spray bar. So instead of having one person just moving a hand wand back and forth over the pavement they can move right down it and get the job done much more quickly," Rapp says.
Dye agrees. "You should consider adding a spray bar to make a 10-ft.-wide pass because if you need that much sealer you obviously have some big jobs to do," Dye says.
Companies in this article