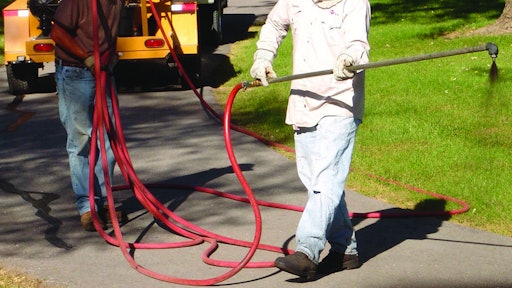 There are major questions facing sealcoating contractors when they begin to think about purchasing equipment. One of the most pertinent when getting started or adding sealcoating to a current business is whether a skid system or tow-behind system is the best fit for that business.
The tow-behind unit is a great option, and oftentimes the best option, for many. It's a self-contained approach to sealcoating allowing for a contractor, part-time or full-time, to hook up to a piece of equipment and go sealcoat – or if he has other tasks scheduled on a particular day, to leave a tow-behind unit and take only what he needs. This facilitates efficiency on several levels: It eliminates the need to unload or reload a truck, it allows for higher tank capacities (which are dependent on a truck's GVWR rating), and it also reduces overhead costs for a business because there is not a truck dedicated solely to asphalt sealcoating.
Frequently tow-behind equipment is the more cost-effective route for contractors. This is because most individuals, new to the business or established, already have a pickup truck that is capable of pulling a tow-behind unit of significant capacity. Should they choose to go with a skid-type unit, most would have to invest in a new or larger truck (or purchase a trailer) to transport a skid unit. For example, 700 gal.-capacity trailers are easily pulled by most ¾-ton or 1-ton pickup trucks, whereas a 700 gal. skid would require a 1.5-ton truck to safely haul its more than 9,000 lb. weight.
The good news is that trucks are becoming more capable as time progresses. (This is important for contractors looking at both tow-behind and skid sealcoating equipment.) The Gross Vehicle Weight Ratings (GVWR) of trucks have increased significantly in recent years. Based upon our research, ¾-ton truck GVWR ratings have increased nearly 1,200 lbs. since the 1980s. This increase allows for contractors to consider larger tank capacities with lesser vehicle requirements. Whether you're pulling a tow-behind unit or driving a flatbed truck to the plant to get sealer – a higher Gross Vehicle Weight Rating translates into a larger tank capacity, which gets a contractor more sealer per trip to the plant. Spending (or wasting) less time traveling instead of working because there are fewer trips to the sealer provider means more cost-effective square footage pricing, which supports the potential for doing more jobs as well as earning higher profits per job.
This leads into another imperative component when choosing sealcoating equipment: Make sure that an equipment purchase is not only cost-effective but that it doesn't limit growth. If a contractor is planning to do only residential driveways, a smaller capacity tow-behind unit sounds ideal initially because it appears to be more cost effective and better suited to the goals at hand. However, when looking long term, those same small capacity units can pigeon-hole a contractor by giving him only a capacity of sealer that will allow him to be competitive in the residential driveway market. A tow-behind unit with a larger capacity will allow for both the residential jobs he's doing now and also enable him to accept and be competitive when a commercial lead comes their way – which in turn will grow their business.
For example: A 300-gal. capacity trailer is a great tow-behind piece of equipment –- but it dramatically limits the future of a purchaser's business. For about $1,000 more a contractor can upgrade to a 550-gal. trailer. This upgrade gets the purchaser an additonal 150 gal. of sealer, a dual axle, a larger front deck, a larger material pump and an identical freight cost to what would be assessed on the 300-gal. trailer.
There's also the other end of the spectrum: A tow-behind unit such as a 1,250-gal. trailer. Such a massive, triple-axle trailer will require a large tow vehicle, but it just might be what a business owner needs. It has the functionality to serve as both a primary applicator for upwards of 68,000 sq. ft. at a time -- or as a supplemental tow-behind nurse tank for other pieces of equipment.
There are many benefits that can be provided by tow behind units, the goal when searching out the best fit for a business is to examine all the variables and find what will be a suitable long-term answer for equipment purchases.