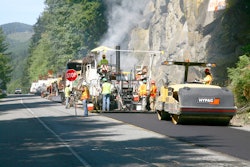 The surface transportation reauthorization legislation authored by Senate Environment and Public Works (EPW) Committee Chairman Barbara Boxer (D-Calif.) and Committee Ranking Republican James Inhofe (R-Okla.), titled "Moving Ahead for Progress in the 21st Century Act" or "MAP-21", S.1813, would preserve current levels of federal highway investment plus inflation for FYs 2012 and 2013.
The federal public transportation and transportation safety programs are under the jurisdiction of other Senate Committees and are expected to follow the parameters of the EPW proposal—current investment levels plus inflation and a two-year duration. This product of all involved Senate Committees would produce a total, two-year funding level of $109 billion. As this amount is above current Highway Trust Fund revenues, the Senate Finance Committee would be responsible for bridging this gap by coming up with $12-13 billion in new resources.
Download the pdf by clicking the link at the top of this column to read the full analysis provided by the American Road & Transportation Builders Association (ARTBA).